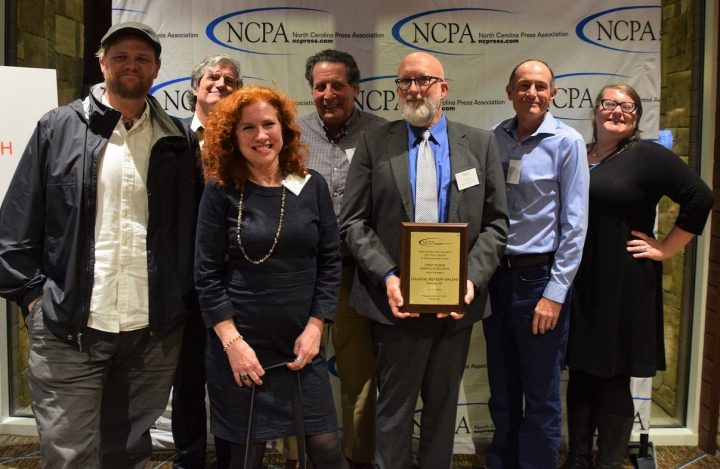 RALEIGH – Journalists, editors, freelancers and supporters from newspapers and publications across the state gathered Thursday for the annual North Carolina Press Association banquet, where Coastal Review Online won 26 awards for news coverage during 2018, including the first-place award for general excellence among online-only publications.
Second place in General Excellence went to North Carolina Policy Watch and Carolina Public Press received third.
The news, editorial and photojournalism contest awards ceremony is a part of the association's annual convention held at the Raleigh Marriott Crabtree Valley.
Coastal Review Online staff, reporters and photographers competed in the online-only division of the association's annual competition. Among the awards for the nonprofit news publication's work were eight first-place awards, including best news coverage, plus nine second-place awards and eight third-place awards.
The New Jersey Press Association judged this year's contest entries.
"It's an honor to be recognized by our peers in New Jersey for our reporting on North Carolina's coastal environmental issues," said Coastal Review Online Editor Mark Hibbs. "I'm proud of our team and the work they have produced during the past year. We're a small team with 20 counties and 300 miles of coastline to cover, but this recognition shows what a handful of folks who are passionate about their work can do and the foresight our publisher Todd Miller had in launching CRO."
The contest period was for work published between Oct. 1, 2017, and Sept. 30, 2018.
Coastal Review Online, a member of the state press association since 2013, is published Monday through Friday. The North Carolina Coastal Federation launched the nonprofit news service in February 2012 to provide coverage of issues relevant to the people, culture, history and environment of the North Carolina coast.
A member-owned and operated nonprofit group, the association was established to protect First Amendment freedoms, promote the business interests of North Carolina newspapers and maintain high standards in the industry.
Members include daily and community newspapers and special interest publications; online news publications; those who provide equipment, supplies, growth opportunities and materials to the industry; and those who generally support newspaper interests. It is the only newspaper industry trade group in the state.
The association's winter convention typically includes guest speakers and education sessions for journalists, such as information on open government and laws pertaining to public records and media. The editorial contest is open to any North Carolina newspaper or online news site that is a member of the association.
Coastal Review Online earned awards in a range of categories, including breaking news coverage, in-depth government reporting, feature writing, photography and columns.
The following is a list of winners, and their respective categories:
First Place
 Staff, News Coverage
Catherine Kozak, News Enterprise Reporting, sea level rise and the North Carolina coast, multiple entries.
Kirk Ross, Online Breaking News Coverage, "'Don't Drill!' Reverberates in Raleigh."
Kathleen Onorevole, Best Lede, multiple entries
Jennifer Allen, Feature Writing, "Deserted Island Village to Come Alive Again."
Sam Bland, Lighter Columns, multiple entries
Mark Hibbs, Feature Photography, "New Neighbors: American Robins."
Jennifer Allen, Profile Feature, "Paula Gillikin Keeps Watch Over Wild Horses."
Second Place
Jennifer Allen, Arts and Entertainment Reporting, "'Rising' Exhibit Documents Coastal Change."
Kirk Ross, News Enterprise Reporting, North Carolina Policy Collaboratory series
Jennifer Allen, Online Breaking News Coverage, "Cooper Promises Lawsuit Over Exemption."
Kathleen Onorevole, Best Multimedia Project, "Study: Nesting Turtles Prefer Dark Beaches."
Allison Ballard, City County Government Reporting, "Shallotte Officials Update Riverfront Plan."
Kip Tabb, Feature Writing, "Our Coast's History: NC's Oyster War."
Catherine Kozak, General News Reporting, "Gator Sparks Interest As State OKs Hunting."
Mark Hibbs, Headline Writing, multiple entries
Liz Biro, Lighter Columns, multiple entries
Third Place
Kathleen Onorevole, Beat Feature Reporting, "Study: Corals Prefer the Taste of Plastic."
Catherine Kozak, Online Breaking News Coverage, "Proposed Rule Would Allow Red Wolf Takes."
Catherine Kozak, Best Lede, multiple entries
Allison Ballard, Best Multimedia Project, "Historic Wrightsville Beach Cottage."
Jennifer Allen, City County Government Reporting, Beaufort Harbor management series
Jared Lloyd, Lighter Columns, multiple entries
Mark Hibbs, feature photography, "The Buzz on Pollinator Week."
Kip Tabb, Profile Feature,"Our Coast's People: Nathan Richards."
Learn More