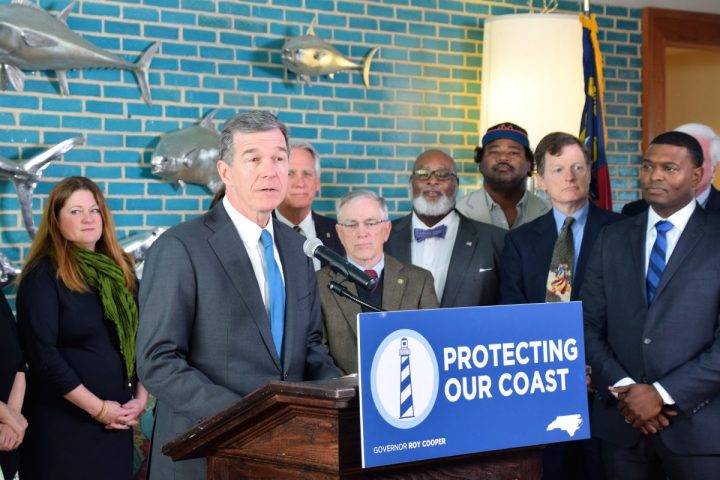 WRIGHTSVILLE BEACH – "This is what Washington needs to know. If North Carolina is not exempt from offshore drilling, we will sue the federal government. Not off our coast," Gov. Roy Cooper told a roomful of elected officials and local leaders Monday during a press conference at Blockade Runner Beach Resort.
Cooper was responding to the recent announcement that Florida would be exempt from the Trump administration's proposed five-year plan announced Jan. 4 that would open almost all U.S. offshore waters to seismic exploration and drilling for oil and natural gas.
Cooper said Wrightsville Beach is one example of the communities along North Carolina's 300 miles of coastline and 22 barrier islands that together generate $3 billion in tourism annually and support more than 30,000 jobs in eastern North Carolina.
"As governor, I know what's at stake here. I'm going to fight to keep our coast safe. Now, we've listened to the experts. We know that opening our up coast to drilling will put our economy, our environment and our coastal communities at risk with little potential for long-term gain. Offshore drilling is just a bad deal for our state," Cooper said.
The Obama administration had taken much of the East Coast out of consideration in 2016 based on factors that included potential conflicts with the U.S. Defense Department and commercial interests, market dynamics, limited infrastructure and opposition from many coastal communities. Then, in April 2017, President Trump signed an executive order aimed at reversing Obama's decision and, in June, the administration opened the public comment period for a new, five-year energy leasing program for the outer continental shelf.
Cooper in July vowed to oppose efforts to open the state's offshore waters to drilling. "I traveled to Atlantic Beach to give them North Carolina's answer. No way. Not off our coast."
Earlier this month, Cooper petitioned the Interior Department to grant North Carolina an exemption similar to the one the Interior secretary had announced on Twitter for Florida.
After talking with @FLGovScott, I am removing #Florida from the draft offshore plan. pic.twitter.com/lZIfdCDNOR

— Secretary Ryan Zinke (@SecretaryZinke) January 9, 2018
"We recently learned that (Interior) Secretary Ryan Zinke made a trip to Florida and decided to exempt that state from the plan. The reason? Coastal tourism, along with local and state opposition. So, last Friday, I called Secretary Zinke myself to say, 'What about us? What about North Carolina?'" Cooper explained Monday. "We have coastal tourism. We have local and state opposition. We want to be exempt, too."
That exemption may not be final, Walter Cruickshank, Bureau of Ocean Energy Management director, said Friday during a congressional hearing, according to reports. But the possibility could open the door for other states seeking an exemption to sue, legal experts have said.
Cooper said, "Now for months, we have let Washington hear our concerns loud and clear." More than 30 localities, numerous coastal businesses and trade organizations have filed and passed resolutions opposing offshore drilling. "And today, New Hanover County commissioners have joined that course." New Hanover County Commissioners approved before Cooper's visit during its regular meeting Monday morning a resolution opposing offshore drilling.
In August, Cooper continued, the Department of Environmental Quality submitted formal comments to the federal government detailing its opposition to seismic testing, "which we know is the first step toward offshore drilling. But unfortunately, the Trump administration has only exempted Florida so far."
Cooper then announced North Carolina's plans to sue the federal government if not exempted from the offshore drilling plans.
Risk Part of the Equation
"Let's go over the facts here," Cooper said. "First, no offshore drilling method is 100 percent safe. The risk of catastrophic events like oil spills will always be part of that equation. And we know that oil spills bring devastating, long-term damage to every place they touch."
Second, he continued, is that there is little evidence offshore drilling would be able to deliver a financial boon to the state. He feels the state is unlikely to get much work, revenue sharing or state port business from offshore drilling.
Third, North Carolina has seen tremendous advancement in renewable energy technology, with the state being ranked No. 2 nationwide in solar energy capacity, Cooper said. With becoming more energy efficient, he asks why risk drilling in the ocean when we have cleaner fuels.
"Finally, can we trust this administration to make and enforce offshore drilling rules for the oil and gas industry? Will this administration make sure that the best safeguards are in place? I don't think so," Cooper said. "And we've seen it already. Just last month, the Trump administration began to roll back safety regulation for offshore drilling that were put in place in response to the 2010 Deepwater Horizon oil spill in the Gulf."
Cooper reiterated that local governments, businesses and communities had taken a formal position against offshore drilling and that a bipartisan group of the state's congressional delegation was also opposed. "And as governor, I'm going to continue leading the resistance."
"But I need you to help protect our coast. Now is the time for the people to raise their voices," Cooper urged those in attendance before explaining that the public comment period on the offshore drilling plan ends March 9 and comments can be made online or by mail.
"You call Secretary Zinke, too, and you tell him you that you want your voice heard and that you don't want offshore drilling off North Carolina's coast," Cooper said. "This place, our coast, is a part of who we are as North Carolinians. We must protect our land, our waters and our livelihoods. Let's let them hear it all the way to Washington. Not off our coast here in North Carolina. Not off our coast."
Cooper recounted that during his conversation with Zinke, the secretary said he understood the concerns of North Carolina's coastal communities and they agreed that Zinke would visit coastal North Carolina to listen to community leaders, business leaders and recreational and commercial fishermen.
"We're going to fight through this entire process, showing why North Carolina should be exempted and I hope that he will listen to North Carolina's concern like they did Florida," Cooper said.
Local Voices Raised
North Carolina Department of Natural and Cultural Resources Secretary Susi Hamilton, a Wilmington native and former legislator representing the district, introduced Cooper at the event and spoke about the economic risks the state faces from offshore drilling.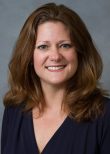 "I know how important our beaches and coastal waters are for tourism, for our economy, and for jobs and quality of life. North Carolina's beautiful coast draws more than 10 million visitors each year, which adds more than $4 billion to our state's economy, and supports thousands of jobs throughout the coastal counties," Hamilton said. "The majority of North Carolinians have stated their opposition to drilling for oil and gas off of our coast. Today, I add my voice to theirs and I am pleased to say our governor does as well."
Local officials also expressed their opposition, including Wilmington Mayor Pro Tem Margaret Haynes.
"I think it's wonderful that the governor came here to Wrightsville Beach, which is sort of the epicenter of southeastern North Carolina, and our tourist industry is so important – and just our economic development here – that just we can't afford some negative impact from offshore drilling," Haynes said.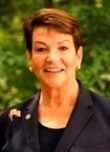 She added that Wilmington has twice passed resolutions opposing not only offshore drilling but also seismic testing and, "So, the city is united in its opposition to this kind of potentially detrimental operation."
Bruce Holsten, chair of the Cape Fear Economic Development Council and the citizen-led Save Our Seas NC that advocates for no drilling, said the governor's visit and reaffirmed stance come amid growing bipartisan opposition and similar public sentiment.
"All acknowledge that there is no safe way to drill for oil without putting critical local and state coastal tourist economies at risk," Holsten said in an email response. "Having worked in the mining industry around the world for many years, I can affirm that the requisite safeguards to ensure the absolute safety of our ocean and coastal waters from accidental spills does not exist. With that knowledge alone, this discussion should have ended long ago."
Lynn Shoemaker, a founder and member of WoW!-Women Organizing for Wilmington, was among the representatives from area organizations at the event. She said the group was pleased to learn that after two years of trying, New Hanover County Commissioner Rob Zapple's resolution opposed to offshore drilling was finally heard and that it passed unanimously. The resolution was passed Monday morning during the New Hanover County Commissioner meeting.
"We have to do better more often to put Mother Earth and the welfare of The People before dirty for-profit industries. Those industries' officers are often also big campaign donors for the elected officials who will support under- and deregulation of the same companies that want to poach, drill, and contaminate our natural resources," she wrote to Coastal Review Online in an email response. "If ever there was an example of why we need to get big money out of political campaigns, this is it."
Shoemaker added that more families will be harmed than helped if offshore is allowed. Coastal voters will remember in November, she said.
"It's not only men who stand to potentially lose their jobs. Women work in the fishing industry as well -and they dominate the service industry supported by tourism," she said. "NC women and our families won't forget this fight, and we will take our voices to the polls!"
GenX Contamination
Cooper, during his remarks, also addressed the issue of GenX and other emerging compounds discovered last year in the Wilmington area's drinking water, which is drawn from the Cape Fear River. Cooper said families deserve clean drinking water, calling it a "basic right."
Cooper explained that the state Department of Environmental Quality had revoked Chemours discharge permit and that GenX levels in samples analyzed were now consistently below public health goals.
"So, that's positive," Cooper said. "But what we also know is that now around the Chemours plant, we found GenX in well water, so we know there are other issues at play. In addition, there are other emerging chemicals that need to be studied and need to be lifted up so that we can know how to respond to those as well."
Cooper also addressed the North Carolina General Assembly's funding for DEQ, noting that at least 70 jobs in the department's Division of Water Quality had been cut in recent years.
"We know that it is critical for the Department of Environmental Quality, which has the ability to revoke permits and has the ability to take these companies to court. They need the inspectors, they need the scientists, our Department of Health and Human Services needs the health officials to work together to make sure that people do have clean water," Cooper said.
Learn More
Interior Department at 202-208-3100