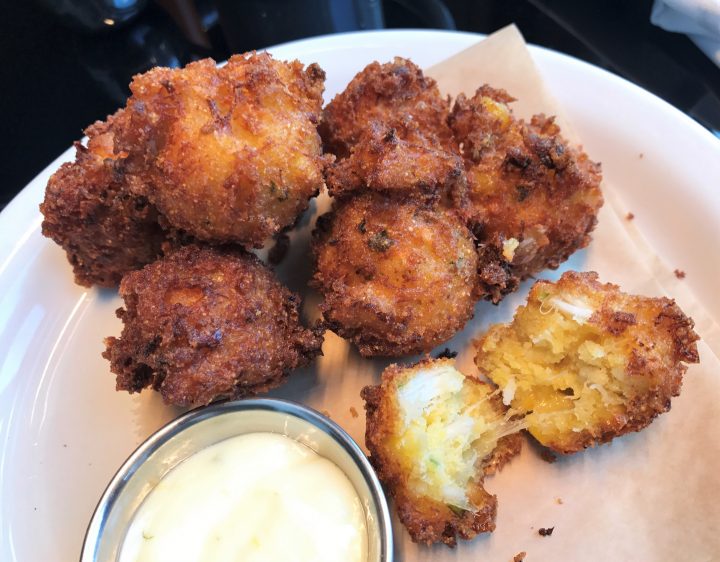 A wax-paper-lined, red plastic basket full of hush puppies and soft butter for dipping is the amuse bouche at proper fried seafood restaurants along the North Carolina coast. Seeing hush puppies on menus far from the state's shores can shock Tar Heels, which is why my mouth fell agape in the landlocked city of Indianapolis.
There, in an urban center foreign to the "one, two or three" seafood combination platter, I saw the deep-fried cornbread lumps called "hush puppies" at fancy places to eat.
The hush puppies I discovered nowhere near the stacked wire crab pots and docked shrimp boats of my Onslow County home were nonetheless stuffed with crab or shrimp. They were plump, cakey morsels, fried crusty bronze outside and full of sweet corn flavor. Hot pepper honey or citrus aioli dips were served on the side.
Turns out, hush puppies are finally getting their 15 minutes on new American menus that have taken over the United States.
Deemed the "ultimate comfort food appetizer" by delish.com in late 2017, hush puppies star in America's 2018 regional comfort food trend. We crave Kentucky Hot Browns, New Mexico's green chili stew and North Carolina's hush puppies.
Alas, North Carolina doesn't own hush puppies.
Current hush puppy mania at hip restaurants may date to landlocked central Texas. Chef Sean Frye served jumbo shrimp and lump crab hush puppies at Shuck-N-Jive Restaurant near Dallas. His recipe won wholesaler US Foods' 2012 Next Top Product contest. As a result, Frye's hush puppies became a nationally distributed US Foods product.
Hush puppies have been around way longer than their recent glory, nearly 300 years, according to some accounts.
Florida Gulf Coast hunters and camp cooks of the 1920s usually get credit as the first to toss cornmeal fritters to their baying hounds. As soon as the dogs finished the treat they were no doubt howling for more. Plain hush puppies taste that good.
Folks in St. Marks, Florida, have claimed that the late City Cafe, established in 1929 and later renamed Posey's, was the hush puppy's native home. "Important deals were made over baskets of fried fish and (co-owner) Birdie (Coggins') famous, secret-recipe hush puppies," Bruce Hunt wrote in "Visiting Small-Town Florida" (Pineapple Press, 2013).
Meantime, up in North Carolina, Harkers Island fishers said they were the first to spare a little fish-frying batter for dog treats.
Another story points to Confederate soldiers who supposedly silenced their canines with fried bread as Union troops approached. Yet one more tale recognizes French Ursuline nuns who in the early 1700s settled in what would become New Orleans. The nuns called their fried corn cakes "croquettes de maise."
Calming hunger appears the most likely hush puppy pedigree. Native Americans were cooking with cornmeal when settlers arrived in the future United States. Later, Africans captured into U.S. slavery continued their homeland's deep-fried cooking methods.
After the Civil War, Romeo Govan, born into slavery in 1845, was known in South Carolina for preparing fish feasts that included "red horse bread." Govan fried spoonfuls of cornmeal batter in lard, South Carolina culinary historian Robert F. Moss writes in "The Real History of Hushpuppies" at seriouseats.com. The fish species redhorse populates South Carolina rivers.
Govan died in 1915, but serving red horse bread at fish fries spread throughout South Carolina.
Moss argues that hush puppies were considered too tasty to toss to the dogs. Rather, the name probably referred to muting a growling stomach, as the term "hush-puppy" previously meant gravy or pot liquor.
Today, the hush puppy as deep-fried cornbread is recognized across the country, even as chefs try to elevate the humble food with enriched batter and creative dipping sauces. No matter if inventive cooks mound caviar onto hush puppies, fill them with pulled pork or serve them alongside cilantro green goddess dressing, a hush puppy still looks and tastes like a lump or finger of fried cornbread.
Oftentimes, so many deliciously addictive, old-fashioned hush puppies are eaten at seafood restaurants that everyone's full by the time the fried fish, shrimp and oyster platters arrive.
Understandably, nary a bit of criticism is barked.