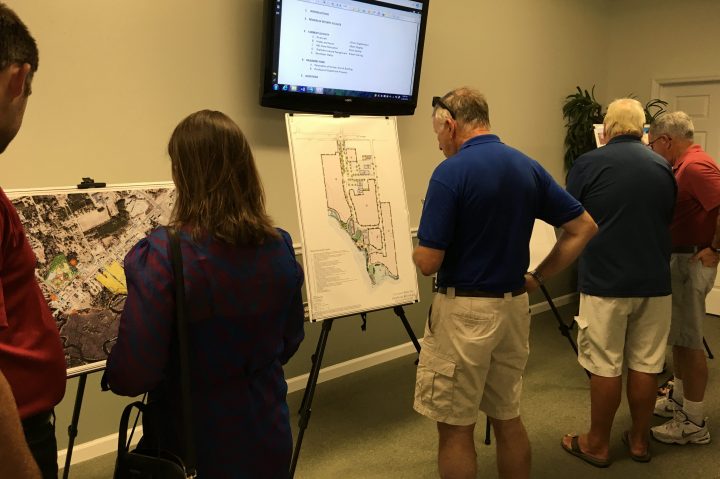 SHALLOTTE — Right now, the relationship between Shallotte and the Shallotte River is a little distant. A deep bend in the waterway swings toward the town hall and administrative buildings, but the view isn't easily appreciated, unless you drive or walk to a few nearby industrial sites.
For several years, the town's leadership has been working to make the most of that space, as other communities in southeastern North Carolina have done with their riverfronts.
Shallotte officials envision an environmentally sustainable, pedestrian-friendly mix of retail and restaurants with a riverwalk that could be a gathering place and activity center.

The town's 400,000-square-foot Riverfront Revitalization Project concept originated in 2008. Since then, there's been progress in bringing this ambitious $88 million project to fruition. Among its components are a waterfront park, a retail center, a boardwalk that could one day connect the area to nearby Mulberry Park and roadwork to straighten Shallotte Avenue. Plans also call for relocating an ABC store.
"All of these efforts are interrelated," said Mayor Walt Eccard.
Eccard and others involved with the project held a meeting June 26 to update residents on the progress. He's optimistic that visible progress will be made at the riverfront during the next two years.
"We don't want to change the character of Shallotte," said Larry Harrelson, a town alderman, but officials do want to capitalize on what's seen as an underutilized resource in a community that's booming. According to the town, the area is growing by more than 3 percent each year. Shallotte's population increased 166 percent from 2000 to 2010.
Riverfront Review
In Shallotte's 2008 Vision Plan, town leaders wanted to put a renewed focus on the Shallotte River and create a vibrant riverfront destination. Since 2010, the town has been buying waterfront property and has spent about $5 million, Eccard said. The town has purchased a significant portion of land along Wall and Cheers, parallel streets that extend to the river from U.S. 17 Business.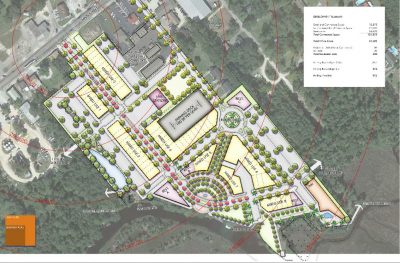 In 2014, the town partnered with the University of North Carolina School of Government's Development Finance Initiative to attract private investors interested in such projects. A town steering committee worked with the initiative to complete an in-depth market analysis, seek public engagement and conduct site planning and a financial feasibility analysis, Eccard said.
There have been some stumbling blocks, though.
Shallotte originally partnered with Traditional Neighborhood Development Partners of Durham to develop the retail, multi-family, office and hospitality components with the agreement that TND Partners would pay for and install about $7 million worth of water and sewer infrastructure up front. The plan was that the town would reimburse the developer after the build with new tax revenues, Eccard said at the meeting. An agreement with Brunswick County will allow Shallotte to keep a majority of the tax revenue from the Riverfront Project to assist with its infrastructure costs. When that plan fell through, Eccard said the town turned to grants and loans to bridge the gap.
Although somewhat successful with grants from the North Carolina Division of Coastal Management and the U.S. Department of Agriculture's Rural Development program, town officials were unable to raise the full amount and ended the partnership with TND Partners, he said.
What's Ahead
At the meeting, Eccard announced a new development firm, Durham-based New South Ventures, had come on board. The company's Michael Lemanski said he would like to create a space for restaurants, shops and coffee shops along a pedestrian corridor with parking behind the retail buildings. Lemanski has worked on similar public-private projects, including one in Fayetteville with apartments, a baseball stadium and hotel.
"We're excited about this opportunity and we see this as a partnership with Shallotte," Lemanski said.
Allison Engebretson, with Wilmington-based Paramount Engineering, also discussed her vision for the waterfront park.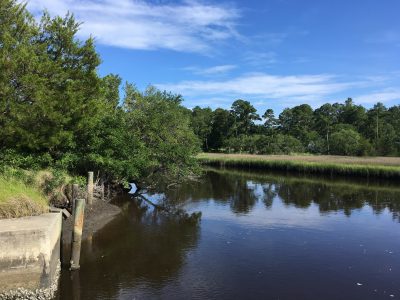 "The river in Shallotte is worth celebrating and we think the riverwalk will pull people to the river," she said.
A boardwalk is planned to extend over the wetlands for at least a quarter mile, with the possibility of an extension to connect to nearby Mulberry Park, another project of Engebretson's. The 10-acre, $1.6 million park opened in 2016 with an amphitheater, event lawns, playground, walking trails and community garden. Eccard said the town would like to add a splash pad and kayak launch at the park.
At the waterfront park, the slope to the river is a 7-foot drop that Engebretson said could be converted to a create a step-down into a central space. A boat/kayak launch could be set to one side, where the current isn't as strong, she said, and the existing buildings could be repurposed, perhaps as studios for artists. An area near the water that isn't buildable could be fitted with a pergola and benches or swings.
There were also questions from attendees about adding a fishing platform and potentially dredging the river to make it more navigable. Permitting for dredging could be a challenge, Eccard said, because of the Shallotte River's environmental status as an estuary.
Another tricky feature of the project is the plan to straighten or realign Shallotte Avenue, so that it intersects opposite Wall Street at Business 17. Eccard said the proposed new alignment would create a better entry point for the riverfront development. The plan would require moving the Shallotte ABC Board's office and store, now at the corner of Shallotte Avenue and Main Street. The approval and planning process is in the works.
Eccard said construction could begin on some aspects of the plan later this year, or in early 2019.
Learn More