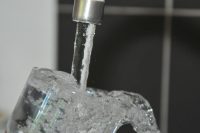 The U.S. Environmental Protection Agency announced Tuesday proposed limits for a half-dozen chemical compounds, including GenX, in drinking water.
The list of per- and polyfluoroalkyl substances, or PFAS, include perfluorooctanoic acid (PFOA), perfluorooctane sulfonic acid (PFOS), perfluorononanoic acid (PFNA), perfluorohexane sulfonic acid (PFHxS), perfluorobutane sulfonic acid (PFBS) and hexafluoropropylene oxide dimer acid, or HFPO-DA, commonly known as GenX.
The proposed maximum contaminant levels for PFOA and PFOS is 4 parts per trillion, or ppt, which is the current limit of detection for these chemicals. The EPA would establish what it calls a hazard index to address combined levels of the other four chemical compounds.
These are the first federal proposed drinking water limits for PFAS.
The announcement comes months after the EPA set a final health advisory for GenX at 10 ppt and perfluorobutane sulfonic acid, or PFBS, at 2,000 ppt.
While PFBS has not been found in significant concentrations in samples in North Carolina, high levels of GenX have been found in the Cape Fear River, a drinking water source for tens of thousands of people.
GenX is one of many compounds Chemours' Fayetteville Works plant in Bladen County discharged into the river, the air and ground for decades.
Scott Faber, Environmental Working Group senior vice president for government affairs, called the EPA's proposals "historic progress."
"More than 200 million Americans could have PFAS in their tap water," Faber said in a news release. "Americans have been drinking contaminated water for decades. This proposal is a critical step toward getting these toxic poisons out of our water. The EPA's proposed limits also serve as a stark reminder of just how toxic these chemicals are to human health at very low levels."
The EPA is hosting this month two webinars, the first on Thursday and the second March 29, about the proposed National Primary Drinking Water Regulation for the six PFAS.
To register visit the following links:
Recordings of and materials presented during the webinars will be available to the public after the meetings. Questions about the webinars may be directed to PFASNPDWR@epa.gov.
The agency will also host a public hearing on May 4. Registration to attend that virtual meeting. Anyone wishing to make a comment at that meeting must register by April 28. To register visit https://www.eventbrite.com/e/proposed-pfas-npdwr-public-hearing-tickets-549335536377
Once the proposed rule is published in the Federal Register, a public comment period will open. Public comments may be made at www.regulations.gov under Docket ID: EPA-HQ-OW-2022-0114.
The proposed regulation is expected to be finalized by the end of this year.
Once the rule is finalized, public water utilities will have three years to comply with the new regulation.
In anticipation of the proposed regulation, the North Carolina Department of Environmental Quality, or DEQ, has been working with public water utilities to identify, reduce and remediate PFAS contaminants, according to an agency news release.
Last June, DEQ released an Action Strategy for PFAS.
"North Carolina has been leading efforts to address forever chemicals in our drinking water and today's EPA announcement provides additional federal support and a roadmap for the public water systems in our state," DEQ Secretary Elizabeth S. Biser said in the release. "Having clear direction on national drinking water standards supports DEQ's work with public water systems to protect the people of North Carolina."