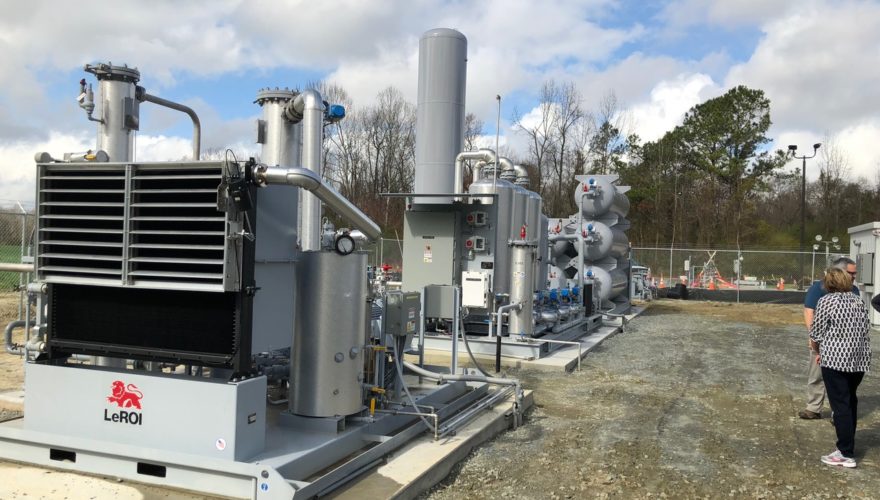 Millions are marked for clean water, water infrastructure and shellfish habitat work along the coast in the state budget that Gov. Roy Cooper signed into law last week.
In addition to signing the 2022-23 spending plan that includes funding for flood resilience, oyster sanctuary, marine debris removal and drinking water and wastewater projects, Cooper signed dozens of bills in the last few weeks, including one that tweaks various environmental rules.
In a statement released July 11, Cooper said he signed a budget that includes "critical investments in education, economic development, transportation and the state workforce."
Cooper noted that while the budget did not include Medicaid expansion, "the leadership in both the House and Senate now support it and both chambers have passed it. Negotiations are occurring now and we are closer than ever to agreement on Medicaid Expansion, therefore a veto of this budget would be counterproductive."
In a joint statement, House Speaker Tim Moore and Senate President Pro Tem Phil Berger noted that the "responsible spending plan" had been passed by strong bipartisan margins in both chambers. The legislative leaders said they were "committed to working together to improve healthcare access and expand Medicaid, while providing the necessary safeguards to preserve the state's fiscal strength. Active negotiations are occurring now toward that end."
Biogas
In one of the more controversial environmental provisions in the budget, the Department of Agriculture and Consumer Services was appropriated from the general fund $1.5 million nonrecurring for the North Carolina Foundation for Soil and Water Conservation to provide cost-share assistance to swine farmers who want to install anaerobic digesters to produce biogas.
Align Renewable Natural Gas, a $500 million joint venture between Dominion Energy and Smithfield Foods, has been developing a project in Sampson and Duplin counties to collect methane from the covered waste lagoons on a network of nearby hog farms and convert it to natural gas to be used to produce electricity.
Kemp Burdette, riverkeeper with Cape Fear River Watch, called the taxpayer funding of biogas disappointing, an environmental threat that compounds that of the lagoon and sprayfield system of swine waste management already in use in North Carolina.
"We are generally opposed to biogas, especially as it's proposed in North Carolina right now — directed biogas," he explained. Adding, science is pretty clear that just adding a second lagoon to these facilities, leaving an uncovered lagoon, which you then spray waste out of onto the landscape — exactly as things are done now — is going to just continue to harm water quality, and it's going to continue to harm the communities around these facilities.
"To see the General Assembly basically decide that they're going to give taxpayer funds to the biogas scheme that continues to threaten the environment and continues to threaten communities in North Carolina is pretty disappointing," he said.
While the approved budget did have the $1.5 million cost-share program, it did not include the governor's proposed $18 million swine floodplain buyout program, another frustrating point for environmental advocates.
The budget Cooper proposed in May included $18 million in nonrecurring funds that would have gone to the Department of Agriculture and Consumer Services to purchase permanent conservation easements on properties currently used for swine production that are within the 100-year floodplain.
Sound Rivers, the nonprofit organization that guards the health of the Neuse and Tar-Pamlico River Basins, also spoke out against the biogas provision. Pamlico-Tar Riverkeeper Jill Howell told Coastal Review the organization had been excited to see $18 million allocated for the voluntary swine buyout program in the governor's proposed budget released back in May.
"It was disappointing to see that (buyout) program not funded at all in the final budget; this was a missed opportunity to provide funding to a voluntary program that removed the most vulnerable lagoons out of the way of future storms, prevented lagoon flooding, and pollution of our waterways while compensating CAFO operators," she said, referring to concentrated animal feeding operations.
Inundation mapping by the North Carolina Department of Agriculture and Consumer Services' Emergency Programs Division asserts that 32 of the 43 swine CAFOs closed through the voluntary buyout program between 1999 and 2007 would have likely flooded during Hurricane Matthew.
"Providing state funding for installation of a technology that fails to address existing environmental harms from the lagoon and sprayfield system, while also creating new problems associated with pipelines and biogas processing facilities is a huge problem," she said.
Burdette was also disappointed that the buyout funds were not part of the budget.
"That's taxpayer funds that could have been used to actually do something good, something to improve the environment and something to improve quality of life and communities around those facilities," but that was taken out and instead, that something was put in that's going to actually harm the environment and harm communities. "So kind of a double whammy there."
There is still a large number of facilities in the floodplain that need to be removed or we're going to see a repeat of what happened during hurricanes Matthew and Florence, he said.
Swine waste sprayfield systems used in North Carolina collect waste that is then stored untreated in open-air cesspools, and then the waste is sprayed onto the landscape.
"Biogas is going to do absolutely nothing to change that system. There are still going to be open-air cesspools full of untreated waste that are then sprayed onto the landscape," he said. "The difference is that the industry is now going to cover an additional lagoon that is added. They're going to take the methane off of that, they're going to sell it and make more money while doing absolutely nothing to improve waste treatment."
By covering the lagoons and not allowing off-gassing, nutrients in that waste are concentrating, Burdette said. "So we not only have this situation where you still are going to be spraying hog waste on to fields that then runs off into waterways, you're actually now going to be spraying concentrated swine waste onto the landscape, which runs off into the nearby waterways."
He said that from a water quality perspective, this is even worse, and from the greenhouse gas emissions perspectives, the industry claims that this is going to be some kind of dramatic reduction in methane.
"If they were not using that system — if these pigs were on open pasture if they were using waste treatment technology that (the industry) themselves, acknowledge works and promised to use 25 years ago — if they were doing that, then this this methane wouldn't be an issue. What all they're doing is making more money off of their waste stream while doing absolutely nothing to improve the environment or communities nearby," he said.
Oyster sanctuaries, living shorelines among coastal projects
The budget includes $1 million nonrecurring through the state Department of Environmental Quality to the North Carolina Coastal Federation for oyster sanctuaries, contingent on the nonprofit securing $1 million in federal matching funds.
Coastal Federation Executive Director Todd Miller explained that this is money that will be used to leverage and match future federal grants to help complete the Sen. Jean Preston Oyster Sanctuary System in Pamlico Sound.
"The funds will be used to support any added needed capacity required by the N.C. Division of Marine Fisheries to handle a potently large but temporary surge in federal funding for building oyster reefs in the sound," he said. "These projects involve design, permitting, purchasing and deployment of rock, and monitoring performance. Private contractors are hired to provide the rock and deploy it, while the Division is responsible for regulatory compliance, construction oversight and monitoring."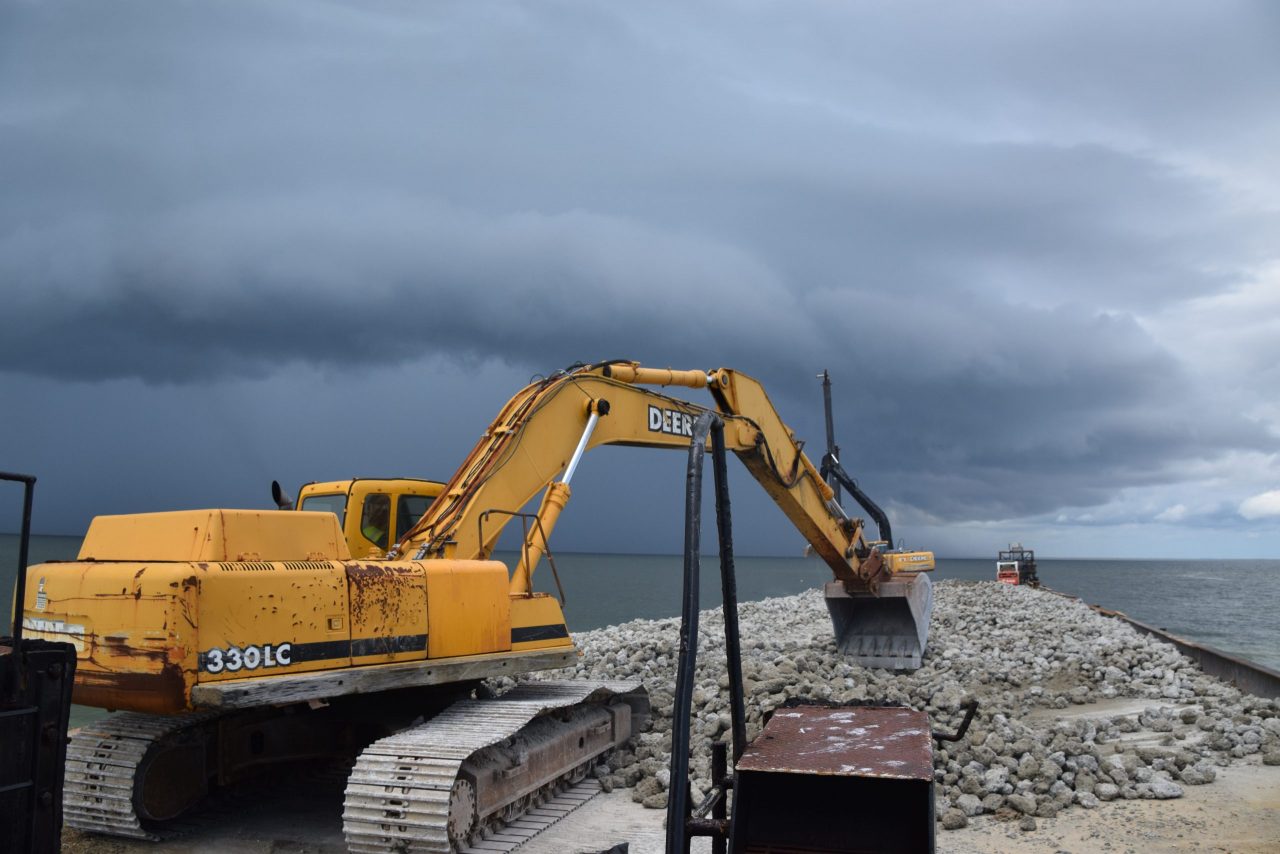 The legislature authorized the sanctuary, named in honor of the late state Sen. Jean Preston, a Republican from Emerald Isle, in 2015 "to enhance shellfish habitat within the Albemarle and Pamlico Sounds and their tributaries to benefit fisheries, water quality, and the economy."
The Coastal Federation, which publishes Coastal Review, has also been provided a $6.5 million nonrecurring directed grant through the Department of Natural and Cultural Resources for living shoreline work at Hammocks Beach State Park, Black Duck Island on the Oregon Inlet, Fort Macon State Park and North Carolina Aquarium at Pine Knoll Shores. The funds were appropriated to the State Emergency Response and Disaster Relief Fund, that were then allocated to the Department of Natural and Cultural Resources.
Miller explained that this money will support the design, permitting, construction and monitoring of the four living shoreline projects at sites including lands managed by the North Carolina Division of Parks and Recreation, Wildlife Resources Commission and private, educational nonprofits.
"The total amount of shorelines involved cover many thousands of linear feet. The federation will work with these agencies to hire contractors to carry out these projects," he said.
Miller applauded the legislature for investing in nature-based strategies to deal with extreme weather and shoreline erosion.
"Living shorelines have proven to be extremely resilient to storms and are much more environmentally compatible than building bulkhead and other hard structures that cause loss of salt marshes. North Carolina is becoming a national leader with its investments in living shorelines for both public and private properties all over our coast," he added.
Drinking water, wastewater funding
The budget includes money from the Clean Water and Drinking Water Reserve and State Fiscal Recovery Fund for a handful of coastal communities and public entities to for water and wastewater infrastructure projects, including $3.6 million for Elizabeth City, $1 million of which must be used for a new pump station on the Elizabeth City State University campus.
Also Jacksonville gets $3.25 million for water and wastewater infrastructure; the Lower Cape Fear Water and Sewer Authority, which serves Bladen, Brunswick, Columbus, New Hanover and Pender counties, gets $23.5 million; and $10 million is going to the Onslow Water and Sewer Authority for the Southeast Wastewater Treatment Plant.
Disaster response, storm mitigation
Carteret County is marked to receive $12 million through the state Emergency Response and Disaster Relief Fund, as a directed grant for marine debris removal and storm resiliency.
The county also may use up to $1.5 million remaining from grants awarded from the Coastal Storm Damage Mitigation Fund in grant years 2018 and 2019 to reimburse the county for expenditures related to a multiyear study on beach nourishment.
Shallow-draft inlet funding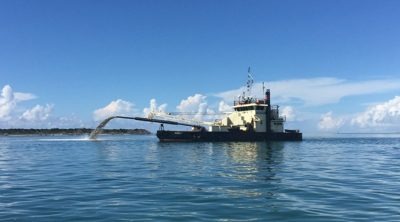 The budget also changed the local cost-share requirements for grants from the state Shallow Draft Navigation Channel Dredging and Aquatic Weed Fund. The fund is to provide the state's share of the costs associated with dredging projects designed to keep shallow-draft navigation channels safely navigable. As a result, economic tier designations are no longer a factor in the cost-share requirements for dredging projects. Now, at least one nonstate dollar is required as match for every $3 from the fund, regardless of location.
Environmental rule changes
The House Bill 219 that Cooper signed July 7 features mainly technical changes to state environmental laws and related directives.
The bill includes setting a deadline for dozens of towns, counties and public utilities to submit completed infrastructure project requests to the state or lose federal funding they were authorized to receive in the 2021-22 state budget.
Money from the 2021 federal American Rescue Plan was allocated last year to the North Carolina Department of Environmental Quality and directed to certain local governments and public utilities, many of which are on the coast, for water, sewer and stormwater infrastructure projects, but the budget approved in November 2021 included no deadline for the funding requests.
The new law sets June 3, 2023, as the deadline for directed infrastructure grant recipients to submit the completed requests. Otherwise, the money reverts to the state. Awards must be obligated by recipients no later than Dec. 31, 2024, and used no later than Dec. 31, 2026, or the money may revert to the federal government.
The allocations include $5 million for Bath, $2.8 million to Southport, $1.07 million for Topsail Beach, $100,000 to Winton, $30 million to Cape Fear Public Utility Authority, $200,000 to Elizabeth City, $20 million to Jacksonville, $4 million to Surf City, $6 million to Wallace, and New Bern has been allocated funds for two projects, $230,000 and $75,000.
Cammie Bellamy, assistant public information officer with Cape Fear Public Utility Authority, explained to Coastal Review that the authority submitted its request for the $30 million for capital projects in February of this year and the project was approved.
"We are currently designing the infrastructure," Bellamy said.
The authority board voted to use the $30 million for the Northern Regional Pump Stations and Force Mains project.
"This project will increase sewer conveyance capacity in fast-growing areas of northern New Hanover County, including Greenview Ranches, Sidbury Road, and Holly Shelter Road," Bellamy said.
Phase A of the project will increase capacity at CFPUA's wastewater Pump Station 155 from 0.42 million gallons per day, or MGD, to 2.1 million gallons per day and construct 6 miles of sewer force main. Phase B includes construction of a new 5.4 MGD pump station on North Kerr Avenue and 3 miles of sewer force main. CFPUA is funding an additional $2.8 million for a total project cost of $32.8 million.
Also regarding water quality, the law gives DEQ authority to limit wastewater discharge into waters with naturally occurring low dissolved oxygen levels, and the department now has more flexibility to use State Capital and Infrastructure Funds to remove stream debris.
The budget approved in November allowed the money to be used for targeted river basin debris-removal projects. The new law adds "other flood mitigation strategies prioritized through the Flood Resiliency Blueprint." Also, stream debris removal projects that had been exempt from requirements for stormwater or water quality permits are no longer exempt.
Expedited permitting review
NCDEQ officials are to study approaches to expedite permit issuance under the express permit and certification review program established in 2008 and the fast-track permitting for the stormwater management systems program effective Jan. 1, 2017.
Officials are then to report its findings, including any recommendations for legislative action to improve permitting efficiencies under the programs, to the Joint Legislative Oversight Committee on Agriculture and Natural and Economic Resources no later than Dec. 31.
The express permit and certification review program applies to permits, approvals, or certifications for the erosion and sedimentation control program, the coastal management program and the water quality programs, including water quality certifications and stormwater management.
Public notice changes
House Bill 219 also makes changes for public notice requirements for hearings for Coastal Area Management Act land use plans and mine permit modifications.
The CAMA public notice requirements for land use plan hearings must now follow public notice rules in place for local governments.
Previously, CAMA public hearing notices had to be published at least once no less than 30 days before a hearing. Local government hearing notices must be published no less than 10 days before a hearing date and no more than 25 days.
Now CAMA notice requirements for land use plan or amendment hearings must follow the same schedule and, instead of a county newspaper, the notices may be published in a general circulation paper for the area. Additionally, local governments can post the proposed plan or amendment at a designated county or local government office, instead of in the county courthouse as previously required.
For changes to mine permits, applicants are now only required to notify landowners within 1,000 feet of land the permit holder is asking to add to a permit. Previously, the permit holder was required to notify all landowners within 1,000 feet of existing boundaries. Also, an applicant, permittee or other affected person may contest a decision by NCDEQ to deny, suspend, modify or revoke a permit by filing a contested case within 30 days of the decision.