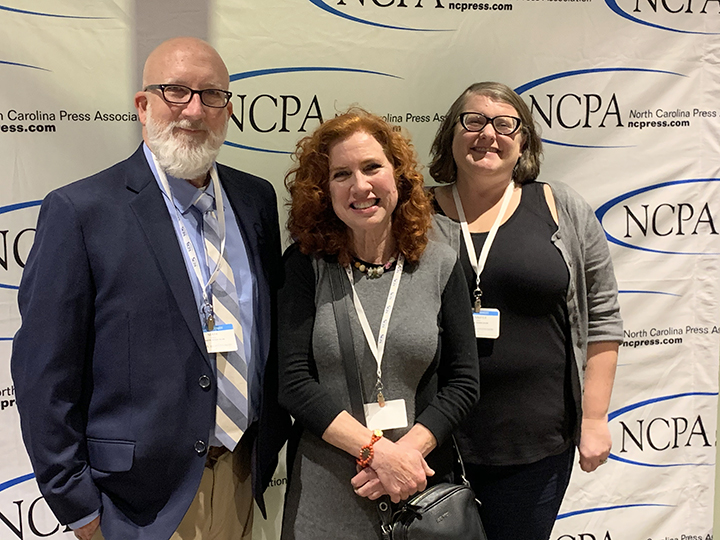 RALEIGH – Coastal Review Online staff and reporters received Thursday 12 awards in the online-only division for news coverage at the annual North Carolina Press Association banquet.
The nonprofit news publication's staff and reporters joined editors, freelancers and supporters from newspapers and publications across the state at the news, editorial and photojournalism contest awards ceremony that is part of the association's annual convention at the Raleigh Marriott Crabtree Valley.
Among the awards for Coastal Review Online's news coverage published from Oct. 1, 2018, to Sept. 30, 2019, were seven first-place awards, one second-place award and three third-place awards. CRO also took home a third-place award for general excellence among online-only publications.
"I'm proud of the work our team has done to earn these awards," said Coastal Review Online Editor Mark Hibbs. "We appreciate the recognition, as well as the support of our steadily increasing number of readers, which together encourage us to keep working harder to cover North Carolina's important coastal issues."
A member of the state press association since 2013, Coastal Review Online is published Monday through Friday. The North Carolina Coastal Federation launched the nonprofit news service in February 2012 to provide coverage of issues relevant to the people, culture, history and environment of the North Carolina coast.
A member-owned and operated nonprofit group, the North Carolina Press Association was established to protect First Amendment freedoms, promote the business interests of North Carolina newspapers and maintain high standards in the industry. The editorial contest is open to any North Carolina newspaper or online news site that is a member of the association.
Members include daily and community newspapers and special interest publications; online news publications; those who provide equipment, supplies, growth opportunities and materials to the industry; and those who generally support newspaper interests. It is the only newspaper industry trade group in the state.
The association's winter convention typically includes guest speakers and education sessions for journalists, such as information on open government and laws pertaining to public records and media.
Coastal Review Online reporters earned awards in the following categories:
First Place
Staff, Appearance and Design, Hurricane Dorian's approach
Jennifer Allen, Arts and Entertainment Reporting, "Jazz Fest Marks 10th Year With State Support."
Catherine Kozak, City, County Government Reporting, "Confrontation Stirs Beach Access Debate."
Sam Bland, Lighter Columns, Sam's Field Notes, multiple entries
Jennifer Allen, Multimedia Project, "Regan: Dorian Highlights Need for Resilience."
Trista Talton, Beat Feature Reporting, "Vibrio Survivor, Wife Warn of Bacteria's Risks."
Mark Hibbs, News Feature Writing, "The Case of the Conserved Land" multiple entries
Second Place
Third Place