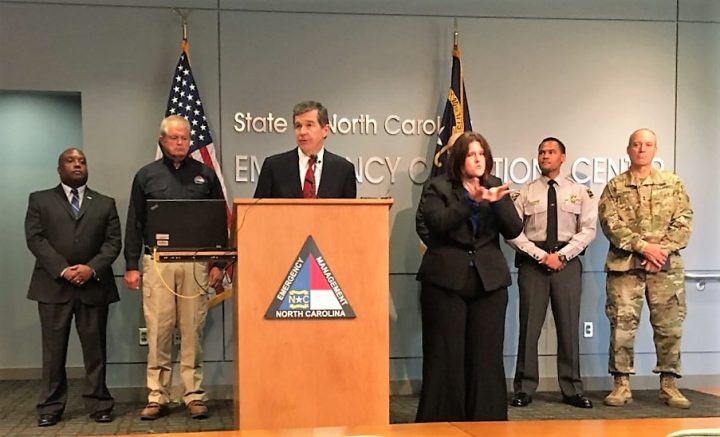 Although this year started with a continued focus on the GenX story that broke the year before, the two biggest news events of 2018 came much later in the year.
On Sept. 14, Hurricane Florence made landfall near Wrightsville Beach and began its slow, devastating journey through the state and into the history books as North Carolina's worst natural disaster.
Seven weeks later, in a usually sleepy blue moon election cycle, voters turned out in record numbers to unseat enough GOP incumbents in the state House and Senate to end supermajorities in both chambers.
The consequences of those two events at the end of the year will drive the public policy debates in the year ahead.
Beyond the turnout, the election was remarkable because of a slew of constitutional amendments added to the ballot and last-minute court cases that included challenges to their wording on the ballot.
Opposition to some of the changes included the five former governors, two Republicans and three Democrats, who held a joint press conference at the North Carolina State Capitol, to denounce two amendments as a power grab by the General Assembly.
After losing in court, the legislature went into special session to revise the amendments.
Florence, the second major storm in two years to devastate eastern North Carolina, reset the dialogue about climate change and the need for resilience.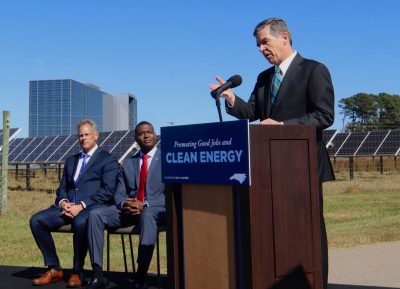 What that looks like, however, has yet to be worked out. The three rounds of hurricane relief funding have largely avoided areas where the governor and legislative leaders disagree on direction.
In the year ahead, what resilience looks like in areas like buyout programs, environmental oversight and infrastructure investments will begin to be worked out.
Gov. Roy Cooper goes into the year in a stronger position to negotiate since veto overrides are no longer certain.
The  governor's recent moves to set up a climate change advisory group, the North Carolina Climate Change Interagency Council, and require greater energy savings and renewable use in state agencies are an indication of where he wants to go.
But they are also a reminder that the governor can only go so far and to make major changes in policy, create and enforce new laws and provide the funds for buyouts and oversight, takes a majority vote in the House and Senate as well.
Also to be worked out in the year ahead are the next steps on addressing GenX and other emerging contaminants. In 2018, the House sided with the governor on additional funding for studies and oversight by the Department of Environmental Quality, or DEQ, and the Department of Health and Humans Services, or DHHS, but Senate leaders pushed back on the plan.
In the next budget cycle, the negotiation over how best to set up, staff and pay for efforts on emerging contaminants like GenX will continue, but without three senators who played key roles in it this year.
Sen Trudy Wade, R-Guilford, who chaired the chamber's environmental committees and Sens. Michael Lee, R-New Hanover, and Wesley Meredith, R-Cumberland, who led the Senate negotiations on GenX legislation, all lost their bids for re-election.
The following is a list of the major coastal and environmental stories from this year as they happened.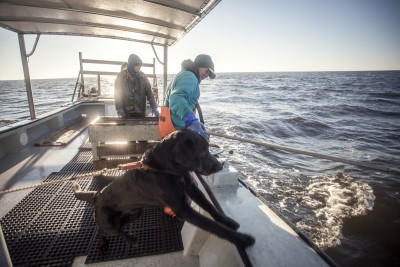 January
Coastal advocates announce an all-out effort to fight any attempt to open the Atlantic Coast to offshore drilling after Interior Secretary Ryan Zinke announced a new offshore leasing program that includes the mid and south-Atlantic.
Marine Biologist Steve Murphey, who managed large-scale habitat restoration and enhancement programs for the Division of Marine Fisheries, is picked as the new division director.
A state House committee set up to study GenX and other river quality issues approved legislation calling for a group of new studies, but the bill included no funding, the result of an ongoing disagreement with the Senate over DEQ appropriations.
The second annual crab pot cleanup program began, employing 76 commercial watermen to remove fishing gear and pots from sounds.
A brief, three-day session of the General Assembly ended after the state Senate adjourned before taking up a House-backed GenX bill that would have included additional funding for DEQ.
New test results shows spikes in GenX levels after heavy rains in December 2017. In public hearings, DEQ officials detailed testing of air emissions and private drinking wells near the Bladen County plant.
A legislative study that looked at ways to cut costs in the state Ferry Division sparked outrage over a proposal to drop dozens of off-season crossings and hike fares for heavily traveled routes.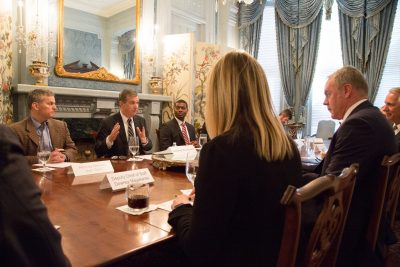 February
Conservation groups filed a legal challenge to plans by the United States Environmental Protection Agency, or EPA, to delay application of the Waters of the U.S. rule developed by the Obama Administration.
Cooper and House and Senate leaders meet separately with Interior Secretary Zinke on offshore drilling plans. Cooper says the state will take the federal government to court to get an exemption.
A new version of GenX legislation introduced by Lee won approval in the state Senate, but was not taken up by the state House.
DEQ issued notice to Chemours that it must control air emissions of GenX and other perfluorinated compounds.
North Carolina and Virginia officials signed off on a new updated management agreement for the Albemarle-Pamlico estuary.
After going dark for a month while workers repaired damage during winter storms, the Cape Hatteras Lighthouse beamed again.
Hundreds of coastal residents showed up to protest offshore drilling plans during a Bureau of Ocean Energy Management public hearing in Raleigh.
March
Storms battered the Outer Banks causing severe overwash along N.C. 12 on Ocracoke Island and between Bonner Bridge and Rodanthe.
The Coast Guard, National Oceanic and Atmospheric Administration and EPA searched for 76 steel cargo containers lost during a storm about 17 miles east of Oregon Inlet.
The North Carolina Coastal Federation announced that the annual crab pot cleanup program netted 3,496 lost crab pots.
The state Division of Air Quality announced that fumigation operations at the Tima Capital hardwood plant in Wilmington will end after the company's permit expires in May. The company had sought to expand its operations.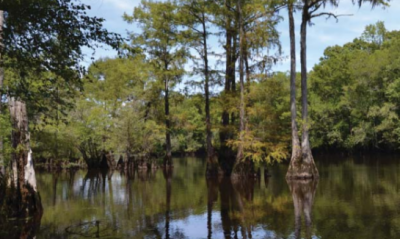 April
Holden Beach Commissioners held a public hearing on plans for a $34.5 million terminal groin near the Lockwood Folly Inlet on the east end of town. Several residents argued the project was too risky and costly.
DMF announced plans for a new artificial fishing reef 8 miles south of Oregon Inlet.
Concept plans for the future use of a reclaimed Superfund site at Navassa introduced at a public meeting include commercial lots, recreational land and features that celebrate the town's Gullah history.
State House members looking into GenX issues toured DEQ testing labs and heard a pitch for better detection equipment.
A state study recommended that an area of the Black River be turned into a state park. Initial costs, including clearing the river and creating access points would be between $800,000 and $2.7 million.
Ahead of the legislative short session, Cooper announced a $14.5 million GenX funding request for DEQ and DHHS studies and enforcement work.
Environmental groups dropped a lawsuit over the Havelock Bypass after the North Carolina Department of Transportation agreed to a habitat protection plan.
In a unanimous vote, Holden Beach Commissioners withdrew permit applications to the Army Corps of Engineers for a terminal groin, saying the costs outweigh the benefits.
In a move that bolstered the fast growing wood pellet industry in eastern North Carolina, the EPA announced it would treat biomass as carbon neutral when burned for energy production.
The Coastal Land Trust purchased roughly 1,000 acres in Bertie County where there is ongoing archaeological research associated with the Lost Colony.
In a tense hearing in Raleigh, University of North Carolina Wilmington researchers and Cape Fear Public Utility Authority officials defended studies on GenX contamination after angry legislators accused them of fear mongering for political reasons.
A federal court awards the first in a series of multi-million dollar judgements in nuisance lawsuits against hog operations in eastern North Carolina.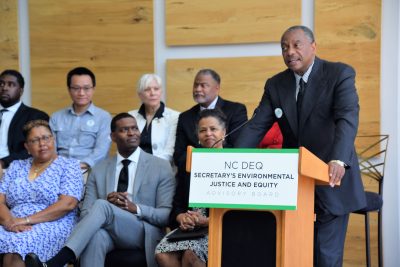 May
DEQ Secretary Michael Regan announced the appointment of a new 16-member Environmental Justice and Equity Advisory Board.
Cape Fear Public Utility Authority began the final review for options for filtering GenX and other compounds.
As the legislative short session began, a new GenX bill was considered. It included additional funding, but new regulatory language in it raised concerns it could muddy enforcement.
Ferry Division officials announced a delay to the start of new passenger-only ferry service between Hatteras and Ocracoke until spring of 2019.
The state Supreme Court sided with Currituck County in a long-running legal battle over development in the four-wheel drive area of Currituck Banks.
General Assembly budget committees reviewed a proposal for a public-private partnership to purchase a new dredge dedicated to Oregon Inlet and agreed to include it in the budget.
In its annual prediction at the start of hurricane season, forecasters with NOAA's Climate Prediction Center predicted an active tropical storm season with 10-16 named storms and one to four major hurricanes.
June
Legislators approve the NC Farm Act of 2018, which included controversial protections to restrict nuisance lawsuits against hog and poultry operations.
The General Assembly approved the state budget and a flurry of other bills, including a GenX bill with both additional funding and changes sought by the manufacturing industry, additional dredging funds and a loosening of coastal stormwater restrictions.
As legislators wound up work, an aquaculture bill with new rules on shellfish leasing stalled over House and Senate disagreements. Meanwhile the legislature voted to override vetoes by the governor of regulatory and agriculture bills.
After delaying its beach renourishment plans for a year, Nags Head commissioners approved a $42.7 million renourishment project.
A new study put the value of property in North Carolina threatened by sea level rise at $4 billion with most of the properties at risk in the northeastern coastal counties.
Dwayne Patterson, the chief financial officer for the Department of Natural and Cultural Resources, was named director of the state Division of Parks and Recreation, which manages the state parks, recreation and natural areas. He is the first African-American to lead the division.
The U.S. Army Corps of Engineers turned down a proposal to extend a beach renourishment project on Bogue Banks mainly over the availability of a hopper dredge.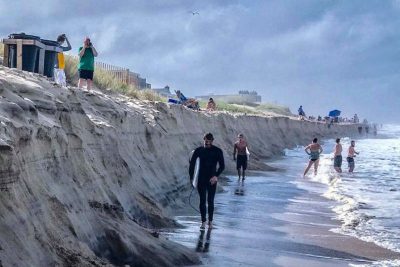 July
State officials warned residents not to go near an algal bloom in the Chowan River upstream from Edenton.
DMF announced a new real-time app that shows when shellfishing waters are open or closed to harvest.
Cooper made several appointments to the CRC including former CRC chair Bob Emory, former DEQ assistant secretary Robin Smith and Mayor Trace Cooper of Atlantic Beach. Lauren Salter was also appointed as a commercial fishing representative and current chair Renee Cahoon was re-appointed.
Heavy king tides along the coast carved out beaches in several places and left a 10-foot high cliff near Jennette's Pier.
DOT and Hyde County officials cut the ribbon on the new Swan Quarter ferry terminal.
DEQ's Division of Air Quality put four pending applications for methyl bromide log fumigation on hold and asked a state science panel to designate the chemical as a state toxic air pollutant.
The EPA denied an attempt to reclassify a 15-mile stretch of the lower Cape Fear as swamp water, ending a multi-year fight over a move to ease environmental enforcement due to low dissolved oxygen levels in the river.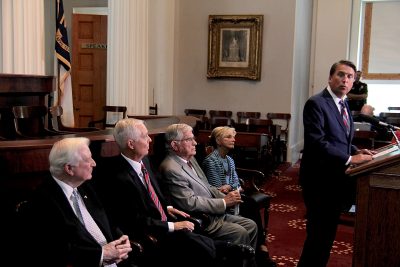 August
State officials issued another warning about algal bloom in the Chowan River.
In an unprecedented show of unity, five former governors joined together to urge voters to reject two constitutional amendments on the fall ballot. One aimed at a governor's appointment powers was challenged in court by environmental groups who said it would weaken enforcement.
At an EPA forum in Fayetteville, residents and state officials called on the agency to take stronger action on GenX and other toxic substances.
Dare County drafted a plan for dredging Rodanthe and Avon harbors and Hatteras Inlet.
After a lengthy review, the state's Science Advisory Board recommended that state officials continue to use a health goal for GenX of 140 parts per trillion.
The last span was put in place for the new bridge over Oregon Inlet.
Legislators toured N.C. 12 and met with DOT and local officials about ferry and road needs.
DMF began work on new estuarine artificial reefs in Carteret County near Spooner's Creek and the mouth of the White Oak River.
In a special session, the legislature approved changes to two proposed constitutional amendments, including the elimination of a section limiting the appointment powers of the governor.
Environmental groups filed suit to stop Chemours from discharging PFAS substances.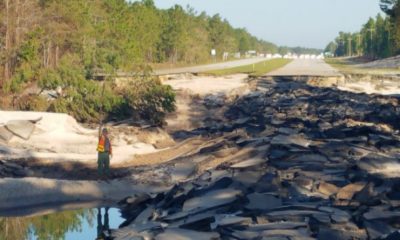 September
The National Hurricane Center, tracking a tropical depression near Cape Verde, announced it had strengthened and assigned it the name Florence.
Negotiations continued as a DEQ deadline for Chemours to cease most air emissions of GenX and other PFAS compounds is reached.
Wilmington city council agreed to cover a $500,000 local match for a grant to study relocation of the rail line to the other side of the Cape Fear River.
Evacuations began throughout the coast as Hurricane Florence, moving on a track toward North Carolina, strengthened to a major hurricane.
Work began on the new 2.4 mile "jug-handle" bridge on N.C. 12.
Massive, slow-moving Hurricane Florence pounded the North Carolina coast through three tidal cycles, made landfall near Wrightsville Beach and dumped as much as 3 feet of rain as it moved through the state.
In the wake of the storm, land routes were cut to several cities and towns, including Wilmington. Thousands of rescue operations were conducted as floodwaters rose along the Black, Waccamaw, Cape Fear and Neuse rivers.
In all, 39 people died in the storm or its aftermath and the estimated damage reached $13 billion, more than that of Hurricane Matthew and Floyd combined.
Health officials warned against contact with floodwaters in the aftermath of the storm during which dozens of sewage treatment plants and large-scale animal operations were flooded and major breaches were reported at coal ash impoundments near Wilmington and Goldsboro.
Initial estimates on transportation costs top $266 million. Damage includes a 20-foot deep trench cut through U.S. 421 near the Pender-New Hanover county line.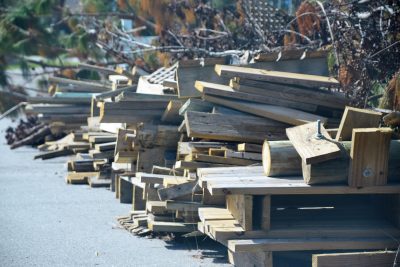 October
As hurricane recovery continued, coastal communities struggled to deal with massive amounts of debris.
the draft plan for restoring Lake Mattamuskeet is released.
The legislature approved a plan for roughly $400 million in initial disaster relief funding, mostly to provide state matches for Federal Emergency Management Agency grants.
More than a month after sustaining an estimated $140 million in damages, classes resumed at UNC-Wilmington.
Dare County agreed to take the lead on dredging Manteo Channel to free up the Elizabeth II, which is stuck at its Roanoke Island mooring.
Tropical Storm Michael, packing high winds and heavy rain, moved west to east across the state, leaving hundreds of thousands without power and causing significant soundside flooding.
Officials from Topsail Island's three towns held a briefing on what to do about the heavily damaged beaches. The storm erased much of the island's beaches, including almost the entire berm at Surf City.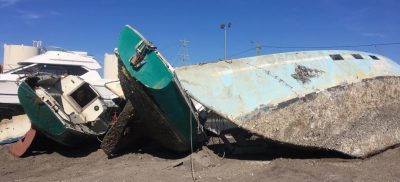 November
Citing the impacts of hurricanes Matthew and Florence, Cooper announced a stronger emphasis on climate change, ordering energy use reductions at state agencies and greater use of alternative fueled vehicles.
A record turnout at the polls reduced the Republican majorities in the state House and Senate. In a close race for a state senate seat in New Hanover County, former Wilmington Mayor Harper Peterson defeated Sen. Michael Lee.
Legislators received a briefing on the extent of problems with abandoned vessels. Some called for changes to the state's current system for dealing with derelict boats saying it doesn't work.
Blood tests of hundreds of Wilmington residents did not show concentrations of GenX, but showed other PFAS compounds.
The legislature returned for a second post-hurricane session and approved additional funding, mainly to provide matches to federal grants.
NCDOT awarded contracts for construction of two new ferries to replace older vessels. They will go into service in 2020.
Smithfield Foods announced new energy to waste projects as part of a company initiative to address concerns about hog waste.
Beaufort County commissioners approved a new solar facility ordinance, joining the list of coastal counties imposing new rules on siting, operation and decommissioning of solar facilities.
DEQ Secretary Regan visited Ocracoke to tour the island's microgrid energy system, calling it a innovative project that could help other communities.
December
Legislators approved an additional $18.5 million in funding for damage to beaches and infrastructure in coastal communities. Coastal representatives said they are not hopeful about finding funds to cover the estimated $162 million in state money needed for repairs and sand replacement.
Citing damage from Hurricane Florence, Duke Energy officials requested more time to complete efforts to excavate coal ash at its Sutton generating plant in New Hanover County.
House and Senate members offer competing bills on how to deal with boards and commissions ruled unconstitutional. A senate bill would eliminate the Clean Water Management Trust Fund, Parks and Recreation Board and four others. The House bill changes their composition and keeps them in place. Neither bill is passed.
The new Interagency Council on Climate Change, charged with developing strategies in state departments on energy savings and greenhouse gas reductions, held its inaugural meeting.
The Federal Energy Regulatory Commission suspended further construction on the Atlantic Coast Pipeline after a federal court ruled that environmental permits weren't given a close enough review.
DOT set the new rates for the passenger-only Ocracoke to Hatteras ferry. A round-trip ticket will cost $15 during peak season and $5 in the off season.
Environmental groups announced plans to sue the Trump administration over its approval of seismic testing in an area extending from Delaware to Florida.
In the final session of the year, the state House and Senate voted to override vetoes of an elections bill and omnibus legislation that included controversial changes to stormwater and buffer rules.