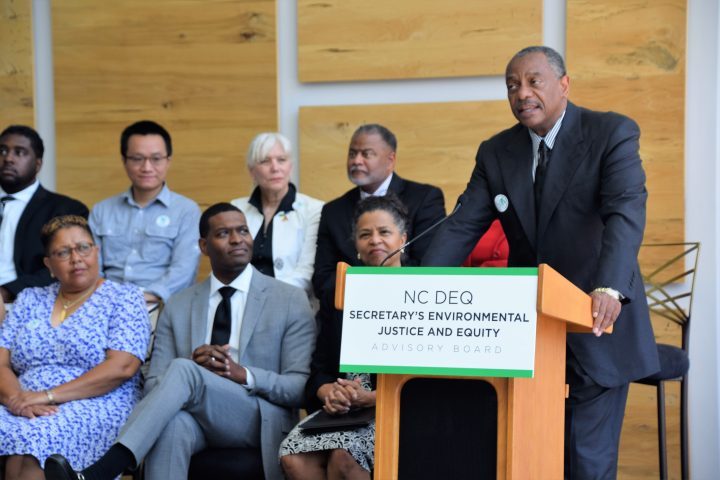 RALEIGH – A newly created panel will help change the way the state approaches and integrates environmental protection and social justice, Department of Environmental Quality Secretary Michael Regan said Wednesday.
Regan introduced his 16-member Environmental Justice and Equity Advisory Board during a ceremony in Green Square. The open, sunlight-filled space is in what he called "the people's environmental house," the DEQ headquarters on West Jones Street.
Officials described the board as a first step toward ensuring that DEQ considers disadvantaged and minority populations in its decision making. It's an important endeavor Regan said, "One that will help ensure that no North Carolinian is overlooked or left behind as we tackle some of the toughest environmental issues our state will face."
Regan said those tough issues include GenX, landfills, coal ash and animal feeding operations.
"We drink the same water, we breathe the same air that we test all across North Carolina. And that's why this particular board, the Environmental Justice and Equity Advisory Board, is so important to us."
A Missing Component
Veronica Carter of Leland, a member of the North Carolina Coastal Federation's board of directors and a 20-year Army veteran, is one of the new board's members. Carter, whose interest in environmental justice was fueled about 15 years ago by a proposal to build a 750-acre landfill near her then new home in Brunswick County, said there is a need for environmental justice on North Carolina's coast and across the state.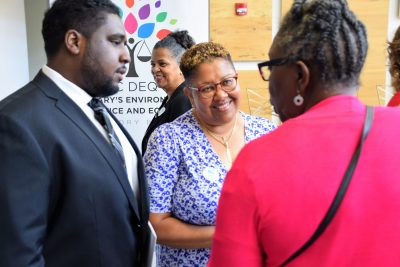 "Every organization, every group that we run into needs an EJ component," Carter said following the ceremony. "I'm so proud that the Coastal Federation picked that up a while ago and I'm so thankful to be a member of this board because it seemed like every major issue that we were trying to advocate for, for the Coastal Federation and other groups, had an EJ component that was somewhat missing, that it wasn't being examined or addressed. We were looking at the environment, but we weren't looking at the people and especially the least of these, as I like to call them, the communities of least resistance, the communities of color and the communities of a low socio-economic (status), that really didn't have the means to fight back."
The human aspect was something that Regan said had been diminished in his department's mission under the previous administration, which sought to frame the agency as more business-friendly.
"It downplayed the protection of people and no, it did not reflect my vision and the governor's vision for inclusivity," Regan said. "Governor Cooper and I wanted a mission statement that would better reflect the values we represent every day in protecting the health and welfare of all people we serve."
He said DEQ's new mission statement is to provide science-based environmental stewardship for the health and prosperity of all North Carolinians. That's not just a feel-good exercise but an achievable goal, Regan said, adding that all state residents should have the same access to a healthy and prosperous life.
"That means clean air, clean water and protections from the harmful impacts of climate change, whether that be sea level rising or more frequent and intense storms that leave our most vulnerable populations at a higher risk, or ensuring the jobs and the economic security of a better educated, cleaner and healthier future is available for those in our rural and poorest communities," he said.
Regan said environmental protection and economic prosperity are not mutually exclusive but go hand in hand.
"This mission for me is just as much personal as it is professional obligation," he said, adding that his beliefs were based on his personal faith and upbringing.
Members of the advisory board share that vision, Regan said.
"The good news is, we are not starting from scratch, folks. This is in North Carolina's DNA," Regan said, referring to a battle in Warren County in 1982 in which hundreds of residents were arrested in a long, unsuccessful fight against a state landfill for cancer-causing PCBs in their predominantly black community.
"They sparked a national movement and a dialogue that continues today. And like many voices in our state's rich history of pursuing equity, they took it upon themselves to try and right a wrong and seek fairness and justice, just like those from my beloved A&T State University who also sought equal and fair treatment at the Woolworth lunch counters in Greensboro, North Carolina. Though Warren County protesters lost the battle, they did not lose the war. Environmental groups began to see justice as a necessary part of their mission and that created a crack in the door."
Regan said members of the DEQ staff are also members of the communities they serve.
"Some of our detractors would have you think that we're disconnected regulators that don't care about the people and don't care about the economy. But I'm here to tell you, we care about the environment, we care about our communities, we care about the economy that supports our families."
He said the agency also cares deeply about diversity and has been working to diversify the staff to reflect the state's communities and their interests.
Community Branding
James Johnson Jr. of Chapel Hill, professor of strategy and entrepreneurship and director of the Urban Investment Strategies Center at the University of North Carolina's Frank Hawkins Kenan Institute of Private Enterprise, is the advisory board's chairman. Johnson said during the ceremony that the panel's work was about maintaining and enhancing North Carolina's competitiveness in a global marketplace.
"Research confirms that firms and people are consumers of place," he said. "Today, quality of life factors are far more important than traditional drivers of economic development and locational decisions of both firms and individuals and families. Communities that pursue equitable and inclusive economic land use and environmental policies, practices and procedures are far more attractive and therefore, I would argue, competitive than communities that do not embrace this paradigm shift."
Johnson said communities that brand themselves as sustainable places must strive to protect the environment and natural resources, adhere to principles of social justice and equity and return shareholder value.
"From a global perspective, sustainability is about the planet, people and profits. It is indeed possible to do good and to do well at the same time," he said.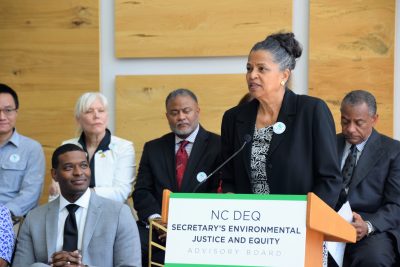 Vice Chair Marian Johnson-Thompson of Durham, a retired biology and environmental sciences professor at the University of the District of Columbia and adjunct professor in the School of Public Health at UNC, explained that the underserved and underrepresented have been overly affected by negative environmental influences and the advisory board reflects a new seriousness in the state's approach.
"To have an appointed state committee consisting of such a diverse group of individuals representing racial and ethnic minorities, environmental and health scientists, health professionals, clergy, academia, the legal community, underserved groups, activists, policymakers, educators and private sector representatives is indicative of our state's leaders' commitment to addressing environmental justice inequity," she said.
Carter expressed similar appreciation.
"I'm glad that the governor and the secretary are now forming a really impressive board – I'm really humbled – a really impressive board to address those issues and be able to bring them directly to him as we see them affect our folks on the coast," she said. "We talk about GenX, we talk about coal ash but there are communities that are even more vulnerable within that big subset of all of us. And so, we've tried to address this as individual groups, individual organizations, but now hopefully we'll have the secretary and the governor aware of it when they're making policy, when they're trying to come up with plans to address it."
How the board may function when it comes to actual policymaking remains unclear, but Carter said the move opens the lines of communication for people whose voices may have been drowned out in the past.
"We're brand new so it's still somewhat of an experiment," she said. "If nothing else, we bring things directly to the table. We have that access to the secretary and to the DEQ staff. They hear many things from many people but now it can be more of a structured meeting. I think that'll work well."
The 16 members of the board are:
James Johnson Jr. of Chapel Hill – Chair.
Marian Johnson-Thompson of Durham – Vice Chair.
Danelle Lobdell of Chapel Hill.
Naeema Muhammed of Rocky Mount.
Jamie Cole of Raleigh.
Susan Jakes of Raleigh.
Randee Haven O'Donnell of Chapel Hill.
Angela Esteva of Cary.
Jeff Anstead of the Haliwa-Saponi Indian Tribe, Warrenton.
Joseph Owle of the Eastern Band of Cherokee Indians, Cherokee.
Rodney Sadler Jr. of Charlotte.
William Barber III of Durham.
Marilynn Marsh-Robinson of Knightdale.
Mercedes Hernández-Pelletier of Fuquay-Varina.
Veronica Carter of Leland.
Yu Yang of Cary.