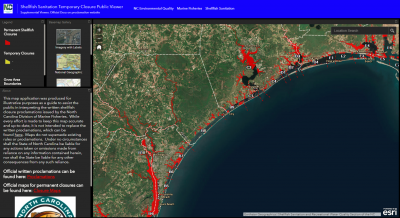 MOREHEAD CITY  — It's now possible to see in real time which shellfishing waters are open to harvest, thanks to a new application the Division of Marine Fisheries launched Monday.
The Shellfish Sanitation Temporary Closure Public Viewer is a map of the state's coast showing both the permanently closed shellfish harvest areas and those temporarily closed due to rainfall, stormwater runoff or other causes of short-term contamination such as wastewater spills, according to the division.
Users can either browse closure areas or use the search tool at the top right-hand corner of the screen to navigate directly to a location.
Part of the division's Shellfish Sanitation and Recreational Water Quality Section mission is to make sure that all shellfish harvested from state waters are safe to eat.
To follow through with that mission, there is regular testing of shellfishing waters for the presence of fecal bacteria, which could be filtered by the shellfish when feeding and concentrate the bacteria to a level that could cause severe illness if harvested and eaten raw, surveys of the shoreline area for the presence of potential pollution sources and studies conducted on point source discharges of pollution, according to the division. All of the data collected is then used to determine the proper classifications for state shellfish growing areas.
While the written proclamations that describe the boundaries of the temporarily closed shellfishing waters will remain the official, legal source for temporary closure descriptions, the new application is intended to help fishermen to visualize the closures in real time in a user-friendly way that is available on desktop computers, tablets and cell phones.
Learn More