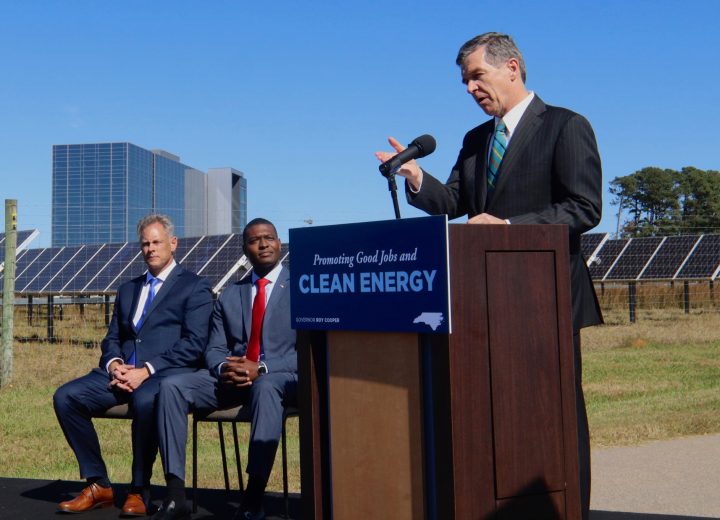 CARY — The sun was shining and sheep were grazing under the solar panels at the SAS Institute as Gov. Roy Cooper took to the podium to announce an array of initiatives that underlined a change of course on climate change for a state once roundly mocked for defying its existence.
Cooper's Oct. 29 executive order, signed on the spot right after he delivered his remarks, calls for agencies to integrate climate change mitigation into programs, sets up a new interagency council to address the issue, increases energy and water conservation and use of zero-emission vehicles.
It states unequivocally in its introduction that North Carolina will support the 2015 Paris Climate Accord and sets a statewide goal of reducing greenhouse gasses by 40 percent by 2025.
The governor called on greater cooperation between government and the private sector to build out clean energy infrastructure in North Carolina.
"A strong clean energy economy combats climate change while creating good jobs and healthy environment," the governor said.
Cooper's announcement was another example of the sharp change in direction on energy policy from his predecessor, Pat McCrory, who backed onshore and offshore oil and gas exploration and declined to take up a climate change strategy. He found a willing partner in avoiding the issue in the General Assembly, where many legislators have been openly skeptical and occasionally hostile to assertions about climate change and rising seas.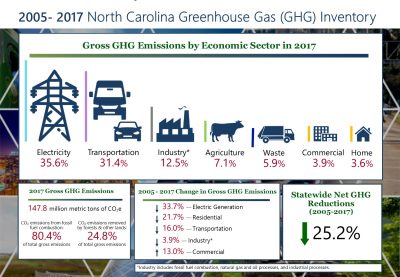 On Friday, the North Carolina Department of Environmental Quality released for public review a draft statewide inventory of greenhouse gas emissions, a detailed accounting of greenhouse gases from human activity in key source categories from 1990 to 2017. The inventory also projects North Carolina's greenhouse gas emissions out to 2030 based on expected changes in fuel use, land use, population, historical trends and other factors.
Molly Diggins of the North Carolina Sierra Club said the actions Cooper is taking are significant because they are putting state action on climate change back into the public eye at a time of heightened concern and interest driven by repeated natural disasters.
"It's a breakthrough," she said. "The governor and his administration have put in place a framework for planning and taking action going forward and that has been missing."
That renewed conversation is coming at a pivotal moment as the state confronts the combined recovery efforts of multiple storms.
In stop after stop in eastern North Carolina, the governor and other top state officials are stressing that adapting to climate change and hurricane recovery are intertwined.
"With historic storms lashing our state we must combat climate change, make our homes, businesses and infrastructure more resilient and lesson the impact of natural disasters to come," Cooper said.
In his remarks at SAS, Department of Environmental Quality Secretary Michael Regan, a Wayne County native who has spent much of the last two months east of Interstate 95, said the state must change the way it considers climate science in its policies.
"Too many North Carolinians are vulnerable to sea level rise, increased flooding and the increased intensity of severe weather events and, as we saw during Hurricane Florence and Tropical Storm Michael, so are our roads, our ports, our railways and our water quality," he said.
"The communities hit the hardest have the most to gain from the transition to a clean energy economy and a more resilient infrastructure investment in North Carolina."
In an interview afterward, Regan, who took over a department that had scrubbed climate science from its website, said as DEQ moves forward on policies and regulations it can't avoid the realities of rising seas, stronger storms and changing floodplains.
"What you'll see from this administration in the policies that we'll put forth is an accurate characterization of what the science is telling us," he said. That includes a hard look at sea level rise. DEQ, he said, "is taking into account the science and the data that are leading us to better understand and quantify the significant impacts from sea level rise."
Among the items in the executive order is a mandate for state agencies to evaluate the impacts of climate change on programs and operations and integrate mitigation and adaptation practices into them.
Cooper told reporters that the strategy means more buyouts and funding for adding freeboard to homes and businesses in floodplains and a focus on infrastructure resilience that includes fixes for flooding on I-40 and I-95 and reducing failures at wastewater treatment facilities.
The plan does not include any specific funding or policy request of the General Assembly. Cooper said those will come, but he wanted to jump-start the effort.
"There are a lot of things that we are going to be able to do even without General Assembly or congressional action, but we certainly will have a legislative agenda as we move forward."
The administration outlined a $1.5 billion Hurricane Florence recovery plan in early October based on a damage estimate of $13 billion. That amount has jumped significantly, and a new estimate released last week puts the new total at $17 billion. Damage estimates for Tropical Storm Michael, which was bearing down on the state as the Florence plan was released, have yet to be released.
Last month, the General Assembly approved $400 million in appropriations for a new Hurricane Florence Disaster Recovery Fund and set aside $395 million for another round of future spending. With the legislature scheduled to return Nov. 27, further appropriations could be approved this year, but the bulk of recovery funding is likely to come in next year's regular session, which opens in early January.
So too are the debates on policy changes in the wake of the disaster, which legislators have been reluctant to take on so far this year. The list already includes controversial changes to floodplain management and further mitigation requirements for public water systems, large-scale hog and poultry operations and coal ash basins. With the new executive order, Cooper has indicated that he will also make energy policy and greenhouse gas reduction a focus.
Both Senate President Pro Tempore Phil Berger, R-Rockingham, and House Speaker Tim Moore, R-Cleveland, said they were interested in seeing concrete proposals, particularly on energy policy.
Legislators have struggled to find a balance between traditional power producers and the state's growing demand for renewable energy. Compromise legislation passed in 2017 after a breakdown in talks between stakeholder groups included both long-sought reforms supported by solar advocates and a moratorium on wind energy projects.
Berger said any changes to energy policy have to make economic sense.
"While arbitrary platitudes might satisfy far-left donors, our state's energy policies have to account for the real costs they impose on the public," Berger said. "I support an all-of-the-above energy strategy that includes renewables, but I don't support programs that have minimal positive impact and can only sustain themselves with taxpayer and ratepayer money from those who can least afford it. The key is to find solutions that actually work in the private market, and I'm open to any and all ideas that help get us there."
Moore said he approves of steps in the governor's plans to improve energy efficiency in state government but cautioned that major energy policy changes will require bipartisan support.
"State officials should do everything in our power to increase the efficiency of government buildings and motor fleets to be good stewards of taxpayer dollars and the environment, so I'm open to reviewing specific strategies and proposals that would achieve those goals on behalf of North Carolinians," Moore said in a statement to Coastal Review Online. "Effective energy reform requires bipartisan cooperation, like the Competitive Energy Solutions Act passed by the state legislature and signed by the governor in 2017, so we must continue to work together towards other commonsense reforms that secure a sustainable and affordable future to benefit North Carolina families and businesses."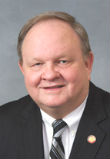 Rep. Chuck McGrady, R-Henderson, one of the main budget writers for the House and a clean energy advocate, said he believes attitudes are changing among his colleagues.
"After hurricanes Matthew, Florence and Michael, I suspect lots of people are beginning to wonder whether climate change is something that needs to be addressed," he said. "It is too soon to say whether constituents' concerns might cause legislators to reconsider their views on climate change. However, there has been much more attention paid to the resilience issue in the most recent disaster relief package relating to Florence than was evident when addressing Hurricane Matthew disaster relief."
McGrady said he wasn't surprised to see Cooper's announcement and agreed that the state needs a strategy for climate change.
"Governor Cooper was simply honoring a commitment to address climate change," he said "The McCrory Administration had no plans to address climate change, but Cooper said his administration would be different. Since I believe North Carolina needs to plan for climate change, particularly sea rise, I'm supportive of setting greenhouse gas reduction goals."
Diggins said it's clear that intensity and frequency of the storms in North Carolina has had an impact on the public debate, but translating that into changes in policy won't come easy.
"It's made it a little harder to take a position that we don't need to be concerned about changes in our climate," she said. "Whether time passes and that feeling goes away we don't know yet. Whether or not there will be sufficient changes either in representation or attitude in the legislature remains to be seen."