When it comes to finding the best Thanksgiving (and Friendsgiving) recipes ever, we like to dig into the Coastal Review archives.
The people along North Carolina's shore have their own way with Thanksgiving. Sure, they serve turkey, stuffing, gravy and pie, but they like to sub in seafood here and there, play around with sweet potatoes that grow so well in the region and add a couple unexpected ultra-rich desserts.
These aren't just our favorite Thanksgiving recipes. Each one has a story to tell about our coast's food culture, and that makes for delicious conversation at the Thanksgiving table.
Collards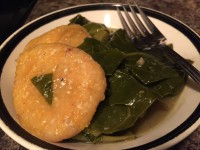 Some cooks start by simmering a few ham hocks for a couple hours and then add "a mess of greens" to the pot. Others fry strips of fatback bacon in a big stock pot before adding collards and water. Either way, the monster leaves must be simmered for a couple hours to achieve the tender, dark green, just-bitter greens and an intensely savory broth known down South as "potlikker." In Carteret County's Down East communities, folks like to add cornmeal dumplings on top.
Get the recipe: Classic Stewed Collards
Get the recipe: Cornmeal Dumplings
Sweet potato casserole
When we dug into the history of candied yams, we discovered lots of contemporary sweet potato casserole ideas. Chefs might top candied sweet potatoes with nuts, herbs, granola, cornbread, parmesan cheese or bread crumbs. Some recipes suggest adding roasted chestnuts, crumbled bacon, chipotle chilies, lemon juice, orange zest, garlic, mushrooms, cranberries or dried apricots to the sweet potatoes. Our version calls for a honey bourbon glaze and cranberry streusel dotted with marshmallows.
Get the recipe: Contemporary Candied Yams
Oyster stuffing
Hardly a cook on the North Carolina coast gets through the Thanksgiving season without thinking about oyster stuffing.  The name itself evokes visions of plump oysters hidden in a fluffy blend of herbs, breadcrumbs and rich stock, a dish so luxurious it begs a silver dish rather than a place inside the holiday turkey.
Get the recipe: Oyster Stuffing
Lightning rolls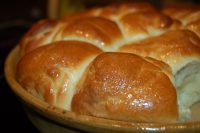 Some folks along the N.C. coast call them "lightning rolls" or "light bread." Others say "hot rolls" or "yeast rolls." No matter the name, these buttery, golden brown yeast rolls baked with a dash of sugar are always a hit, especially for leftover turkey sandwiches.
Get the recipe: Lightning Rolls
Pig Pickin' Cake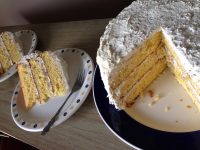 North Carolina gets credit for the pig pickin' cake because of the treat's name and how it perfectly cools the palate after a tangy pulled pork dinner. The sweet mountain is so loved across the state that it has expanded beyond pig pickin's. When the New York Times in 2014 asked Google to find out which dishes residents of each state searched most often for Thanksgiving, pig pickin' cake was North Carolina's No. 1. Cool Whip frosting full of pecans, canned crushed pineapple and instant vanilla pudding covers three vanilla orange cake layers prepared from a boxed mix.
Get the recipe: Pig Pickin' Cake
Sweet potato pie
Ten years after Sir Walter Raleigh attempted to establish a settlement at Roanoke Island, England's John Gerard wrote about the sweet potato in his 1597 "Great Herball," or "Generall Historie of Plantes," in which he suggested "that the sweet potato "comforts, strengthens, and nourishes the body."The perfect sweet potato pie is a balance of creaminess, sweetness and spices against a sturdy, savory crust. The filling is so smooth and flavorful, no ice cream or whipped cream garnish is required.
Get the recipe: Sweet Potato Pie