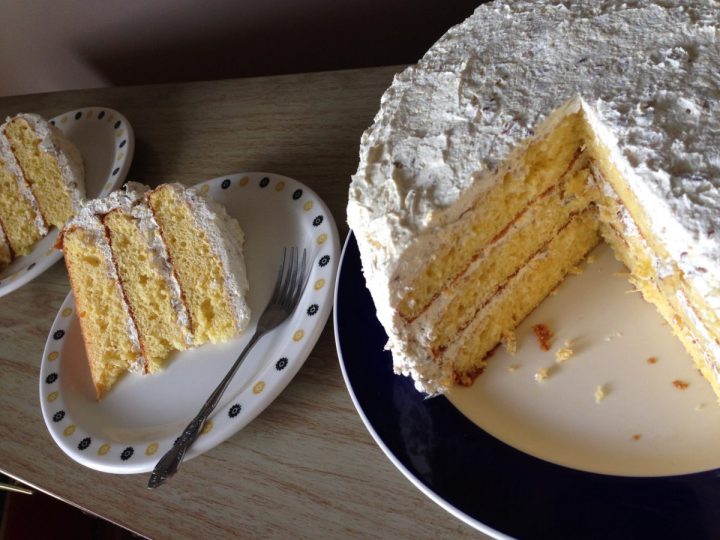 Any list of essential Southern layer cakes should include carrot, coconut and red velvet. Some people would argue chocolate, too, but in North Carolina, I'd add the pig pickin' cake instead.
Hardly a hog roast happens without this tower of deliciousness appearing. Cool Whip frosting full of pecans, canned crushed pineapple and instant vanilla pudding covers three vanilla orange cake layers prepared from a boxed mix.
Pig pickin' cakes are always served chilled. They're among those deceptively light desserts that get you into trouble. Despite the cake's lack of wholesome ingredients, you can't stop at one slice, and the fluffy texture lulls you into believing that's OK.
North Carolina gets credit for the pig pickin' cake because of the treat's name and how it perfectly cools the palate after a tangy pulled pork dinner. The sweet mountain is so loved across the state that it has expanded beyond pig pickin's. When the New York Times in 2014 asked Google to find out which dishes residents of each state searched most often for Thanksgiving, pig pickin' cake was North Carolina's No. 1.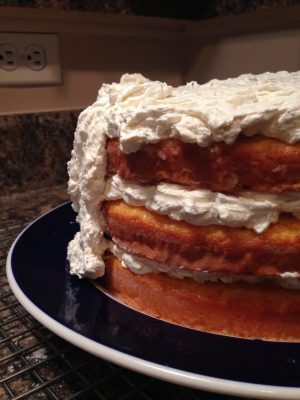 How Carolinians came to love the pig pickin' cake is probably rooted in the mid-20th century age of convenience foods. The cake is a cinch to make and comes out tasty every time thanks to its processed ingredients.
As a child, I baked pig pickin' cakes so often, without adult supervision, that I still know the formula by heart. I never worried about the cake turning out dry. The recipe includes a built-in remedy: Soak the layers with juice drained from the canned crushed pineapple that goes into the frosting. Uneven cake layers don't matter either. They're always perfect under all that whipped cream chunky with fruit and nuts.
Some recipe writers suggest two tall cake layers, a thin smear of frosting in between. They advise that pecans in the frosting are optional. Icing should be spread perfectly smoothly. Garnish with a few of the canned mandarin orange segments that go into the batter. Those people are probably of that ilk who don't understand Southern accents and think the pig pickin' cake is also called "pea pickin' cake."
Tar Heels know that the cake and frosting layers should be about equal height, each barely an inch tall. My mother liked to bake two layers, and then spilt each one to make a four-layer cake, making it moister and a sure-fire means of getting plenty of frosting in each forkful. Pecans help give the cake its distinctive North Carolina character. Gobbed on frosting, the best part of any layer cake, is decoration enough.
I like to make more frosting than the recipe calls for. So did my mother. So did the grandmother who shared the recipe with her. Just about everyone I know has a recipe that was handed down to them. That's how I think the pig pickin' cake became a classic, and why hardly anyone says "No thank you" when it makes the rounds.
Pig Pickin' Cake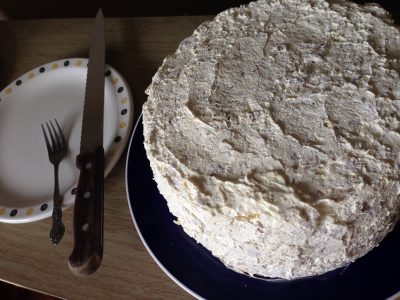 1 box yellow cake mix
4 eggs
¾ cup vegetable oil
1 small can mandarin oranges in light syrup
1 20-ounce can of crushed pineapple
1 16-ounce container Cool Whip or other whipped topping
1 small box instant vanilla pudding
1 cup chopped pecans
Preheat oven to 350 degrees. Grease the inside sides and bottom of three 8-inch cake pans and flour lightly.
Using a mixer set at low speed, blend cake mix, eggs, oil and oranges with their juices for 30 seconds. Increase mixer speed to medium and beat batter for 2 minutes. Pour batter in pans and bake about 25 minutes or until a toothpick inserted in the center of each cake comes out clean of batter. Cool cakes in pans on a wire rack for 15 minutes. Remove cakes from pans, set cakes on wire rack and cool them completely.
Drain and press juice from pineapple and set juice aside. Place drained pineapple, whipped topping, vanilla pudding and chopped pecans in a large bowl. Stir until a mixing spoon until well combined. Refrigerate frosting until ready to use.
Place one cake layer on a serving platter. Use a toothpick to poke holes all over the cake. Brush 1/3 of the pineapple juice over the cake. Spread a few heaping spoonfuls of frosting on the cake. Repeat with remaining cake layers. Frost sides of cake. Cover and refrigerate several hours or overnight before serving.
Makes 12 servings.