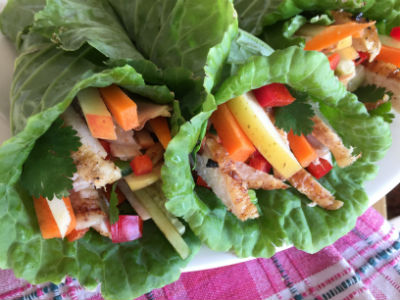 You won't find an entry for "collards" inside The Oxford Companion to Food. The alphabetical order where the vegetable would fit into the granddaddy of food encyclopedias asks you to "See kale."
"Humph," coastal North Carolinians would say. Kale and collards may be in the same cabbage family, but Tar Heels will tell you collards are not the same as kale. They might say collards should be "the new kale," since collards taste better than wildly popular kale, especially how Southerners cook collards.
Some of them start by simmering a few ham hocks for a couple hours and then add "a mess of greens" to the pot. Others fry strips of fatback bacon in a big stock pot before adding collards and water. Either way, the monster leaves must be simmered for a couple hours to achieve the tender, dark green, just-bitter morsels and their intensely savory broth known down South as "potlikker."
Ancient Greeks believed cabbages sprang from the sweat of a nervous Zeus as he was trying to explain conflicting prophecies. Despite collards' link to the greatest of Greek gods, Greeks didn't like cabbage. But the Romans did. Collards grew wild along the Mediterranean, and Romans probably spread them around Europe. By the early 1600s, British colonists were growing collards in what became the American South.
The vegetables took well to eastern North Carolina's sandy soils, growing in fall, winter and spring. Collards don't mind the cold. Southerners say collards taste best after the first frost. A bit of freeze tempers the vegetable's distinctive bitterness.
African slaves working in the South created the collard greens stewed with pork that modern diners know and love. Cooks simmered the greens, among the few vegetables they were allowed to grow, with whatever bits of meat they were given, oftentimes pigs feet, ham hocks or chitterlings.
Today, collards are a definitive Southern food, but for the past few years, they've been showing up on menus at both casual and fancy restaurants across America. They might be braised with chipotle chilies or cut into thin ribbons and stir-fried with Asian seasonings. I think raw collard leaves make fine wrappers for sliced roast chicken and julienned carrots, cucumbers, jicama and sweet bell peppers, something akin to lettuce wraps.
One of the most popular salads at Lovey's Market in Wilmington blends tofu and chopped, raw, organic collards and other greens in tamari vinaigrette. Near Wrightsville Beach, Port Land Grille chef Shawn Wellersdick uses words like "jazz" and "adaptable" to describe collards. His famous Redneck Eggrolls are filled with pulled pork barbecue and local collards. Wellersdick serves them alongside mango mint dipping sauce.
When collards are stewing, they send out a powerful aroma. Some people call it a "stench," perhaps a remnant of anxious Zeus himself. Wellersdick, a Connecticut native, doesn't mind the odor.
"To me it's a smell that there's a meal going on," he said. "You know you're gonna' get supper."
---

Collards here in North Carolina are sorta like ACC basketball. Every cook has an opinion about how best to cook them. This video shows a fairly standard Southern method, though we would quibble about adding sugar. Start with fresh collards, especially if picked after a frost, and there should be no need to artificially sweeten them.
---
Stewed Collards
2 pounds of collards, washed and thick stems trimmed
1/4 pound salt pork, cut into 1/4-inch thick slices (see cook's note)
½ cup water or chicken stock
1 to 2 tablespoons rendered bacon fat
Sea salt
Crushed red pepper
Pinch of sugar (see cook's note)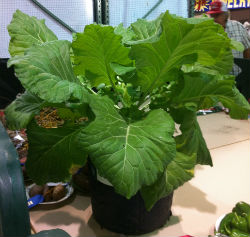 Cook's note: Salt pork is salt-cured pork cut from the pig's belly and sides. It is similar to bacon, but fattier and unsmoked. The leaner cuts are called here in the South "steak o' lean." Fatback is different from salt pork in that it is unsalted. Salt pork is available at most supermarkets.
Southern cooks might add a pinch of sugar to the collards while their cooking or near the end of cooking to help temper the vegetable's bitter flavor. You don't want to taste the sugar, so add pinch and taste to determine if more sugar is needed.
Procedure: Stack collard leaves, roll and slice into 1/2-inch-wide strips. Set aside. Place a stockpot over medium-low heat. Place salt pork in the pot and slowly cook until fat has been rendered and pork is crisp. Remove the meat or leave it in the pot. Add chicken stock to the pan and then the collards. When collards are just wilted, add the bacon grease. Season greens with salt and crushed red pepper to taste. Simmer collards, covered, until tender, about 2 hours.
Serves 4.
Lovey's Tofu and Greens Salad
1/4 pound extra firm tofu
2 tablespoons tamari
½ pound raw collards, washed and torn into bite-sized pieces
½ pound raw greens, such as kale or turnips, torn into bite-sized pieces
2 tablespoons rice wine vinegar
1/3 cup tamari
1/3 cup olive oil
Fresh ground black pepper, to taste
1 cup thinly sliced red cabbage
Cut tofu into 1/2-inch thick slices. Cover with 2 tablespoons of tamari and marinate in the refrigerator for two hours. Press liquid from tofu. Place tofu on a baking sheet. Bake tofu in convection oven, preheated to 250 degrees, for 1 hour. Set aside to cool.
Place greens in a large mixing bowl. Combine rice wine vinegar and tamari in a medium mixing bowl. Slowly whisk in olive oil. Pour dressing over greens and toss. Carefully mix in tofu. Season with pepper. Refrigerate salad for at least 1 hour. Sprinkle red cabbage over salad and serve.
Serves 4