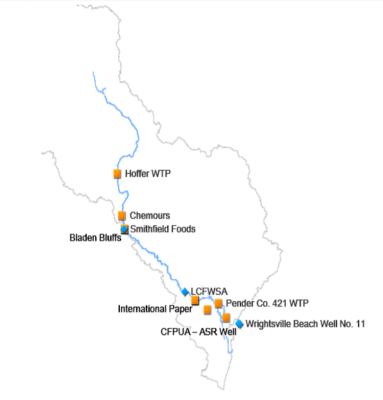 NEW HANOVER COUNTY — A lawsuit filed on behalf of a nonprofit environmental group asks that the Department of Environmental Quality use its authority to force Chemours Co. from releasing GenX and related compounds from its plant on the Cape Fear River.
The Southern Environmental Law Center, or SELC, on behalf of Cape Fear River Watch, filed the suit Friday in New Hanover County Superior Court arguing that the Department of Environmental Quality "should use its existing authority to require Chemours to stop immediately all emissions and discharges of GenX and chemically related compounds from its Fayetteville Works Facility," according to the release.
SELC argues in the filing that DEQ is authorized to order Chemours to stop releasing toxic perfluoroalkyl and polyfluoroalkyl substances, or PFAS, including GenX, because of the contamination being a threat to people's health and public safety.
"The state needs to stop immediately Chemours' toxic pollution of the air and water that families and communities from Fayetteville to Wilmington depend on," said Geoff Gisler, senior attorney with the law center, in a statement. "Every day that goes by, Chemours puts more toxic pollution into the air and water that accumulates in our rivers, land, and groundwater. Chemours' harmful pollution must end now."
On June 15, DEQ denied Cape Fear River Watch's request for declaratory ruling asking the agency to use its authority to stop pollution from Chemours' facility, according to the release, "Yet it affirmed that Chemours and DuPont have caused widespread air and water pollution and immediate action is necessary to protect public health."
The groups are appealing the denial in court.
"The people of North Carolina depend on DEQ to protect our health and safety in times of emergency," said Dana Sargent, president of the Cape Fear River Watch Board of Directors, in the release. "This is one of those times."
A spokeswoman with DEQ told Coastal Review Online that the agency can't offer comment on the suit because of pending litigation.
DEQ filed a proposed court order on June 11 to require Chemours take numerous measures to eliminate or reduce air emissions and water impacts caused by GenX and related compounds and address contamination in and around the Fayetteville Works facility, according to DEQ's website.
DEQ is continuing to consider the public comments on this proposed order received during the comment period that ended on July 11, the representative noted.
Learn More