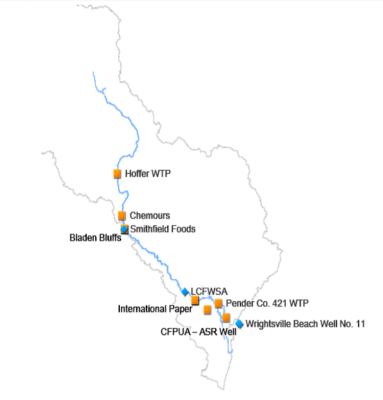 This story has been updated.
RALEIGH – The North Carolina Department of Environmental Quality announced Monday it had taken further action to protect communities from the effects of GenX.
DEQ filed a proposed court order Monday that would require Chemours Co. to take measures to reduce its environmental damage and issued a notice of violation.
A Chemours spokeswoman answered a request for comment Tuesday on the measures, saying that the company is reviewing the documents DEQ issued Monday.
"Chemours is actively addressing all of the items outlined in NCDEQ's proposed court order and will achieve the 99 percent emission reduction by December 31, 2019. Chemours continues to investigate every opportunity to further accelerate and expand our emission control plans," according to the email.
DEQ filed Monday a proposed court order to require the Chemours Co. to implement several measures to eliminate or reduce air emissions and water impacts caused by GenX and related compounds and address contamination in and around the company's Fayetteville Works facility. A court date for a hearing on the order is to be requested.
DEQ is taking public comments until July 11 for the proposed order. Upon conclusion of the public comment period July 11, DEQ will evaluate if changes to the proposed order and submit a revised order to the court if needed. DEQ intends to ask the court at that time to issue the proposed order.
Additionally, DEQ  issued Monday a notice of violation to Chemours for 18 additional compounds found at the Fayetteville Works facility as detailed in a Jan. 31 report submitted by the company. Onsite groundwater sampling data included in the report showed levels of the compounds that exceeded allowable concentrations. DEQ is exploring all legal options, including civil penalties, for the violations outlined in the notice.
Among its many requirements, according the the release, proposed order states that Chemours must:
Reduce facility-wide air emissions of GenX compounds by at least 97 percent by 

Aug. 31

, with a 99 percent reduction required by 

Dec. 31,2019

.
Conduct re-testing of private drinking wells on a quarterly, semi-annual or annual basis, depending on the level of GenX compounds detected in the initial round of testing.
Provide permanent alternative water supplies or treatment systems to households impacted by groundwater contamination.
Conduct toxicity studies relating to human health and aquatic life impacts from chemicals at the facility.
Notify and coordinate with downstream public water utilities when an event at the facility has the potential to cause a discharge of GenX compounds into the Cape Fear River above the health goal of 140 parts per trillion.
"We are taking this comprehensive legal action to protect communities from further impacts due to GenX contamination," said DEQ Secretary Michael Regan in a statement. "We need to ensure that Chemours moves quickly to stop the release of these chemicals and address the impacts that have already occurred."
Learn More