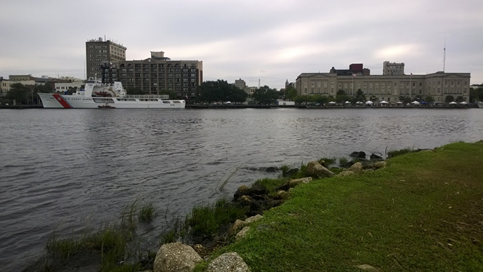 A recent advisory by the state to avoid fish contaminated with forever chemicals from the Cape Fear River is on the agenda for the Secretaries' Science Advisory Board's meeting next month.
The board is scheduled to meet at 10 a.m. Wednesday, Aug. 2, at Green Square Training Room, 217 West Jones St., Raleigh.
North Carolina Department of Health and Human Services staff will present the details of a July 13 advisory recommending limiting fish consumption from the middle and lower Cape Fear River because of concerns about exposure to perfluorooctane sulfonic acid, or PFOS, found in fish sampled from that area. PFOS are per- and polyfluoroalkyl substances, or PFAS, often called "forever chemicals" because they do not break down in the environment.
Also on the draft agenda, the Department of Environmental Quality staff will give an update on Cape Fear River fish data using samples collected in 2022, Division of Air Quality staff are to explain the current top priority pollutants and scope of their future work, and a presentation is scheduled on the data behind the Environmental Protection Agency's new approach toxicology models.
The public is invited to attend the meeting in person or online.
Join Webinar #2428 829 9683 Via WebEx. The password is ncdeq.
Listen by phone by calling 1-415-655-0003. The access code is 2428 829 9683.
There will be an in-person public comment period with opportunity to sign up upon arrival at the meeting.
The Secretaries' Science Advisory Board is made up of 13 experts in toxicology, public health, ecology, engineering, and other related fields and assists the departments of Environmental Quality and Health and Human Services. To learn more about the board and hear recordings of past meetings, visit the board's website.