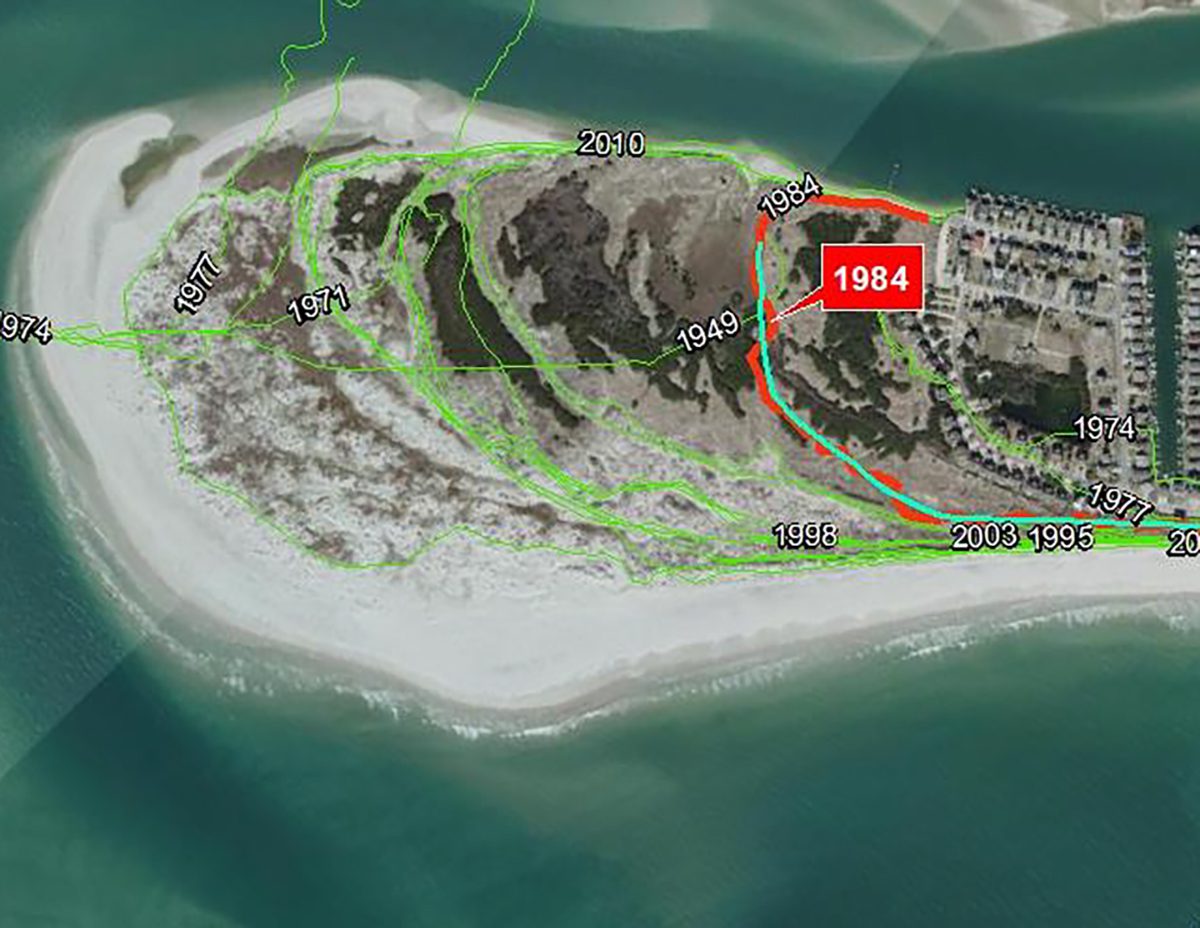 More information, more work, more study and more discussion are needed.
Topsail Beach commissioners said Monday that a Raleigh software entrepreneur's evolving plan to purchase and develop a personal multi-home family compound with a private marina on an undeveloped 119-acre site situated at the south end of town isn't yet on solid enough footing to allow for a decision on a long-pending rezoning request.
The town board said it still wants more answers and professional analyses related to the proposal before it decides.
At one point during the special called meeting held to discuss proposed conditions and comments on the conditional rezoning application for the New Topsail Inlet property known as The Point, Commissioner John Gunter suggested the entire process needed to start anew because so much had changed, including late-hour changes that he said made it appear that the Olsons were just trying to win votes.
The applicants and prospective owners of the parcel, Todd Olson, founder of Pendo, and his wife Laura Olson, were at the meeting. The Olsons said they were merely reacting to feedback from the public and town planning board in making multiple changes to their plans since talks of the proposal began last year. They said the plans were presented as a "vision doc" and had been fluid to allow for dialogue, "to open up the aperture of what's possible" regarding the site, which is part of the federal Coastal Barrier Resources System.
The Olsons said their proposed private development of the federally restricted site would be far less dense than any other development in town and all changes made in the latest iteration of their plans had been made in response to officials' recommendations.
But some commissioners were frustrated that changes were made as recently as the night before the meeting.
"I'm struggling with why we've gotten to this point when my feeling is, you have had six months or more to respond to the initial public comments that you solicited yourself and then didn't really address to people's satisfaction," Gunter said to the Olsons. "And now the proposal, in my mind, has changed in hopes of securing more agreement to it."
Commissioner Frank Braxton said the Olsons could be best served by professional assessments that address the issues raised in prior discussions.
"You're trying to sell a plan, and we don't have it yet," Braxton said.
The board consensus included calls for soil scientists for septic, hydrogeologists for potable water and engineers to study issues such as water pressure for fire suppression where public utilities cannot be extended. An environmental assessment was also recommended.
Jacksonville-based surveyor Charles Riggs submitted the rezoning request last year on behalf of the Olsons. Riggs offered on Monday to draw up a new site plan to allay the board's unease, but Braxton suggested bringing in other expertise instead.
"You may be going outside of your wheelhouse on something like this because this is a one-of-a-kind shot. This is one of the most primo lots on the East Coast right now and something very unique. And I would think you'd really want to throw what you can at it and get a very talented architect and engineer — landscape architects, a planner, whatever — and have them really go over it and try to give you something good to sell," Braxton said.
Braxton is president of an engineering and landscape architecture firm who has also worked with the Raleigh Planning Department.
Much of the meeting's discussion centered on a draft of points for proposed conditions. The Olsons had previously agreed to the planning board's conditions, included in the document, but commissioners wanted more detailed answers.
Earlier, during the public comment portion of the meeting, several property owners cited similar and familiar concerns about the proposed project. But it was the late-hour revisions that chafed some members of the board.
Commissioners said it was unfair to them and the public to be expected to consider the controversial rezoning application when the plan was still changing as recently as within 24 hours of the workshop meeting at town hall.
Todd Olson said the initial documents were submitted anticipating that further questions would be asked and intending to provide a sense for what the couple would be amenable to in advance.
"We're not saying, 'We need that,' we're not saying, 'We want that.' We're not saying that even is what's going to exist. We're saying that if there's discussion of a parking lot, there are questions that are, 'What does it look like?' and 'What amenities will be there?' And we're simply open to having the conversation. We're not saying this is what we think, but there's a lot of conditions that we haven't had an open dialogue around and we're trying to create an open dialogue," Olson said.
Olson said that the changes were also in response to public feedback.
"I don't think there's any submission that we're going to submit that's going to make people happy to be quite honest," he said.
Gunter noted that the plans had been public for months, an official public hearing was set for Sept. 13, the board was expected to make its decision in October, and now among the last-minute changes was enlarging the proposed building envelope.
Riggs said that was to allow the family flexibility, "So that when they want to build a house in a couple of years, they can pick the spot and then design it, and then 10 years later, when they want to build their second house, they can pick that spot and then design. So, any plan that you see today is going to be approximate."
"This needs to start all over again if you're going to expand what you're proposing," Gunter said.
Conservation enhancements
Information was sent to Coastal Review on behalf of the Olsons over the weekend. In it, the couple says their plan would yield community benefits such as preservation of property the town had tried to purchase for more than 20 years, improved and more accessible beach access with showers and bathrooms maintained by an attendant, and enhanced conservation as the new owners would improve awareness of wildlife nesting site "disturbances" now most often caused by "unknowing beachgoers."
The Olsons say they have been working with the Coastal Land Trust and, if conserved, the nonprofit's "efforts would have uninterrupted reach between Topsail and Figure Eight Island."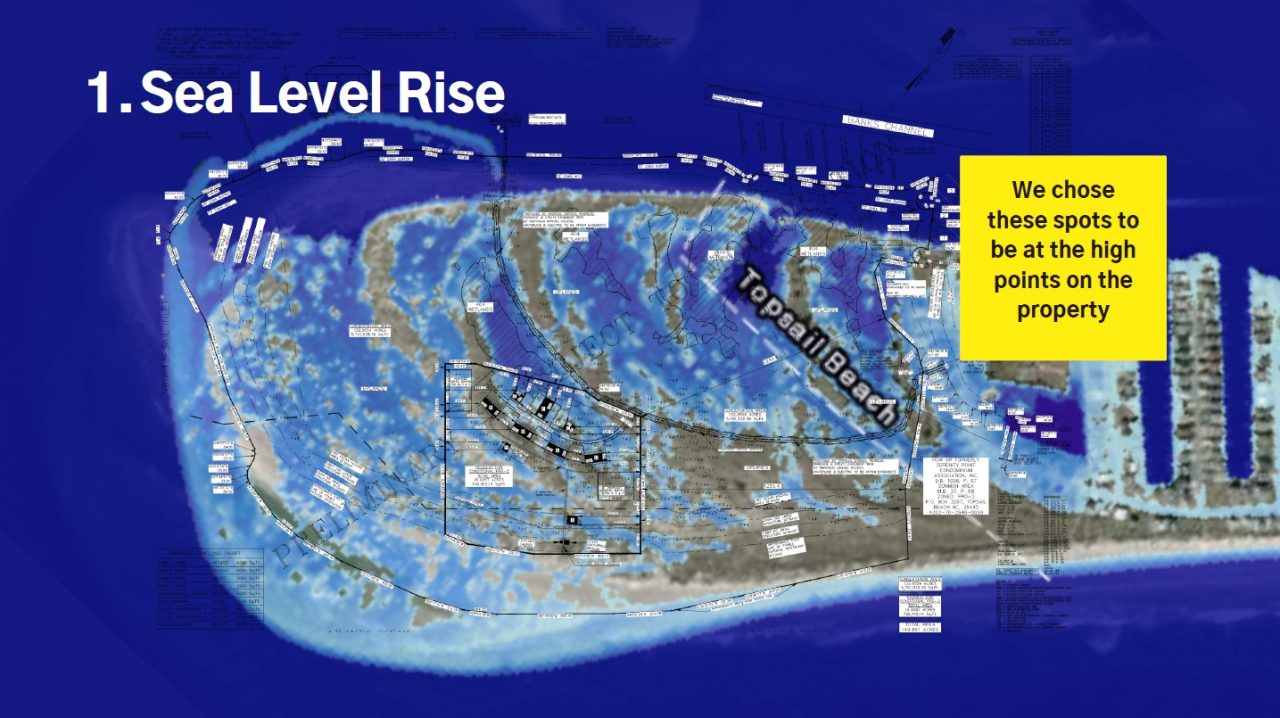 Their home placement decisions considered factors such as sea level rise, distance from critical habitats, inlet movement and distance from the ocean and Serenity Point.
"We chose these spots to be at the high points on the property," according to a PowerPoint that was provided to Coastal Review. The slideshow was created by Laura Olson and details the steps the family plans to take regarding conversation and preservation.
The slideshow also notes the accretion of sand at The Point as the inlet has shifted farther out: "The walk around the point was a much shorter walk 50 years ago!" a text box superimposed over an aerial image showing historic shoreline positions over the decades.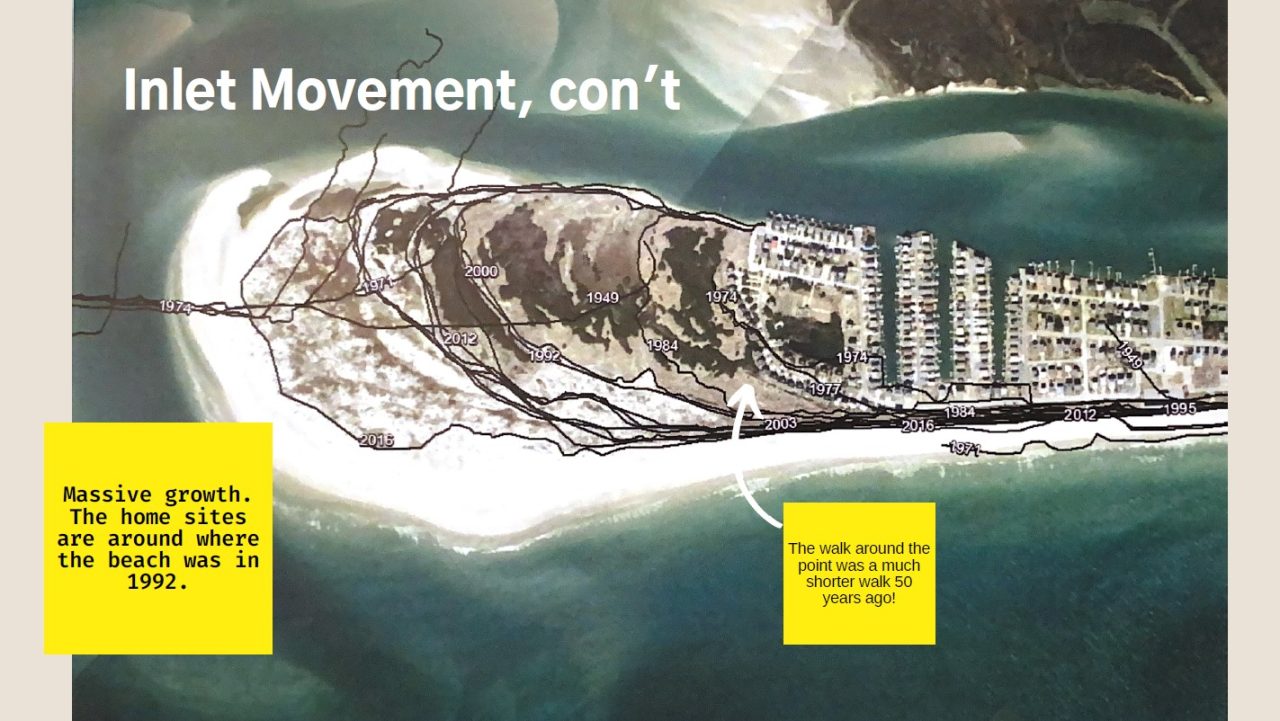 Dr. Rob Young, director of the Program for the Study of Developed Shorelines at Western Carolina University, has maintained that the site is appropriately zoned as-is. He said the Olson's proposed conditions do nothing to diminish the risk.
"There are no ways to modify the project that would reduce the hazard exposure," Young told Coastal Review Monday in an email.
Young, who has been mapping coastal hazards for three decades and has served on the North Carolina Coastal Resources Commission's Science Advisory Panel, also leads a project working with the National Park Service to assess the vulnerability of every asset in every U.S. coastal park.
In previous comments submitted to the town, Young has contended that the site "would rank as extremely high in every single category we evaluate for coastal hazards" and leave town residents responsible for the potential consequences, including post-storm liabilities.
In his comments also published on his LinkedIn page, Young warned, "Don't be misled by the fact that the spit is currently growing. It is still highly storm vulnerable. Land adjacent to inlets can change rapidly and it will experience extreme storm surge and significant wave impact during storm events. If you approve building here, you may as well eliminate all restrictions and pretend that we have learned nothing about coastal processes and coastal hazards over the last few decades in North Carolina. It is as simple as that."