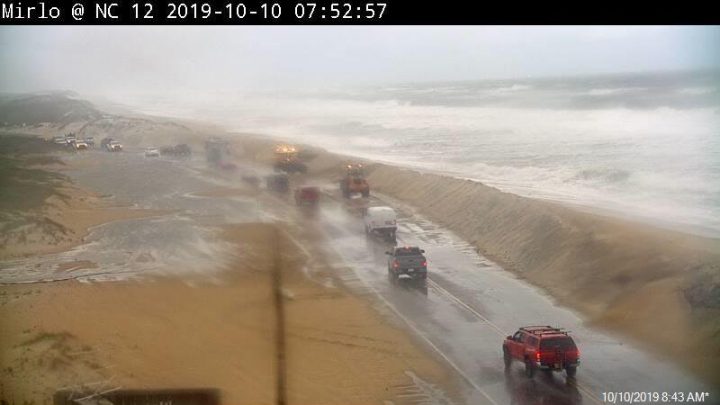 Updated Friday afternoon to include new information from NCDOT
Ocean overwash could render sections of N.C. 12 impassible through early next week, especially around morning high tides, as a coastal low slowly moves along the coast.
The 7 a.m. Friday briefing from the National Weather Service's Morehead City office warns motorists that significant overwash is expected Saturday through Tuesday on Hatteras Island while minor to moderate overwash is expected south of Cape Hatteras, including Ocracoke Island and Core Banks.
The forecast also calls for minor to major coastal flooding, strong winds and dangerous seas.
"The threat of minor to locally moderate coastal flooding, ocean overwash, beach erosion, and rough surf increases late Saturday into Monday morning as we enter a higher tide cycle coupled with strong winds and increased wave heights as a strong low pressure system moves NE off the coast," according to the weather service's hazardous weather outlook Friday morning.
The higher tide cycle taking place this weekend is often called a king tide event, a nonscientific term used to describe the predicted highest high-tide and lowest low-tide events of the year.
The areas of N.C. 12 that could be most affected by overwash include the vulnerable sections from Buxton to Oregon Inlet around morning high tides Sunday and Monday, and possibly Saturday and Tuesday, according to the briefing.
North Carolina Department of Transportation officials announced Friday afternoon that crews used heavy equipment to push sand onto dunes from Pea Island to Ocracoke and then staged graders, excavators and other equipment along potential trouble spots to respond in case conditions worsen through the weekend.
Digital message boards along N.C. 12 were updated Friday to alert travelers of possible dangerous driving conditions.
Forecasters expect rainfall totals between 3 and 6 inches, which could cause localized flash flooding to areas along and east of U.S. 17, mainly along the coast late Saturday through Sunday morning.
Moderate to major coastal flooding — 2 to 4 feet above ground level — is also predicted for the southern shores of the lower Neuse River, Down East Carteret County, and the southern Outer Banks, south of Cape Hatteras. Standing water will likely be in low-lying roadways and parking lots as well as very low-lying properties later Saturday through at least Sunday night.
The northern shores of the lower Neuse River could experience minor to moderate flooding. Very low-lying areas next to the southern Pamlico Sound and along the coast south of Cape Lookout and from the Bay River to the lower Pamlico River could have minor flooding 1 to 2 feet above ground level.
The predicted wind gusts of 40 to 50 mph or higher along the coast could bring scattered power outages and downed limbs with the strongest winds expected to be along the Outer Banks all day Sunday into Sunday night.
Dangerous seas and strong, gale force winds are anticipated though storm force winds possible, on most coastal waters, sounds, and rivers late Saturday through Monday. Waves in the surf zone could reach 15 to 20 feet. Expect dangerous surf and beach erosion.
Cape Hatteras National Seashore officials expect the seashore will be impacted by the storm this weekend. Because the coastal storm is forecast to bring strong wind gusts, heavy rainfall, beach erosion and powerful surf, off-road vehicle routes will likely be impassable for the next several days. All Seashore users should stay out of the Atlantic Ocean until conditions subside.
"Visitors should take this storm seriously as it could be one of the strongest storms of the season," David Hallac, superintendent, National Parks of Eastern North Carolina, said in a statement. "If possible, visitors should avoid travel to Seashore destinations until after the storm leaves the area."
Dare County officials advised Friday that residents, visitors and property owners — especially those in oceanfront areas and places prone to soundside flooding — to take precautions now to protect property. Outdoor furnishings, trash cans and any loose items should be properly secured.
Kill Devil Hills announced Friday that the beach driving will be closed starting Saturday due to the hazardous conditions anticipated. Beach driving will remain closed until further notice.
For real-time travel information, visit DriveNC.gov or follow NCDOT on social media.