Updated to include comments from the governor's office.
A Texas-based geophysical services company has withdrawn its application for permission to conduct seismic surveys for oil and natural gas of the coast of the Carolinas.
A letter dated Sept. 4 to the U.S. Bureau of Ocean Energy Management from WesternGeco LLC Vice President Adil Mukhitov served as formal notice effective the date of the letter of the company's withdrawal of its Application for Permit to Conduct Geophysical Exploration for Mineral Resources on the Outer Continental Shelf, No. E14-004, dated-stamped April 7, 2014.
The application requested authorization to conduct a geophysical survey on the Atlantic Outer Continental Shelf, which BOEM has not granted or denied the Application, the letter states.
The company proposed surveying from the southern border of South Carolina to the northern border of Virginia, encompassing an expanse off the coast of North Carolina, per a state Department of Environmental Quality's Division of Coastal Management document.
WesternGeco proposed to conduct a marine geophysical survey using 2D seismic testing off the coast to gather geological and geophysical data that could provide information about the feasibility of future development of offshore oil and gas resources. The survey would have involved a vessel towing seismic airgun arrays and take place in federal waters by North Carolina's coastal zone, according to a May 2019 report.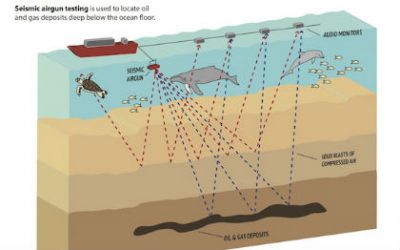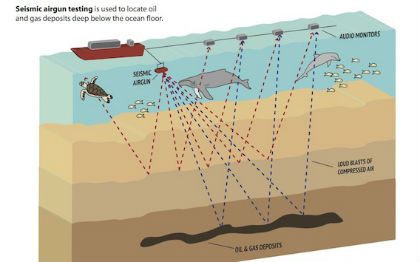 The WesternGeco letter sent Sept. 4 was before the Trump administration's announcement Tuesday to expand a moratorium on offshore drilling off Florida's Gulf Coast to include Florida, Georgia and South Carolina for 10 years.
"While this is great news for the protection of our environment and economy in Eastern North Carolina, we have more to do to protect our coast," Gov. Roy Cooper said Friday in a statement. "I stand with local leaders, families and businesses up and down our coast in continuing to fight the expansion of dirty and dangerous offshore oil and gas development. This fight is far from over, and our stance is clear — not off our coast, not today and not tomorrow."
Cooper continues to fight the testing and last month appealed a federal decision allowing seismic airgun blasting that would pave the way for offshore drilling. Since WesternGeco has withdrawn its permit application, this lawsuit will now address the four other companies that have applied for permits. Read letters from Cooper here and here.
"North Carolina is a national leader in its pursuit of clean energy solutions and gambling with our coastal economy and natural resources to pursue fossil fuel extraction would take the state backwards," said Secretary Michael S. Regan of the N.C. Department of Environmental Quality in a statement. "DEQ stands firmly with the coastal communities in the determination that seismic testing followed by offshore drilling is not consistent with our responsibility to protect our coastal resources and economy."
Forty-five communities in the state have adopted formal resolutions opposing the expansion of drilling.
"The entire East Coast is unified in opposition to seismic blasting and oil drilling in the Atlantic Ocean, and this appears to be another recognition of that reality. But, like the President's announcement this week, this isn't a cause for celebration. Just as the other Atlantic states are still at risk for drilling, there are still other companies pursuing seismic blasting. We still have work to do," The Southern Environmental Law Center Senior Attorney Catherine Wannamaker, who is heading the organization's federal case against seismic blasting, said Thursday in a statement.
Michael Jasny, director of the marine mammal protection project at the Natural Resources Defense Council, or NRCD, said in a statement that this withdrawal "is a sign of how strong the bipartisan opposition is — by coastal communities and officials at every level — to the harm that seismic explosions along the Atlantic coast would cause to marine life, to our oceans, and to our climate. Four companies are still looking to pursue this harm, and they should follow WesternGeco's lead in standing down."
DCM denied in June 2019 permits for WesternGeco to conduct geological and geophysical surveys in the Atlantic. DCM determined the proposal was incomplete, inconsistent with the state's enforceable coastal management policies and would harm fish and other marine life and put at risk coastal habitats and the coastal marine economy. WesternGeco in July 2019 appealed to the U.S. Secretary of Commerce to override the decision.
In June 2020, North Carolina's objection to WesternGeco's proposed Bureau of Ocean Energy Management permit to conduct a geological and geophysical seismic survey for oil and gas exploration in the Atlantic Outer Continental Shelf was overridden. The decision signed by U.S. Under Secretary Of Commerce For Oceans And Atmosphere Neil Jacobs.