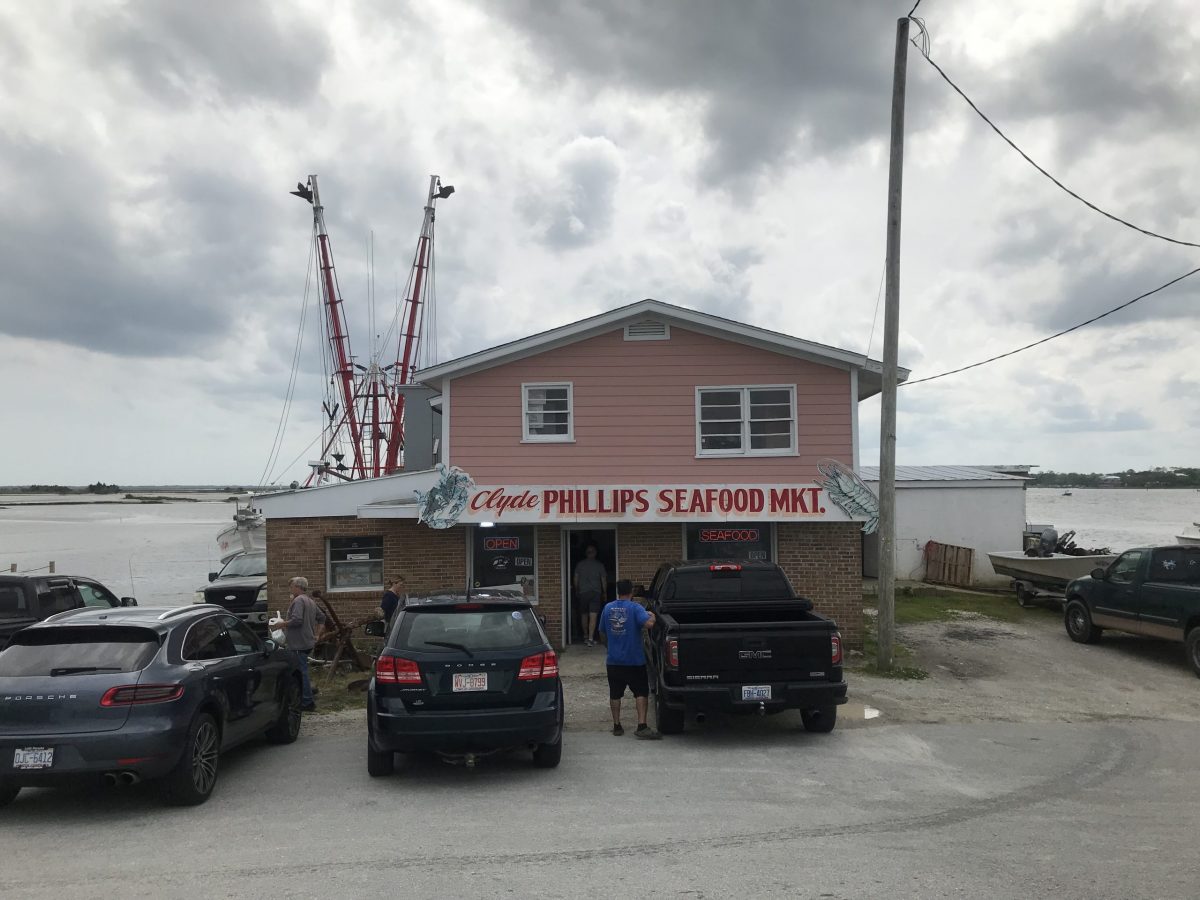 Clyde Phillips Seafood Market, like fish houses across North Carolina, is open during coronavirus, but, as the rest of them, it's doing business a little differently.
Normally, people would hang around the wee pink house where Phillips' shrimp trawlers dock between two bridges over White Oak River in Swansboro. As fishmongers prepped orders, locals and customers would chitchat or peruse wall photos of the place, in business since 1954.
These days, Phillips has strict rules: Call in orders before you arrive and wait your turn outside if customers are in the market when you get there.
"They're having to find different methods to go to," said John Aydlett, seafood marketing office manager for the state Department of Agriculture, of seafood retailers maneuvering change in the age of coronavirus.
Markets are deemed essential services and, therefore, open, but with sales down as much as 80%, thanks in a large part to pandemic-related restaurant closures, market owners are working to get more seafood into home kitchens, Aydlett said.
So are fishers like Ana Shellem. Based in New Hanover County, Shellem sold and delivered the clams, oysters, mussels and stone crab she harvested exclusively to restaurants. That ended March 17, when Gov. Roy Cooper issued an executive order shuttering dine-in service at eating and drinking establishments.
"If that continues into May, I'll definitely be doing those home deliveries," Shellem said in late April as governors and the White House debated when businesses could reopen.
While the pandemic has posed challenges to seafood retailers, fish are still running, shrimp are filling nets and seafood is available to purchase, whether you want to pick it up at the market, get curbside service or have it delivered to your door.
How to find seafood markets in North Carolina
Urban seafood markets are easy to find online. Most of them have websites and Facebook pages, as well as other social media sites. Rural fish houses may have no online presence. These organizations have rounded up the names, addresses and contact information for what appears to be every single seafood market in North Carolina.
N.C. Seafood Marketing: ncagr.gov/markets/seafood/index.htm
Hit the "seafood directory" tab at this agency's webpage to run detailed searches for seafood markets in your area. This division of the state Department of Agriculture & Consumer Services also posts recipes, charts showing what's in season and links to other seafood resources.
NC Catch: facebook.com/NCCatch
Get regular news reports from coastal North Carolina seafood markets by following NC Catch's Facebook feed. Pin down what's up in various regions by following the organization's regional partners:
Seafood delivery and online orders
Don't see your favorite market or one in your community on this list? Ask what's in the works when you call those markets. As the coronavirus lockdown and social distancing continue, seafood markets are constantly adapting by adding online ordering, delivery and shipping, Aydlett said.
Seaview Crab Co.
1515 Marstellar St., Wilmington, and other locations in the Wilmington and Fayetteville areas, 910-777-1228, seaviewcrabcompany.com
Let fishmongers curate a box of mixed seafood (free shipping to some states, including North Carolina) or make a custom order. You may also shop multiple locations in the Wilmington and Fayetteville areas. Seaview owners are working on home delivery to Wilmington residents. In February, owners, who started as crabbers and still harvest some of the N.C. seafood they sell, added a take-out kitchen to Seaview's Marstellar Street location in Wilmington. Recent menus have featured grilled or fried fish or shrimp in tacos or on fried grits with cheddar cheese sauce. Po' boys, crab cake sandwiches, seafood salads and daily specials are also available.
Fresh Catch Seafood
57 Harbor Road, Wanchese, 252-473-7484, freshcatchobx.com
This fish processing and packaging operation, owned and operated by fishers, just started putting together family packs, one of which comes with a pound of grouper and a half-pound of plain or bacon-wrapped scallops, ready to cook. Shipping and curbside service is available for all kinds of fish and shellfish.
Carolina Meat & Fish Co.
16709 Orchard Stone Run, Charlotte, 704-458-1011, carolinafishmarket.com
Get bake-and-eat seafood bags shipped to your door. Build your own spicy fra diavolo bag or choose combinations like just shrimp and corn or crab, lobster and shrimp. Each bag comes with "secret sauce." Eat right from the bag, toss with pasta or spoon over rice. Carolina also ships sea scallops. Order the monthly seafood subscription boxes, and the shipping is free. Each box contains five portions of seasonal seafood, most of it harvested in North Carolina.
R.E. Mayo Seafood
183 Mayo Road, Hobucken, 252-745-5331, remayoseafoodinc.com
The longtime hub for locally harvested seafood will ship small and large amounts of seafood, even 50 pounds of shrimp. Seasonal seafood is packed fresh and then frozen before it hits the road. Depending on the season, offerings include flounder, mullet, sea bass, croaker, spot, drum and trout, crabs, scallops, shrimp and oysters. Call to find out what's available.
Washington Crab & Oyster Co.
321 N Pierce St., Washington, 252-946-5796, washingtoncrab.com/shop
Shop online for whatever is biting, shellfish, too, and then have it delivered to your door. Get raw seafood like shrimp and sea scallops and cooked seafood including picked crab meat and whole steamed blue crabs. Also find ready-to-cook crab cakes. Check the list online to see what fish are in season.
Topsail Steamer
Surf City, 910-328-2645; Wrightsville Beach, 910-679-5004; topsailsteamer.com
Both locations are open for curbside pick-up — check the website for schedules – but Topsail Steamer also ships its delectable seafood boils nationwide via goldbelly.com/topsail-steamer, and shipping is free. The classic blends jumbo shrimp, andouille sausage, sweet corn, red bliss potatoes and Topsail Steamer's own seasoning blend. Other pots include clams, scallops, kielbasa and snow crab. You just add beer or water.
Walking Fish
Run by a Carteret County-based fishermen's cooperative, the community supported fishery, or CSF, supplies members in Raleigh and Durham a variety of seasonal N.C. seafood in spring, fall and winter. Sign up at the website for 2- or 4-pound packages delivered weekly or bi-weekly. Choose seafood dressed as close to ready-to-cook as possible, for instance fish filets, or minimally processed seafood like bone-in fish. Find prices and what's in season at Walking Fish's website.
Locals Seafood
Various locations in the Raleigh-Durham-Chapel Hill area, 919-675-2722, localsseafood.com
The company was founded by fishers who offer N.C. seafood all the time. Pre-order online and then pick up at the Raleigh State, Chapel Hill or Western Wake farmers markets. Weekly "seafood shares" — 2-pound boxes of what's in season – are also available. Curbside pick-up and local delivery of prepared food like grilled striped bass sandwiches or meal kits like shrimp and grits, tuna lasagna and lemon-herb-stuffed sea bass, are available at Locals Oyster Bar 3 to 8 p.m. Wednesday-Sunday. Order online ahead of time. Credit and debit cards only for all purchases. No cash. Visit the website and Locals' Facebook and Instagram for details
High Country Seafood Co.
215 Beaver Creek School Road, 336-977-1827, highcountryseafoodco.net
This shop is in the North Carolina mountains, but owners work with our state's fishers to source high-quality seafood in season. Selections change weekly and have recently included red snapper, wild shrimp, wahoo, tilefish and swordfish. Order online, even N.C. favorites such as shrimp burgers, and pick up at the market. Also text or email preorders for family meal boxes that contain all the ingredients you need for dinners such as seafood tacos, shrimp gumbo and Low Country boils. Meals generally feed four people.
Shrimp, rockfish and more seafood recipes
Fried seafood platters are crave-worthy for sure, but seafood is versatile. Here's where to find recipes galore.
Coastal Review: coastalreview.org/category/ourcoast/food
Sure, we'll toot our own horn. Coastal Review's food section serves lots of recipes. Find a story about how to fry shrimp, which puts you one step away from making shrimp burgers at home. Also, learn how to make crab cakes. There's a recipe for stuffed shrimp and another for classic shrimp cocktail.
Mariner's Menu: ncseagrant.ncsu.edu/mariners-menu
For years, cooks working with N.C. Sea Grant have been developing seafood recipes for this blog, part of which is assembled in a cookbook by the same title. Besides dishes like grouper in cilantro butter, find tips for selecting, handling and storing seafood.
Haag & Sons Seafood
7901 E. Oak Island Drive, Oak Island, 910-278-1234, haagandsonsseafood.com
Scan Haag's Facebook page and website for irresistible recipes like seared scallops on white bean and spinach ragu with charred lemon and then call in your order before heading to the market. Don't be afraid to ask questions or request fish cut to order. Owner Jon Haag has been on the fishing scene for 25 years and has been voted Brunswick County's top fishmonger.