The beauty of coastal N.C. seafood cookery is the simplicity threaded through every preparation, fancy or casual. Stuffed shrimp ranks as a special-occasion dish, and, certainly, the summer's waning days are worth homage.
This time of year, brown shrimp skimming the Atlantic peak in size, up to 9 inches long. Blue crabs are their biggest and fattest, too.
Large enough to butterfly, these late-season brown shrimp make the ideal package for fresh blue crab meat. Brown shrimp have the richest flavor of all North Carolina shrimp species. Their buttery goodness contrasting sweet crab means hardly any seasoning is required, an instruction always delivered by coastal natives. They don't like anything sullying seafood's flavor, even if it's a five-star worthy recipe, for which stuff shrimp qualifies.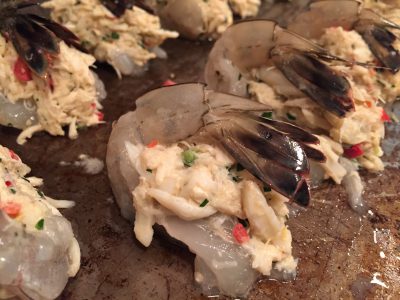 I like crab-stuffed shrimp the minute they emerge from the oven wearing bits of crispy brown trim. Their lusty aroma is more savory than all the smoke at a pulled pork cook-off. Carefully placed on a hot grill, stuffed shrimps turn out equally regal.
Kudos to the unknown person who first decided to put what basically amounts to a crab cake inside a jumbo shrimp. My guess is the cook was somewhere in Louisiana.
Crabs were too much trouble for the ancients. Romans preferred shrimp roasted, fried or boiled, maybe with a honey glaze, although cooks did prepare shrimp cakes.
British colonists brought portion-stretching crab cakes to the American colonies. The cakes were especially popular along Chesapeake Bay, where crabs were so plentiful fishers considered the crustaceans a nuisance clogging seines.
America's shrimping industry took off in Louisiana in the mid-18th century. A hundred and fifty years later, blue crabbing became a thing in the Gulf of Mexico. Ultimately, Louisiana would host the world's largest blue crab fishery, and New Orleans became known as one of best places to eat on the planet.
The list of ingredients is short for any worthy stuffed shrimp recipe. The devil is in the time it takes to butterfly the shrimp and pick stray shells from crab meat.
"Backwards butterfly" is the term I use to describe how I prep the shrimp. I'm finicky about how stuffed shrimp look. I like the shrimp to stand tall, with their tails curled over the crab cake mound. That requires carefully pulling out each shrimp's vein without slicing open the back along the curve. Grabbing the vein is a slippery operation, but the good news is you're dealing with jumbo shrimp, just eight or 10 to the pound. Four or five stuffed shrimps per person is an ample serving.
Once the vein is out, I butterfly along the inside curve, starting with a shallow cut at the tail end and sliding a paring knife in a little deeper as I move toward the head.  I fan out each shrimp, and then plop on a generous spoonful of crab filling.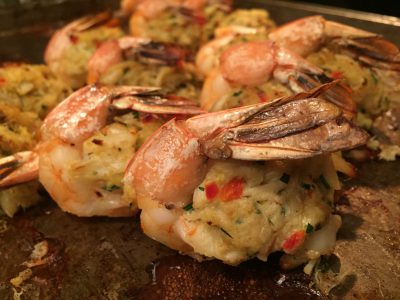 I blend the crab meat with lemon zest, fresh parsley, a dash of Worcestershire sauce and/or horseradish and a smidgen of oh-so-finely minced red pepper for color. I prefer Duke's mayonnaise and an egg white to bind the mixture rather than cracker meal or fine dry bread crumbs, but I may add a filler to help hold the mixture together if necessary. I never add salt or black pepper.
If you have a crab cake recipe you like, use it.
All this can happen several hours before cooking the shrimp. Once arranged on a baking sheet or in a covered container, the stuffed shrimps may be refrigerated or frozen until it's time to put them into the oven or on the grill.
Yes, you could wrap stuffed shrimp in bacon or spoon a creamy sauce like béarnaise over the cooked stuffed shrimps, but you'd mask summer's essence, a crime during these fleeting days.
Stuffed Shrimp
2 pounds jumbo shrimp (8- to 10-count)
1 pound unpasteurized blue crab meat, lump, claw or a combination of both
2 tablespoon minced parsley
1 tablespoon minced red bell pepper
2 teaspoons lemon zest
1 teaspoon Worcestershire sauce or horseradish
1 teaspoon Dijon mustard
Dash of hot sauce
2 tablespoons mayonnaise
1 egg white
Butter or vegetable oil
Lemon wedges.
Peel the shrimp, leaving the tails intact. Devein, butterfly and refrigerate the shrimps.
Pick stray shells from crab meat. Lightly toss in parsley, red bell pepper and lemon zest. In a small bowl, blend together Worcestershire sauce or horseradish, Dijon mustard, hot sauce, mayonnaise and egg white. Stir lightly into crab meat.
Grease a large baking sheet with butter or vegetable oil. Shape a tablespoonful of the crab mixture into a small ball and place on a single shrimp. Curl the shrimp's tail over the crab filling. Stand the shrimp, tail up, on the baking sheet. Continue with remaining shrimp. At this point, the stuffed shrimps may be covered and refrigerated for several hours.
Preheat oven to 375 degrees. Bake the stuffed shrimp uncovered in the preheated oven for about 15 minutes, until the shrimp are pink and the crab meat is heated through. Alternately, cook the stuffed shrimp on a fine-mesh or foil-lined grate on a hot, covered grill.
Serve stuffed shrimp with lemon wedges.
Serves 6 to 8 people.
Source: Liz Biro
To Learn More