MOREHEAD CITY — Growing up on the coast of North Carolina where seafood is bountiful, I've grown accustomed to eating my share of fresh local shrimp.  Shrimp are the most popular shellfish in the United States, with shrimp cocktail being one of the most favored ways to prepare them.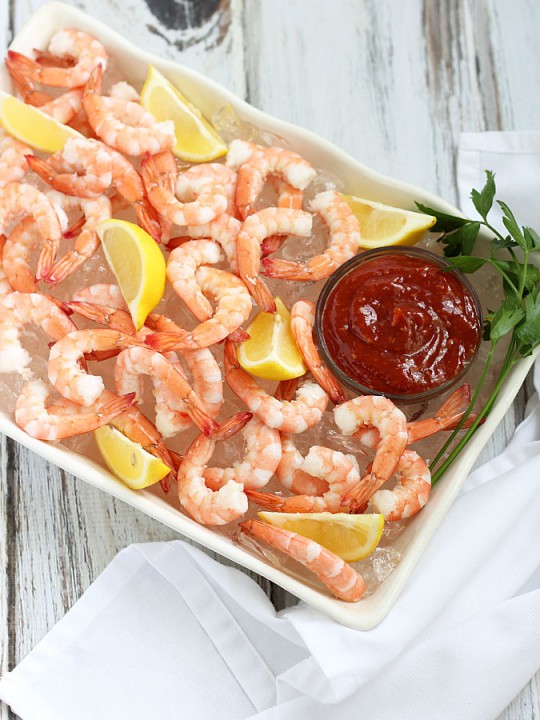 As a young child, I learned that shrimp weren't so welcomed before my time. This surprise came one day when I was eating a shrimp burger with my stepfather, John Betts Jr.
He shared with me his memories of growing up on Front Street in Beaufort and eating shrimp as a child in the early 1940s. His brother-in-law, Charles Davis, owned a fish house and menhaden plant in Beaufort called Charles Davis & Sons. Charles was the person who told my stepdad about shrimp being a nuisance to fishermen.  He said that they were once referred to as "bugs" and considered a nuisance to commercial fishermen when caught in their gill nets.
Shrimp cocktail is a perfect appetizer for gatherings, being easy to assemble and a welcomed finger food at any event, formal or informal.  It first made its debut on American menus in the early 1900s.  Shrimp cocktail is also a healthy dish that is simple to prepare. It can also be prepared a day ahead of time, allowing plenty of time for other tasks when preparing for an event or gathering.
Shrimp cocktail is typically served as an appetizer with a cocktail dipping sauce. The shrimp are typically boiled with herbs, seasonings and lemon slices. Once the shrimp have cooled, I remove the shells, except for the tail, and serve over ice. There are many variations of preparing cocktail sauce, but the two main ingredients are ketchup and prepared horseradish.
When choosing shrimp, I always buy locally caught, fresh shrimp from the N.C. coast. Fresh shrimp are recognized by having firm bodies that are still attached to their shell. You should always avoid shrimp with any sign of odor or pink color.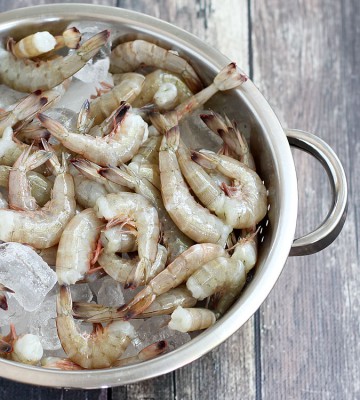 If you're planning on preparing the shrimp within a couple of days, the best way to preserve freshness is to place it in a plastic bag in a large bowl of ice in the refrigerator.  To preserve shrimp for a longer period of time, seal well in a plastic bag – you can also fill the plastic bag with water – and freeze.
I purchase different sized shrimp for different types of recipes. When preparing shrimp cocktail, I normally will buy medium to large shrimp. The presentation of shrimp cocktail varies depending upon preference. The shrimp can be served around the rim of a shallow glass, such as a martini or margarita glass, with cocktail sauce poured into the glass. I choose to serve my shrimp over ice in a large serving platter because it saves time by not having to prepare individual servings.
Following is my recipe for shrimp cocktail. Adapt the cocktail sauce to your personal preference by adding more or less of the individual ingredients to suit your personal tastes.
Shrimp Cocktail
Ingredients:
For the shrimp:
8 cups water
1 lemon, thinly sliced
1 heaping teaspoon minced garlic
2 bay leaves
About 4 sprigs Italian parsley
1 teaspoon kosher salt
1-1/2 pounds medium to large shrimp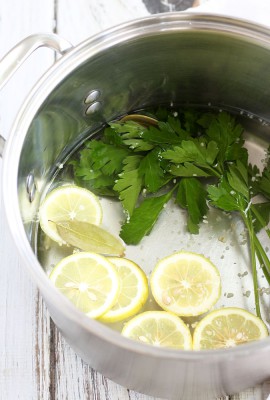 For the cocktail sauce (yields 1-1/8 cups):
1 cup ketchup
1-1/2 teaspoons lemon juice
½ teaspoon fresh ground pepper
1/8 cup prepared horseradish
1 teaspoon hot sauce
In a large saucepan over medium-high heat, place lemon slices, garlic, bay leaves and parsley in the 8 cups of water and bring to a boil.  Add shrimp and stir well.  Remove from heat and place a tight-fitting lid over saucepan. Allow shrimp to sit for about 10 minutes, or until just cooked through. Drain in a colander and allow to reach room temperature. Prepare cocktail sauce while shrimp are cooling by mixing all ingredients together in a medium bowl. Cover and refrigerate. Once the shrimp have reached room temperature, pick the shrimp from the other ingredients and place in a covered container and refrigerate for at least an hour. Before serving, peel shrimp and de-vein them, if desired, leaving just the tail. Serve shrimp over ice with cocktail sauce.