I probably should own a Kindle, but I don't. I'm too enamored with cookbooks in my hands. More than 100 volumes line above-cabinet shelves encircling my kitchen. Each time I write a Coastal Review food story, I get to dive into the pages of my absolute favorites. They're the books about North Carolina and Southern cuisine. They bring me home and, oftentimes, to tears of joy and nostalgia. Sometimes, I keep one on the pillow next to me when I turn out the lights.
Each of these books helps tell the story of Eastern North Carolina cooking. They are essential reading for anyone who loves our coast.
Coastal Carolina Cooking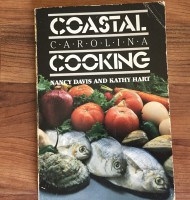 This list is in no particular order, except for this book. Each time I read it, which is often, I can clearly visualize North Carolina home cooks stew-frying a mess of spots and sweet potatoes. I can hear their brogues and dialects, see the sunlight brightening their happy kitchen curtains.
In the 1980s, authors Nancy Davis and Kathy Hart traveled from Currituck County south to Brunswick County to document traditional cooks and their recipes. Coon stew, baked shad roe and molasses popcorn are the kinds of old-fashioned recipes they gathered. The slim tome contains no photographs. Pencil sketches depict each cook. A map delineates their locations. You won't find contemporary restaurant dishes, just down-home family food. "They can hardly believe you are asking about their recipes," Davis and Hart write, "ones that were passed along from a relative or neighbor and are as much a part of coastal tradition as boat building and net making… They told us about their families, their traditions, their way of life – all in the context of food."
University of North Carolina Press, 1986. $19.99
Mariner's Menu: 30 Years of Fresh Seafood Ideas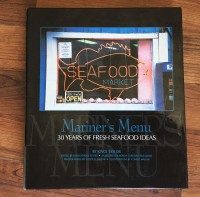 Back in the early 1970s, North Carolina Sea Grant tapped Carteret County cooks to develop seafood recipes that would help fishers and seafood processors market the catch. In Morehead City kitchens, author Joyce Taylor directed the mostly women. The crew had a lifetime of knowledge about traditional North Carolina seafood cookery, but they also developed and tested new ideas. Sea Grant published their efforts in this seafood bible in 2003. It's not just full of recipes. How to select, handle, clean and store seafood as well as various cooking methods such as poaching, broiling, clarifying butter and flaking fish are included. Recipes range from classic crab cakes and shrimp bisque to contemporary orange-marinated snapper. The work of these cooks continues and is documented regularly at the Mariner's Menu blog, marinersmenu.org
University of North Carolina Press, 2003. $29.95
Island Born and Bred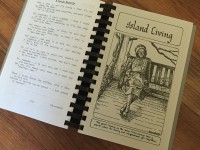 Harkers Island has changed rapidly over the past decade or so. Development has placed new residents between longtime family homes. Island traditions are preserved in this part cookbook, part history of Harkers Island. Each chapter starts with a different aspect of island life: early settlements, churches, schools, legends, traditions, change. Find recipes old and new, some illustrated with simple sketches: a shoreline baptism, men building wooden boats, Nettie Lewis Brooks in a bonnet sitting on the "pizer," the name islanders gave their porches. The book contains a dictionary of island expressions. Recipes speak to family meals built on the local bounty and eventually modern conveniences. Chicken and pastry, baked bluefish with onions and potatoes and raisin pie share space with cheese balls, three-minute barbecue sauce and no-bake banana pudding.
Harkers Island United Methodist Women, 1987. $1995
Holy Smoke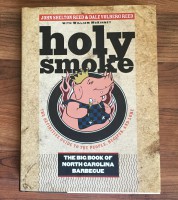 North Carolina's coastal plain is not all about seafood. "One friend from down east has gone so far as to claim that barbecue is the great sacrament of our people,'" authors John Shelton Reed, Dale Volberg and William McKinney write. They trace barbecuing all the way back to the Old Testament and then through to Native Americans grilling fish in the 1500s on the Carolina coast and finally to the pulled pork eastern and western North Carolinians argue over today. Vintage menus, photographs and interesting quotes – "All differences are made as nothing by the benign influence of the barbecue" – pepper the text along with recipes for real-deal sauces, side dishes and desserts.
University of North Carolina Press, 2008. $30
Outer Banks Cookbook: Recipes & Traditions From North Carolina's Barrier Islands
While everyone else rushes to the Outer Banks for sun, fun and fishing, author Elizabeth Wiegand is drawn to its food. No matter if she shares a recipe from home or one from a restaurant, Wiegand promotes local ingredients, namely seafood fresh from North Carolina waters. The opening chapter tracks Outer Banks culinary history, starting with Native Americans who dried oysters near Buxton before explorers arrived and continuing to modern-day tourists craving grilled mahi tacos. Find recipes for the Humble Hatteras clam chowder that has sustained so many generations of fishers right up to new American grilled wahoo with charred tomato, chipotle and guajillo sauce. The key lime pie visitors crave at popular Basnight's Lone Cedar Café in Nags Head is in there, too.
Globe Pequot, 2008. $20.
Southern Food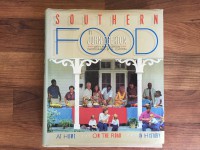 John Egerton chronicles the South's food ways in what may be the best book on the subject. When I'm researching recipes, say Muscatine jam or hushpuppies, I find them paired with history, factoids and commentaries that put the dishes into perspective. The opening chapter, Pass and Repast: A Gastronomical View of the South, roves through time and various places, helping readers discover how their local food traditions took hold. I most relish the short selections in the margins. Black-and-white photographs and quotations from books, articles, poets, journalists, authors and ordinary people humanize the text and echo the emotions you feel while reading.
University of North Carolina Press, 1987. $32.95
The Southern Heritage Cakes Cookbook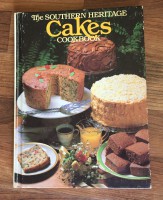 American revolutionists rejected the royals, and Southerners made the layer cake their crown. That's how it seems to me. Coconut cake, carrot cake, red velvet cake, pig pickin' cake, no Eastern North Carolina groaning board is complete without layer cakes weighing down one end of the table. The mile-high frosting delivery systems sweeten many of this book's pages. My copy dates to the original 1983 printing. Its age enhances old photos and the vintage advertisements for eggs, cocoa and other baking essentials slipped between recipes. The narrative and anecdotes tell the history of cakes. In times long past, layer cakes were one of the few creative outlets for many Southern women. Hence the reason we enjoy so many delightful varieties.
Oxmoor House, 1983. Prices vary at Amazon.com