RALEIGH – More than two dozen operators of wastewater pretreatment programs in the Cape Fear River Basin will be required to test water flowing into their plants for synthetic contaminants for three months this summer.
Pretreatment facilities treat industrial or nonhousehold wastewater before it's discharged to a municipal wastewater treatment plant. The state Department of Environmental Quality said the inflow sampling effort is part of an ongoing management strategy to address the presence of compounds similar to GenX in surface water and bio-solids.
DEQ's Division of Water Resources notified 25 operators of pretreatment facilities, including the Cape Fear Public Utility Authority, or CFPUA, in Wilmington, the town of Burgaw and Brunswick and Columbus counties, requiring monitoring for 1,4 dioxane and per- and polyfluoroalkyl substances, or PFAS, for three consecutive months starting in June.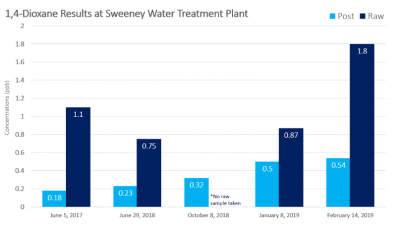 CFPUA announced in March that it was working with regulators to understand why levels of 1,4-dioxane had recently spiked in water drawn from the Cape Fear River.
These compounds are not covered by federal water quality standards. The Environmental Protection Agency says data indicates elevated concentrations of 1,4 dioxane and PFAS in drinking water that originated from the Cape Fear River Basin. The division's monitoring has confirmed the presence of these compounds in surface waters within the Cape Fear River Basin.
The samples to be collected are supposed to be representative of the typical wastewater flow to each facility, according to the letter sent to operators, which also provides information on finding labs certified to perform the analysis.
All sample results are to be submitted to the division's Pretreatment, Emergency Response and Collection Systems, or PERCS, branch by Oct. 31.
Other than the investigative monitoring, operators are not required to take any steps unless the division notifies them to do so. But if influent samples exceed the human health surface water criteria for 1,4-dioxane for the stream classification, operators are to contact their division representative to discuss that facility's allowable discharge concentration. And if influent levels exceed a facility's allowable discharge concentration, operators are to take steps to begin reducing or eliminating 1,4-dioxane discharges to that facility.
Used as a solvent stabilizer, 1,4-dioxane is a clear liquid that mixes with water and used for a variety of industrial and manufacturing purposes. The compound is often produced as a by-product in making soaps, plastics and other consumer products.
PFAS are most often associated with nonstick coatings, plating operations, firefighting foams and stain- and water-resistant treatments for clothing, furniture and carpeting.