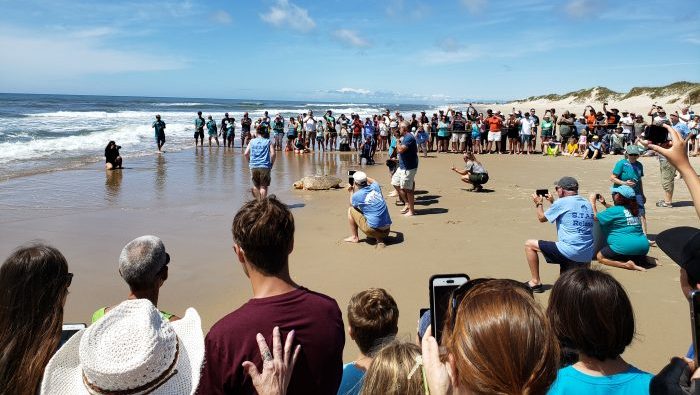 Reprinted from Island Free Press
A big crowd of island residents and visitors headed to the Frisco Bath House beach Saturday morning to watch as six sea turtles were released after being rehabilitated for months by the  North Carolina Aquarium on Roanoke Island's Sea Turtle Assistance and Rehabilitation Center, or STAR Center.
The released sea turtles included two green sea turtles and four loggerhead turtles, and dozens of volunteers from NEST Outer Banks, the Aquarium, the National Park Service, and other local organizations were on hand to see their hard work pay off.
It was the first sea turtle release to occur on Hatteras Island in several years, and the Frisco location was chosen because of several factors.
"The beach conditions and water temperatures were ideal for the release," said organizer Amber Hitt, "and many of our volunteers are from Hatteras Island, so we wanted them to see their efforts come full circle."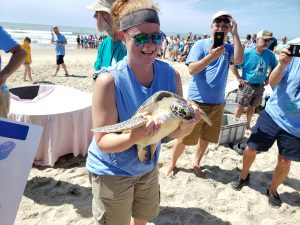 While most of the former STAR Center resident reptiles had recovered from being cold stunned in January 2019, one loggerhead turtle, who was arguably the star of the show, had a particularly long journey from injury to release.
Ada, a 230-pound loggerhead sea turtle, was first rescued by Capt. Brian Patteson, who runs fishing charters and tours out of Hatteras Landing via his vessel, the Stormy Petrel II.While on a birding tour in October of 2018, Patteson encountered Ada 3 miles offshore, who had been severely injured after an entanglement with a net.
"She appeared to be in bad shape, but we brought her on board," says Patteson. "She had a gouge on her neck, and I didn't think she would make it."
It took a while to carefully get Ada safely on board, and the roughly 200-pound turtle connected with Patteson's foot during the process, leaving a scar that was still visible months later at her release.
But Patteson contacted NEST on his way back to shore, an organization he had worked with before in a half dozen prior turtle rescues, and on Saturday, Ada was finally able to return to the ocean waters with just a lone missing fin as a reminder of her ordeal.
"I checked in on (her) in December, and I'm amazed she made it, and was able to be released today," said Patteson.
Ada required a team of volunteers to haul the "turtle taxi" to the water's edge, but despite her fin amputation, Ada made an easy cruise back into the ocean, garnering a big round of applause from the crowd.
Hitt says that the public turtle releases help to raise awareness about what volunteers do to help injured and cold-stunned sea turtles, and it also gives folks a rare opportunity to get an up-close view of these endangered and threatened species.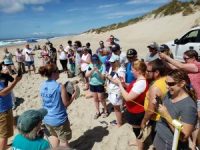 "Not only can we educate folks, but we can give people a chance to see a 230-pound loggerhead sea turtle, which is a sight that not many people get to see in their lifetime," said Hitt.
More sea turtle releases may be scheduled in the months to come, depending on how the current injured STAR turtles are faring.
While the winter of 2017-18 had multiple days of freezing temperatures, resulting in several hundred sea turtles being admitted to the STAR Center, this past winter was relatively mild, with only 60 or so turtle admissions.
With the exception of one loggerhead sea turtle who was rescued from Corolla, all of the sea turtles released on Saturday morning hailed from Hatters Island, so once they shimmied back into the water, they were basically close to home.
"This is a great day, and a great crowd," said Frisco resident and longtime Volunteer Frank Welles, "and I'm glad that we were able to do (this release) here on Hatteras Island."
This story is provided courtesy of the Island Free Press, a digital newspaper covering Hatteras and Ocracoke islands. Coastal Review Online is partnering with the Free Press to provide readers with more environmental and lifestyle stories of interest along our coast.