First of two parts.
MOREHEAD CITY – The torrential rainfall last month did more than drench communities along the coast, it set a record.
"In regards to July 2018, we saw the heaviest rainfall in the latter half of the month. Our office in Newport recorded 12.95 inches of rain for the month, making last month our wettest July since records began. Coastal North Carolina was hammered with rain," said meteorologist Morgan Simms with the National Weather Service office in Newport.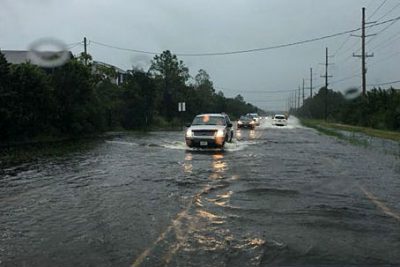 "Some areas saw up to 8 inches above normal. Billy Mitchell Airport in the Cape Hatteras area reported 20.31 inches of rain for the month, which is the second wettest month ever for the region since records began — only June of 1949 was wetter," Simms continued. "For the year, the Cape Hatteras area has received 57.60 inches of rain as of Aug. 14. Normally we should be seeing around 33 inches of rain by now, which means we are nearly 2 feet above normal year-to-date. For some context, normal annual rainfall at Cape Hatteras is 58.04 inches."
In addition to setting records, as a result of the deluge and the subsequent stormwater runoff, many of North Carolina's waters were closed to harvesting shellfish and recreational use by the Shellfish Sanitation and Recreational Water Quality Section of the Department of Environmental Quality's Division of Marine Fisheries.
The Shellfish Sanitation and Recreational Water Quality Section "is responsible for classifying coastal waters as to their suitability for shellfish harvesting, monitoring and issuing advisories for coastal recreational swimming areas, and certification of shellfish and crustacean processing plants," according to the website.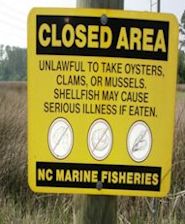 Water samples are collected no less than six times a year from each growing area. The samples are tested for fecal coliform bacteria, an indicator that human or animal wastes are present in the water. The shellfish almost continuously filter water through their gills to gather food particles, but they also collect during the filtering process bacteria, viruses or other pollutants in the water. If shellfish that contain high concentrations of bacteria or viruses are consumed raw or undercooked, they could cause severe illness, according the website.
The rains during the past several weeks have not been typical, said Andy Haines, environmental program supervisor II with the section.
Haines said that some of the areas that were closed, such as the Outer Banks, Roanoke and Croatan sounds and areas in Hyde and Pamlico counties, are rarely closed.
"Typically once or twice a year, if at all," he said.
"The duration of these closures, because of both the volume of rain as well as the continuous nature of these storms, has been longer than normal," he continued. For example, portions of Brunswick County have been closed continually since July 8, as of Aug. 20, and portions of Stump Sound were closed from July 13 to July 20 and then again on July 21. Several other popular areas like White Oak River, Newport River and North River were closed as well, although some have since reopened.
On Aug. 9, a portion of Croatan Sound around the Dare County Regional Airport was closed due to the pumping of floodwaters to the sound.
Recent openings include the following:
Stump Sound/Alligator Bay and around Rodanthe, Waves and Salvo on Aug. 10; the Newport River Aug. 15; Intracoastal Waterway around Ocean Isle, Shallotte River, Lockwood Folly River, Queens Creek and Ward Creek Aug. 16; Myrtle Grove Sound, Masonboro Sound, Greenville Sound and Bay River Aug. 17; and a portion of the White Oak River up to the northern tip of Jones Island Aug. 18.
Still closed as of Aug. 18 were Tubbs Inlet, the Atlantic Intracoastal Waterway around Holden Beach, a portion of the White Oak River upstream of Jones Island and a portion of Croatan Sound closed because of the stormwater pumping.
The Shellfish Sanitation Program posts proclamations with closures and openings of shellfish waters and has a new app that shows real-time shellfish closures.
North Carolina Shellfish Growers Association President Jay Styron, who owns Cedar Island Select Farm Raised Oysters, said that just about every grower in North Carolina was affected at one time or another during the recent rainfall.
"(The closures) are always a safety measure," he said, adding the shellfish growers understand the closures and why they occur.
Growers do take into account when selecting their site how much development there is around the area, which will affect water quality due to stormwater runoff, and take a look at historic data from shellfish sanitation.
Styron said that consumers can learn a lot about their shellfish by looking at the harvest tag. He said the oysters they sell all come with a harvest tag that includes the lease number, date and time, which would show how long the oysters have been out of the water.
"You get some good information right off the bat (from the harvest tag) … that's really going to tell you the most about your shellfish," he said. "It doesn't hurt if you know a grower and can buy directly from a grower."
J.D. Potts, Recreational Water Quality Program manager, said that recreational waters were affected by the recent rainfall as well.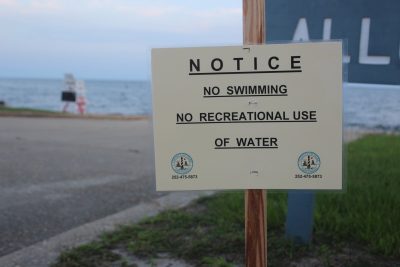 Recreational Water Quality Program officials sample 209 sites each week throughout the coastal region from April to October for a type of bacteria called enterococci found in the intestines of warm-blooded animals such as birds, dogs, raccoons and humans. The bacteria does not cause illness but the Environmental Protection Agency found that enterococcus closely correlates with incidence of human illness, according to a water quality FAQ.
Swimming in contaminated water could lead to diarrheal diseases caused by bacteria, viruses and parasitic protozoa as well as ear, nose, throat, skin and respiratory infections.
"In the Northern Outer Banks where we had the most intense rainfall, the beach towns and communities did a great job communicating to the beachgoers that a precautionary swimming advisory was in place," Potts said. "Lifeguards were making sure that people on the beach were informed and the communities that were pumping flood water to beach posted signs advising against swimming."
The Shellfish Sanitation program adheres to the guidelines of the National Shellfish Sanitation Program Guide administered by the U.S. Food and Drug Administration. The recreational water quality swimming water quality levels must comply with standards set by the EPA and the state.