Last of two parts.
MOREHEAD CITY – The Shellfish Sanitation and Recreational Water Quality Section has been short its third lab the last few years.
A part of the Department of Environmental Quality's Division of Marine Fisheries, the section has been only working from its two labs in Morehead City and Wrightsville Beach since 2014, when the Nags Head lab was closed because of state budget cuts. Earlier this year, a bill was approved for the DMF to re-establish the shellfish sanitation and recreational water quality laboratory in Nags Head.
Shannon Jenkins, section chief, explained that back in 2014 when the Nags Head lab was closed, they also lost three of the five positions that handled recreational waters and shellfish sanitation in the northern part of the state.
"The legislature did add funding to re-establish our northeastern shellfish lab and added two positions back," he continued. "Obviously we're very happy about that … it's going to have a lot of benefits to us and potentially to the industry up there."
Jenkins said with having the northeast lab re-established, there's the possibility of reopening about 54,000 acres of shellfish waters that have been closed since the lab was shuttered.
"It's going to help us meet our required sampling (for bacteria) mandates in the National Shellfish Sanitation Program, where we were struggling to meet those challenges logistically during this time period since it's closed down," he said. "It's also going to allow us more effective response up in the northeast after temporary closures. We can get out and sample sooner and hopefully get them reopened back earlier after hurricanes at times when we have to close the waters."
J.D. Potts, Recreational Water Quality Program manager, added that right now they're only sampling two sound side sites in the northeast – Colington and Jockey's Ridge — and the lab being reopening will allow for more sound side sampling for recreational waters.
Jenkins said they do not have a date for when the Nags Head lab will open but hope for a winter opening if all goes well.
Jenkins explained that shellfish sanitation is a public health agency. With shellfish, the section's main role is to ensure the safety for consumers of mollusks. The section monitors shellfish harvesting waters by testing for certain bacteria and works with handlers to ensure proper treatment to make sure the shellfish are safe to eat prior to hitting the retail market.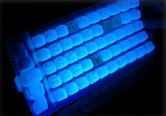 "We do a lot of inspections and certification of shellfish dealers that handle shellfish," he said.
With the recreational program, they try to monitor the public swimming beaches and notify the public when bacteria standards are exceeded, Potts added.
Potts said that the U.S. Food and Drug Administration oversees the National Shellfish Sanitation Program, which the North Carolina Shellfish Sanitation Section is a part, and has its own criteria for classifying shellfish waters while the Environmental Protection Agency has its own criteria for classifying recreational waters.
The biggest difference between recreational waters and shellfish sanitation is how the bacteria is introduced to the body, he continued, with shellfish, the bacteria is consumed but with recreational use, the bacteria is introduced by contact.
Potts explained that oysters and clams are filter feeders that filter up to 100 times the concentration of bacteria in their viscera that's in the water column above.
"People eat the whole animal raw," he said. "With shellfish waters, if someone were to eat eight to 10 clams they're potentially going to get a lot higher levels of bacteria ingested than it would be if you swallowed water."
According to a division fact sheet, there are more than 200 swimming sites tested along the coast for enterococci, a type of bacteria found in the intestines of warm-blooded animals such as birds, dogs and humans. The bacteria will not cause illness but the EPA found that enterococcus closely relates with occurrence of human illness.
"We're seeing if enterococci or fecal coliform are present, then there's a likely chance that there's other fecal microbes that will make you sick," Potts said.
"It's an easy way to monitor for potential pathogens without having to monitor for every single pathogen," Jenkins added. "We're checking to see if there's bacteria from the gut of warm-blooded animals, that's really our concern, which then you could assume there is E.coli or other pathogens in there."
Commercial shellfish harvesters know to check for shellfish closures after the rain, but many visitors to the area do not know that water quality affects shellfish.
Jenkins said that the staff hears of a number of visitors that come to the area and have no idea they can't go clamming in a certain spot. "They don't make a connection between water quality and shellfish being filter feeders being potentially hazardous to consume from the wrong areas."
Regarding recreational shellfish harvesting, folks need to know there are regulations for size, season and areas where they can shellfish. They can contact the Division of Marine Fisheries or Shellfish sanitation for more information.
Jenkins added that one other thing to remember for recreational shellfish harvesting is that after harvest, bacteria can multiply rapidly if left in the heat. It's important to keep the shellfish cool and refrigerated prior to consumption.
A big issue with shellfish is naturally occurring bacteria, vibrio, which can cause illness, and there are many different species of the bacteria that have nothing to do with pollution that are present in greater numbers in warmer months, Jenkins said. Someone who is immunocompromised, such from diabetes or cancer, should avoid eating raw shellfish.
Stormwater and wastewater are two big inputs that affect water quality, Jenkins said.
Major impacts would be stormwater and the associated runoff from the land, which would include failing septic systems, sewer breaks, sewer discharges, manhole overflows, wildlife and domestic pet waste, "Anything like that on the land, when it rains hard is for sure rushing right into the water with little or no treatment."
Jenkins said municipal wastewater would be another potential impact. With infrastructure issues associated with wastewater treatment plants, such as failures of collection systems, lift stations and mechanical or disinfection systems, "there's a number of things with municipal systems that can cause discharge of partially treated or untreated water that would be a real big issue with both recreational swimmers and shellfish."
Potts added that while they don't have monitoring sites adjacent to all waters near urban areas, "Any place you have a lot of dockage and boats with heads, those are good places that people may not want to fish or swim."
For the most part, Potts added, ocean beaches aren't really affected by stormwater, "Sound side (areas) are typically more affected by rainfall and runoff than the ocean side."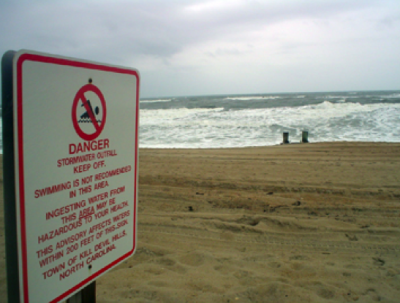 There are spots ocean side that are permanently posted such as where storm drains discharge in both Nags Head and near the Bogue Inlet Pier in Emerald Isle. There is a sign posted to let beachgoers know that if the pipe is discharging, to stay at least 200 feet away on either side of it. They advise that children should not play in the discharge.
Potts said after heavy rainfall, folks shouldn't go swimming immediately. "I would wait for a couple tidal cycles to exchange before swimming again," That goes not just for estuarine waters; that goes for inland bodies of water as well. They have the same stormwater issues here.
"The rain is basically rinsing the landscape and all of that ends up in the body of water," Potts added. "The problem is that when you have runoff, all the little particles and all the sediment going in with the stormwater has got bacteria connected to it."
One way to slow bacteria and viruses from going into the water is infiltration into the soil. Infiltration basins are good treatment options to manage stormwater, Jenkins said. With infiltration basins, there's a thin layer of water that should soak in within a day or two and help improve water quality.
During heavy rains, they "make temporary closures and then wait for it to clear up after several days or weeks and go resample the waters to make sure it's returned to normal before reopening the harvest," Jenkins said. "It affects the industry, but we have to do it for public health aspect."