MANTEO — The Dare County Board of Commissioners in a split vote Monday rejected a proposed ban on plastic drinking straws, the Outer Banks Sentinel reported.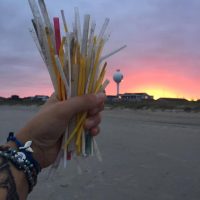 The 4-3 vote against a resolution presented by the North Carolina Conference of the United Methodist Church Youth came despite support by Chairman Bob Woodard, Vice Chairman Wally Overman and the board's only Democrat, Danny Couch. During the discussion, Couch noted the board's previous support of a plastic bag ban, saying it would be "contradictory to not support this."
Commissioners Steve House, Rob Ross, Jack Shea and Jim Tobin voted against the resolution.
The proposed ban had the support of the Surfrider Foundation, which has an Ocean Friendly Restaurant program recognizing restaurants with anti-plastic-pollution practices, such as offering plastic straws only upon request.
The Dare County town of Duck previously passed a resolution in support of the Ocean Friendly Establishments project. About 20 businesses, including restaurants, have been recognized under the program.
The church youth group is also sending its proposed resolution to boards of commissioners in 16 other coastal counties.