The North Carolina Wildlife Resources Commission is asking for the public to document and submit alligator sightings in an effort to better understand where people, both residents and visitors, see the American alligator.
Commission officials say those who see an alligator can contribute to the project by taking a photo with their phone and uploading it to the iNaturalist app or the iNaturalist website under the NC Alligators project..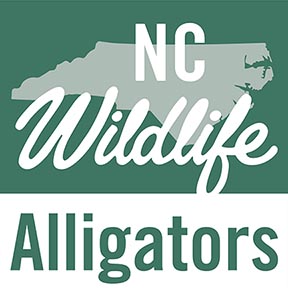 "If the picture you upload was taken with a smartphone," said Alicia Davis, a natural resources technician with the Commission and the project curator, "the iNaturalist platform automatically gathers data on when and where the photo was taken. If you take the picture with a traditional camera, you can drop a pin where you saw the alligator using the Google map on the website."
Davis warned that observers should take caution when an alligator is nearby and keep their distance.
"It's easy to get caught up in the excitement of seeing an alligator and get too close, which could be dangerous," Davis said. "Also, we don't want people feeding them to get a better picture. Not only is that dangerous for both the observer and the animal, but it is also illegal."
People who want to report observations but do not want to use iNaturalist can send their alligator observations directly to Davis, along with a photo, an estimation of class size and details on the date, time and location the alligator was found.
The commission said the project will allow researchers to better understand how alligator populations respond to habitat changes, including saltwater intrusion and habitat loss.
"Data collected from this project will also help us identify areas with high potential for human-alligator interactions," Davis said. "We could use this type of information to reduce negative interactions between people and alligators. For example, these observations could help WRC staff decide where to focus educational efforts about alligators."
North Carolina is the northern extent of the reptile's range and it is generally found throughout the eastern and coastal parts of the state. They're usually found in marshes, swamps, ponds,river backwaters and lakes, but have also been found on beaches. The largest populations are found in Brunswick, New Hanover, Craven, Onslow and Pender counties.
Learn More
To submit sightings, email Alicia Davis at  alicia.davis@ncwildlife.org or call 919-707-4087