SUNSET BEACH – With more than 60 members and growing, the first order of business for a newly formed environmental advocacy group in Brunswick County is to pick a name.
A handful of titles are being tossed around: Brunswick Friends of the Environment, Brunswick Environmental Action Team and Brunswick Ocean Warriors.
Organizers of the group, fed up with what they describe as being censored by their local government council, will let the majority decide on a name during its first meeting Wednesday.
They'll also discuss the types of environmental issues they want to tackle. Stormwater runoff, water quality, dredging, offshore drilling, terminal groins – the list, like the group itself, is likely to grow.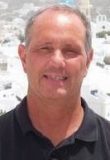 "There's definitely a big interest in the environment here," said Neil Gilbert. "People are energized right now. There's so many issues that affect Brunswick County."
Gilbert has been spreading the word about the environmental advocacy group through social media channels, garnering members from Leland to Calabash and towns in between.
By April 9, 31 people had RSVP'd to attend Wednesday's meeting, a turnout that will fill to capacity the venue the group has booked at the Hickman Crossing Library in Calabash.
"It just seemed like it snowballed," Gilbert said. "One of the big issues we're going to talk about is our next holding place. We definitely want to make the next meeting at a venue where we can hold more people."
Organizers want to bring in residents from throughout the county, bridging rural and coastal environmental issues.
Richard Hilderman, the organization's chairman, said one of his goals is to establish a board of directors composed of residents representing different parts of the county.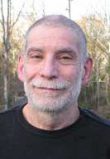 "I don't know necessarily what the issues are in Leland and Bolivia," he said. "That's why I want people on the board from different areas."
Hilderman, a Sunset Beach resident who retired from the Clemson University faculty in 2009, shared his vision for the group.
"I don't think we have any organization or group that's clearly an advocate for the environment in Brunswick County," he said. "We want to be an advocate. I think this organization has a very unique opportunity to become a very strong advocate for protecting the environment."
A group that is nonpartisan, separate and apart from government – that was the driving factor behind creating this environmental advocacy association.
Until a few days ago, Hilderman and Gilbert were members of the Sunset Beach Environmental Resource Committee, or ERC.
They, along with the other three members of the committee, resigned last Wednesday, exactly one year after the committee was formed, in a consensus of frustration that their role was being pared down to talking only about recycling.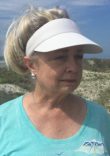 Sunset Beach resident and long-time environmental activist Jan Harris was a member of the committee.
The group of volunteers had, for months, been delving into the potential environmental effects of the town's proposed plans to dredge the waterways around the island. They are particularly concerned about the proposed dredging of a portion of Jinks Creek, an area that's never been dredged.
"We spent hundreds of hours researching environmental science at the council's request," she said. "We did all of this while three members of the council and the mayor crept around in the bushes looking for members of the ERC to make a mistake. We, the ERC, made this about the science. Three council members with the mayor made this personal."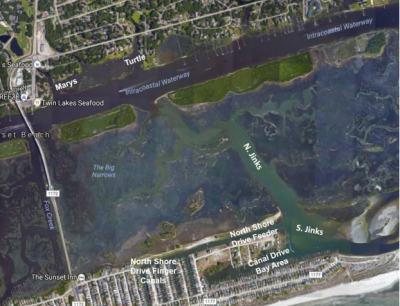 In a letter Harris read aloud following the unanimous resignation of the committee, she stated that the town council has "steadfastly refused to accept the conclusions supported by the provided research."
Prior to the committee members' resignations, the town council in a 3-2 vote on April 18 adopted rules directing the committee to "seek direction" and communicate solely with the council, according to an April 21 story in The Brunswick Beacon. Council members said the committee went beyond its authority and reached out to state and federal agencies, according to the newspaper.
"Now we are free," Harris said. "I don't believe this group would have happened had we not been treated the way we were treated. My heart is just singing. I just think it is so wonderful because it does feel like BEAT (Brunswick Environmental Action Team) is coming back. I didn't think that would happen, but it is."
Harris formed BEAT in 1996. The group ran strong for more than a decade, eventually going defunct as key members died and Harris turned her full attention to caring for her ailing mother.
"I want to see us getting back to holding education seminars. I want to see us get involved in shoreline management. There's so many things that we can educate the people as to how they can help keep this area so beautiful. I think it's just the greatest thing that's happened to Brunswick County in a long time," Harris said.
Gilbert shares her enthusiasm, rattling off topics that will be discussed during the organization's first meeting, including establishing the group's vision and mission statement.
"We could be coming to the point where it gets so big that we have subcommittees on ocean drilling or seismic testing or stormwater runoff," he said. "We don't know. It's got great potential to do great things."
Learn More
Email Neil Gilbert at n4gilbert@aol.com