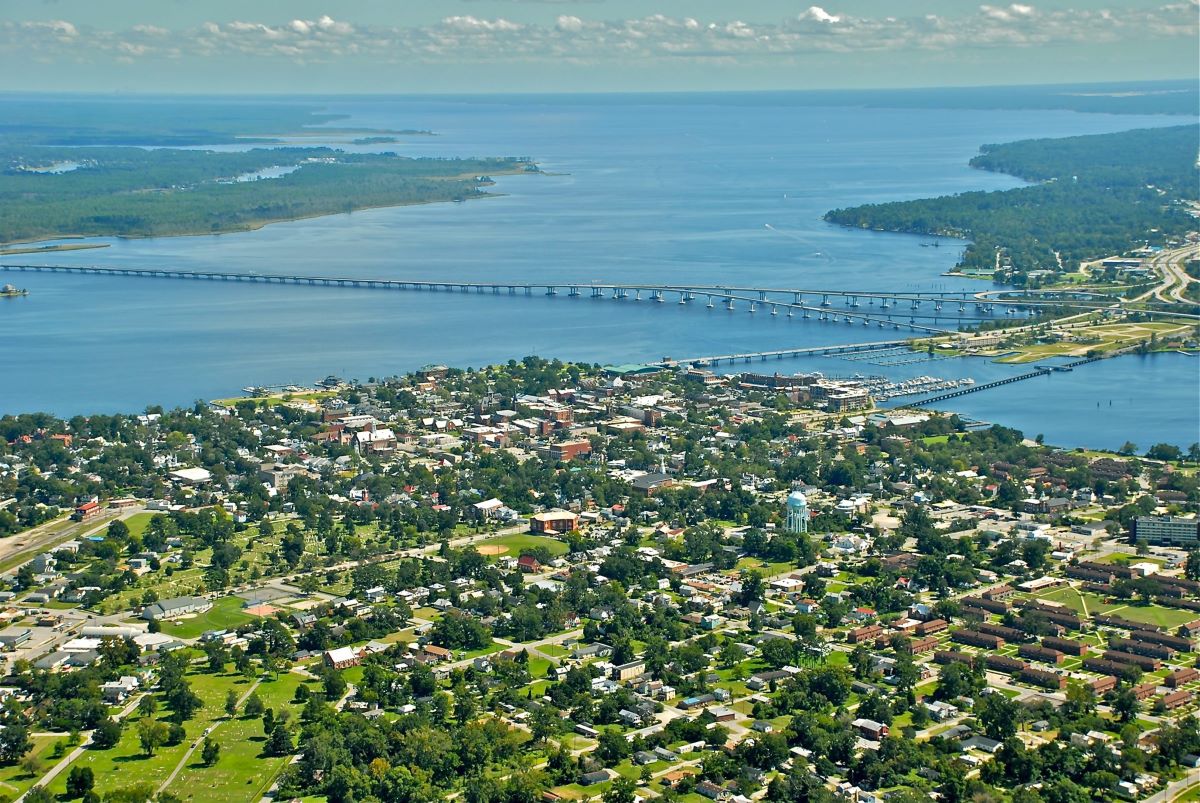 Of the $2.3 million going to 18 recipients in North Carolina this year through the North Carolina Department of Justice's Environmental Enhancement Grant program, just shy of $1 million is going to projects either on the coast or for waters that eventually flow to the coast.
Attorney General Josh Stein announced the statewide awards last week.
The EEG program began after a 2000 agreement between the Attorney General's Office and Smithfield Foods. Through the agreement, Smithfield provides $2 million to the state every year to be distributed among environmental projects across North Carolina.
Including the 2023 grants, the attorney general's office has awarded nearly $43 million to more than 228 projects in the state.
Shoreline stabilization
The Craven County Department of Solid Waste and Recycling will receive $200,000 to stabilize shorelines and reinforce swales in the county to help prevent erosion.
"We've seen all too often the damage that flooding and erosion cause the homes and habitats in eastern North Carolina," Stein said in a statement. "I'm pleased that this grant will help the people of Craven County prepare for and stay safe during storms."
Craven County Planning and Community Development Director Chad Strawn said in the release that the county is grateful to receive funding through the EEG program to build a living shoreline at the confluence of the Neuse and Trent rivers in New Bern.
"This living shoreline will protect critical water and road infrastructure that is highly susceptible to erosion, wind tides, and storm surge," Strawn continued. "The introduction of this living shoreline will prevent future road compromise or failure like we experienced during Hurricane Florence in 2018. From this highly traveled route, we will showcase to the public the positive effects of natural shoreline stabilization while enhancing the environment through newly created wetlands."
Manure, flood risk management study
North Carolina State University will receive $176,391 to study improving the management of manure and flood risks on farms in eastern North Carolina.
"North Carolina's farmers are the backbone of our economy and help us feed our families," Stein said. "This grant will help them make the best decisions to ensure their farmlands stay healthy even as the climate changes."
Dr. Mahmoud Sharara, the principal researcher on the project, said this project aims to minimize impacts of climate variability on North Carolina swine farms.
"To that goal, the project team will develop and make available a farm simulation tool to guide swine producers on optimal effluent management strategies to optimize nutrient use and reduce the risk of extreme weather events on lagoon stability," Sharara continued.
Sharara's research focuses on investigating pathways for the sustainable management of agricultural waste and byproducts to generate value-added products and reduce agriculture-related impacts on ecosystems, according to the university.
PFAS contamination in oysters
Coastal Carolina Riverwatch will receive $128,751 to study whether farm-raised and wild-caught oyster populations in the White Oak River basin are contaminated with per- and polyfluoroalkyl substances, or PFAS, dangerous, toxic chemicals that are harmful to health and do not degrade in the environment.
"I'm fighting to hold accountable the companies that polluted our air and water with dangerous forever chemicals," Stein said. "But more research only strengthens our understanding of the harm that's already been done. I'm grateful to the Coastal Carolina Riverwatch for studying PFAS closely."
The White Oak River basin covers most of Onslow and Carteret counties, as well as small portions of Craven and Jones counties, and includes Bogue and Core sounds, according to NCDEQ.
"Coastal Carolina Riverwatch (CCRW) staff and partners are grateful for this funding that will help us conduct crucial research on per- and polyfluoroalkyl substances (PFAS) and heavy metal levels in wild and farm-raised oysters," Executive Director Lisa Rider said in the release.
"This project aims to reveal the impact of these industrial pollutants on coastal fisheries. The data obtained is pivotal for understanding the environmental consequences of these pollutants and will help us promote restoration and policy improvements through future planning and advocacy efforts. CCRW highly values the NC Environmental Enhancement Grant (EEG) Program, considering it essential for assessing pollution in local water bodies," she continued. "This financial support greatly advances public knowledge of pollutants, promotes consumer safety, and urges effective pollution reduction measures in the State of North Carolina. It underscores the urgency of addressing pollution for both ecosystem health and public well-being, aligning with the goals of the NC EEG program."
Land conservation
The Conservation Fund will receive $150,000 to protect 3,530 acres along the Lumber River, which will become a part of the Lumber River State Park in Scotland, Hoke, Robeson and Columbus counties.
"Preserving this land helps us to protect water quality in southeastern North Carolina," Stein said. "That means folks will be safer and healthier. We're also helping ensure that future generations can enjoy the beauty of their surroundings."
The Lumber River basin is found in 10 counties, including Brunswick, and contains the coastal watershed of the Shallotte and Lockwoods Folly rivers, according to NCDEQ.
"The Lumber River State Park is a gem in Southeastern North Carolina," The Conservation Fund's NC State Director Guenevere Abernathy said. "It provides many public benefits, including outdoor recreation, wildlife conservation, economic development, and flood storage. The Conservation Fund thanks Attorney General Josh Stein for providing an EEG grant to help us expand the state park and increase public access in Robeson County."
Wetlands preservation
The Wildlife and Outdoor Recreation Foundation will receive $200,000 to purchase 48.12 acres in Nashville, a part of the Tar-Pamlico watershed, to add to existing wetlands and implement measures to prevent flooding and erosion.
"Wetlands are crucial to keeping our water clean and helping habitats thrive in Nashville," Stein said. "This grant will help increase North Carolina's wetlands and safeguard against flooding."
The Tar River begins in north central North Carolina in Person, Granville and Vance counties and flows southeasterly until it reaches tidal waters near Washington and becomes the Pamlico River, according to NCDEQ.
"The Environmental Enhancement Grant (EEG) played a crucial role in the success of the Wildlife & Outdoor Recreation Foundation securing the land for the Stoney Creek Environmental Preservation Project," Wildlife and Outdoor Recreation Foundation Executive Director Tammy Rundle said. "The acquisition of the property was needed to preserve and enhance the wetlands within the Town of Nashville in an effort to help mitigate flooding, while conserving the native ecosystem biodiversity. Being awarded the EEG funding, this project can move forward, allowing for the restoration and preservation of these vital natural habitats that contribute to our clean air, land, and water."
Feral swine population study
Catawba College in Salisbury will receive $28,875 to identify, study and map feral swine populations across central and southeastern North Carolina.
"Wild boars damage our environments, pollute our water, and threaten our farms," Stein said. "This grant will help us better understand the challenges we face and how to effectively solve the many issues that stem from this feral population."
The college will partner with the North Carolina Department of Agriculture and Consumer Resources and the North Carolina Feral Swine Task Force to find solutions to mitigate the environmental harms of feral swine.
"Feral swine are an increasing threat to North Carolina's environment and economy. Mitigating their impact is an initiative that reaches 'across the aisle,' advancing the health and well-being of ecosystems and agribusiness in our State," said Luke Dollar, chairman of the Environment and Sustainability Department and professor at Catawba College. "The Attorney General's Environmental Enhancement Grant support of our efforts will greatly advance our ability to collaboratively address this growing hazard. We are grateful for this generous funding."
Recovery, resiliency plans for underserved communities
East Carolina University will receive $44,656 to help local governments with largely underserved communities better develop and act on sustainability, resiliency and recovery plans.
"Eastern North Carolina has taken it on the chin in recent hurricane seasons," Stein said. "This grant will help make small communities in the east more resilient to the challenges they face now and in the years to come."
"Eastern North Carolina is a diverse and growing region, but it is one that also faces a number of environmental challenges including flooding and sea level rise," said ECU Professor and Chair of the Department of Political Science, Dr. Alethia Cook. "This project will aid communities to comprehensively develop resiliency plans that address a combination of air, water, and land quality concerns."