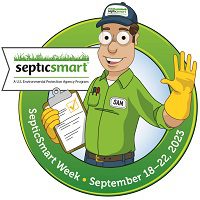 As part of "SepticSmart Week" Sept. 18-22, North Carolina Department of Health and Human Services and the U.S. Environmental Protection Agency are emphasizing the importance of caring for and maintaining septic systems.
SepticSmart Week is an annual event that focuses on educating the public about properly maintaining septic systems, also known as on-site systems, decentralized wastewater treatment, cluster and private sewage, that collect, treat and disperse wastewater.
About half of all occupied homes in North Carolina use septic systems. This dependence on septic systems within the state has remained relatively constant for more than 20 years and spans all 100 counties.  
"Septic systems play an indispensable role in wastewater management throughout North Carolina," DHHS Environmental Health Director Larry Michael said in a statement. "They provide a practical and cost-effective solution for a significant portion of our population, but it's important for septic system owners to diligently maintain them, as neglecting these responsibilities could potentially pose risks to both public health and the environment."
The two agencies reminded the public in an announcement that the proper care and maintenance of septic systems protect "the health and well-being of all residents by ensuring safe drinking water, preventing waterborne diseases, preserving the environment, maintaining property values and reducing repair costs."
The On-Site Water Protection Branch, under the department's Division of Public Health, raises awareness of SepticSmart Week alongside the Environmental Protection Agency.
The health department and other state entities encourage the following best management practices:
Perform regular inspections. Have your septic system inspected every three years by a qualified professional or as recommended by your state or local health department.
Conduct pumping maintenance. Pump your septic tank when necessary, typically every three to five years, to prevent buildup and ensure proper functioning.
Dispose responsibly. Avoid pouring harsh products like oils, grease, chemicals, paint and medications down the drain as these can clog your septic system. Discard nondegradable products such as floss, disposable wipes, and cat litter in the trash instead of flushing them.
Protect your drain field. Keep cars and heavy vehicles away from the drain field and septic tank to prevent damage.
Follow manufacturer's guidelines. When using septic tank cleaners and additives, always follow the manufacturer's directions.
Fix leaks. Repair any plumbing leaks promptly and use water-efficient fixtures to avoid overloading your septic system.
Manage vegetation. Maintain plants and vegetation near the system to ensure roots do not block drainpipes.
Use eco-friendly products. Use soaps and detergents that are low-suds, biodegradable and low-phosphate or phosphate-free.
Take winter precautions. Prevent system freezing during cold weather by inspecting and insulating vulnerable system parts, such as the inspection pipe and soil treatment area.