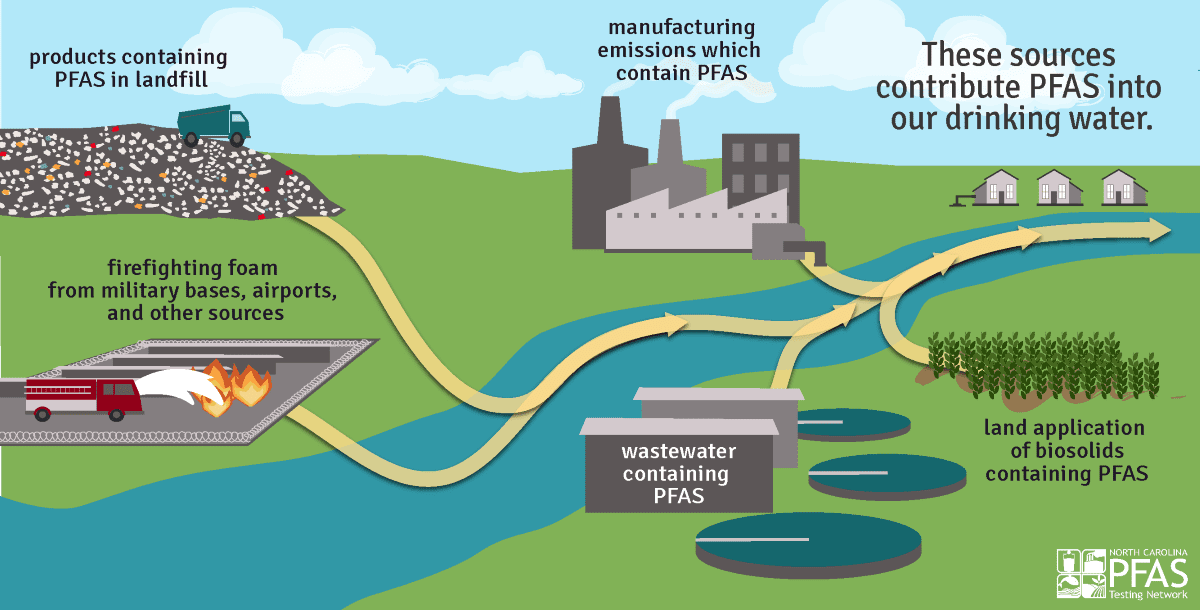 RALEIGH — The state Secretaries' Science Advisory Board, when it meets this week, is expected to review the Environmental Protection Agency's draft document on the latest data on how "forever chemicals" affect aquatic life and hear a presentation on PFAS compounds specific to North Carolina.
The in-person meeting is to take place at 10 a.m. Wednesday in the state Department of Environmental Quality's Green Square Training Room 1210, 217 West Jones St., Raleigh. The public can sign up when they get to the meeting for the in-person comment period.
Those unable to attend can stream meeting online through the WebEx program. Webinar number is 2432 034 3575 and webinar password is SSAB, or 7722 from phones and video systems.
Often called forever chemicals because of how long it takes for the chemicals to break down, perfluorooctanoic Acid, or PFOA, and perfluorooctane sulfonic acid, or PFOS, are part of the chemical group per- and polyfluoroalkyl substances, or PFAS, according to the EPA.
The Secretaries' Science Advisory Board is expected to provide information about PFOA and PFOS bioaccumulation factors in the EPA's draft Aquatic Life Criteria and their potential use for North Carolina. EPA bases aquatic life criteria on how much of a chemical can be present in surface water before it is likely to harm plant and animal life. EPA designs aquatic life criteria to protect both freshwater and saltwater organisms from short-term and long-term exposure, the website states.
This presentation will be followed by NCDEQ staff discussing with the board the evaluation strategy for PFAS compounds specific to the state.
The Secretaries' Science Advisory Board, which includes 13 experts in toxicology, public health, ecology, engineering and other related fields, assist the departments of Environmental Quality and Health and Human Services by recommending reviews and evaluations of contaminants, acting as consultants on NCDEQ's determinations to regulate contaminants, and helping the agencies identify contaminants of concern and determine which contaminants should be studied further, according to NCDEQ.
To learn more about the board and hear recordings of past meetings, visit the board's website.