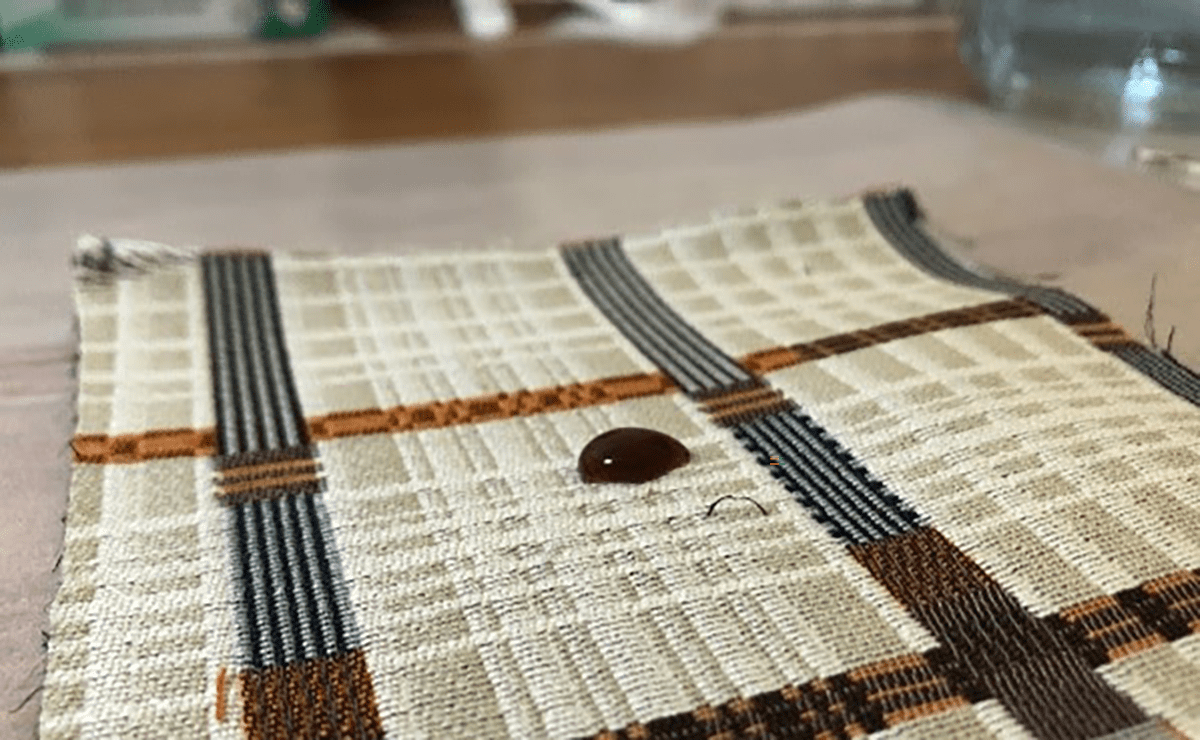 A PFAS finish on indoor fabric does not prevent water- or oil-based stains any better than fabrics without the chemical coating, unless the conditions are "ideal," researchers found in a recent study.
The report "Evaluating the Performance of Per- and Polyfluoroalkyl Substance Finishes on Upholstery Fabrics," was published April 3 in the American Association of Textile Chemist and Colorists Journal of Research and funded by the Green Science Policy Institute. The institute promotes the safer use of chemicals to protect humans and the ecology.
The research team found that the water-based stains, which were made with instant coffee droplets, "were minimal and easily removed from finished and unfinished fabrics alike." For the oil-based stains, which were made with a balsamic vinaigrette salad dressing, the PFAS finish helps in "ideal conditions when the finish is unabraded, stains are set gently on the fabric, and stains are cleaned quickly. Departures from these ideal conditions can lead to staining similar to or worse than on unfinished fabrics," according to the study.
PFAS are long-lasting chemicals, and the study says exposure to some PFAS may be linked to health hazards. When fabric has a PFAS finish, the fabric has been soaked or coated with a PFAS solution to protect it from stains. Unabraded means that the finish has not been damaged or worn off.
Lead author Jonas LaPier, a doctoral candidate in civil and environmental engineering at Stanford University, said in a statement that he was "surprised that these harmful but supposedly indispensable chemicals had no practical benefit. It makes you wonder what other uses of PFAS are also unnecessary and could be easily eliminated from products without noticeable change in performance."
Not only are the consumers who are using the finished fabric being exposed to PFAS, exposure can occur during the manufacture and disposal of finished fabrics. This can lead to health issues for workers, consumers and communities near production sites, plus environmental harm, the study notes.
"PFAS are a public health nightmare and should only be used when essential," said Carol Kwiatkowski, co-author and scientist at the Green Science Policy Institute. "In the case of these fabrics, they aren't delivering the desired performance of stain repellency, and like lipstick or car wax, they get reapplied, which introduces more PFAS into the environment and increases the risk of human exposure. There's simply no justification for continuing to use them in furniture."
LaPier told Coastal Review on Tuesday that the study came about after hearing from industry experts that PFAS stain-repellency coatings were not performing effectively on their products, and many of their customers were seeing staining or would need to frequently reapply the PFAS coatings.
"The motivation was then to take these anecdotes and turn them into a scientific study where we could evaluate the performance of the PFAS treatments by simulating real-world conditions," he said.
To do this, the team tested three kinds of fabric under three different conditions to see if the drops of coffee or drops of salad dressing would stain.
The fabrics were a midweight cotton/nylon fabric, a polyester material designed to mimic the look and feel of wool, and a lightweight polyester with twill texture and a slight stretch.
A piece of each kind of fabric was kept unfinished for the control, another piece dipped in PFAS solution, and a third piece coated with PFAS foam. A total of nine pieces — six with a PFAS finish and three without – were tested.
Fabric type made for the largest difference in stains, which could be attributed to differences in material, construction and color. For example, stains were more difficult to identify on patterned fabrics.
The study did note that the PFAS finishes were most effective when the droplet was wiped off the unabraded fabric shortly after being placed versus when the finish was abraded and the stains could more easily penetrate the fabric surface.
"The results of the study align with what I've seen first-hand," said co-author Betsy Phillips, director of Environmental Initiatives of Maharam Fabric Corp. based in New York. The fabric company supplied the materials.
"The presence of PFAS-based finishes doesn't prevent textiles from staining, especially after the finishes have become worn with use," Phillips continued in a news release. "The best way to prevent staining is to promptly clean up spills. When prompt cleaning isn't possible, choosing a thicker, darker, patterned fabric will help mask any stains that may permeate. Beyond staining, omitting PFAS is simply better for our health."
LaPier reiterated to Coastal Review his surprise at how dramatically the water and oil repellency disappeared on the abraded fabrics.
"The oil and water drops went from neatly beading up on the surface to completely soaking into the fabric within seconds in nearly every test of abraded fabric," he said. "This was happening at 15,000 abrasion cycles, for context the fabrics are tested for durability at 100,000 cycles, so the coatings are much weaker than the fabric itself."
The two styles of polyester and one cotton/nylon blend they chose are materials that make up a large fraction of the commercial textiles market, LaPier continued. "We originally looked at a few more fabrics but settled on these three because we needed the manufacturer to make these custom for us with two different types of PFAS finish as well as an unfinished version."
LaPier explained that while they found stain-repellent coatings do their job in ideal conditions, they quickly lose their repellency with wear and can even stain worse than untreated fabrics.
"Unless you are willing to constantly be reapplying — and inhaling — these chemicals, your furniture will not stain any less and prompt cleaning of stained fabric will still be necessary," he said.
And while LaPier said the study did not specifically identify what factors make a fabric less prone to staining, "Betsy, our textiles expert at Maharam, says choosing a darker and thicker-patterned fabric works well to mask stains," he said.
To figure out if your fabric has a PFAS coating, LaPier recommends dribbling a little bit of water on it.
"If your droplets form neat little beads, chances are your furniture has a PFAS coating. If you want to be extra certain, do the same test with olive or vegetable oil. If you get more beads, you have a finish, very likely PFAS. But even if your water and oil don't bead up, the coating may just be worn and ineffective, as we have seen," he explained.
Looking at PFAS as a whole, much of the focus of PFAS research looks at issues you might expect, such as What are the health effects of these chemicals? How are we exposed? How can we clean them up? LaPier noted.
"More specifically in textiles research, the focus is on finding alternative coatings, but it seems like no one had asked if stain repellency finishes were necessary in the first place. This study is different because we took several steps back and asked, 'are the PFAS coatings even helping at all in real-world conditions?' Because if that answer wasn't a resounding 'yes,' then we just don't need them on our couches. The more we can eliminate these 'nonessential uses' of PFAS the less we need to worry about health effects, exposures, and cleanups later on."