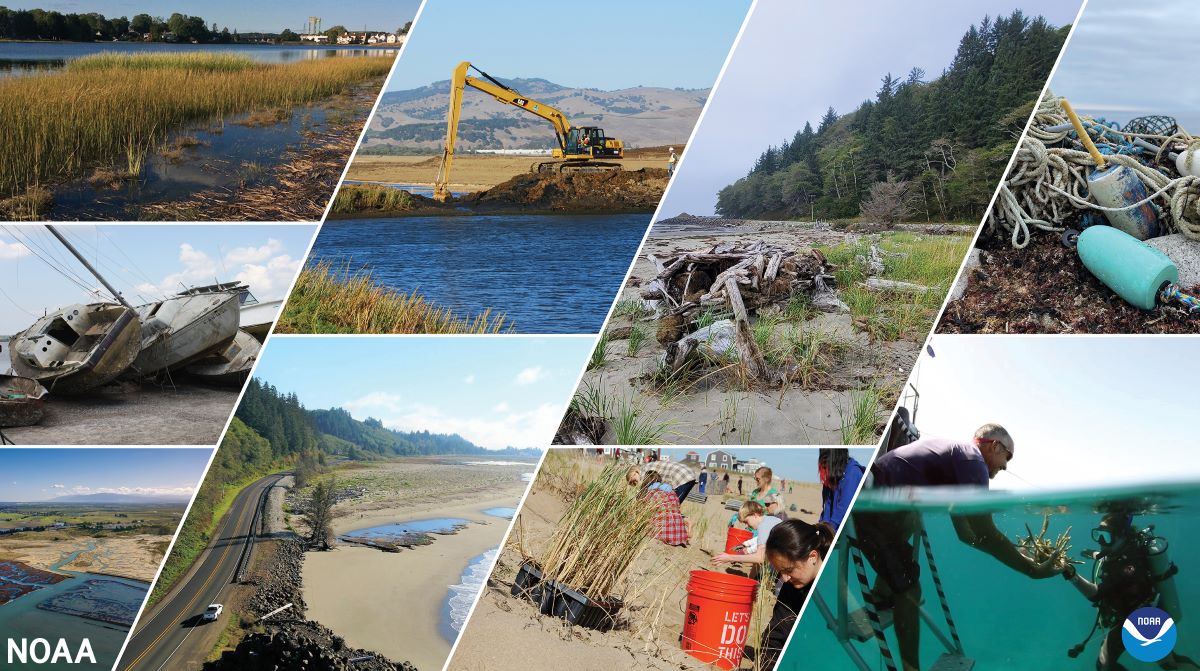 Nearly $21 million in federal funds has been recommended for five climate change resilience projects in coastal North Carolina.
Vice President Kamala Harris announced Friday the $20.9 million from the administration's Climate-Ready Coasts initiative funded through the Bipartisan Infrastructure Law and the Inflation Reduction Act.
The Department of Commerce's National Oceanic and Atmospheric Administration, or NOAA, administers the initiative. The award recommendations must be reviewed within the agency before final approval and fund distribution.
"North Carolina's recommended projects focus on protecting undeveloped shoreline, restoring oyster habitat, removing abandoned vessels and other debris from waterways, and deepening the relationship between people and their environment," NOAA Administrator Dr. Rick Spinrad said in a statement. "NOAA is proud to recommend and support such projects, which represent multiple approaches toward building healthier, more resilient coasts and coastal communities."
The North Carolina Coastal Federation, which publishes Coastal Review, was recommended to receive $19.4 million for two projects, to complete the Pamlico Sound oyster sanctuary and remove storm-related debris, lost fishing gear and derelict vessels along the coast.
The Gullah Geechee Cultural Heritage Corridor was recommended for $536,000 to support habitat restoration and resilience.
The N.C. Wildlife Resources Commission was recommended for $500,000 to conserve land along Bay River in Pamlico County.
The National Audubon Society was recommended for $499,000 to work with coastal communities to identify and propose nature-based solutions in Columbia and Tyrrell counties and two communities in South Carolina.
Coastal Federation Executive Director Todd Miller said in an interview Friday that the two funded projects would transform and accelerate the nonprofit organization's capacity to restore fishery habitats vital to the coastal economy and environment.
"NOAA recognizes past successes of long-term partnerships that built the foundation to make these two projects solid investments," Miller said. "The large magnitude of these projects is feasible because so many diverse interests are working together, including people who fish and shellfish, community groups, businesses, local governments, universities, the N.C. General Assembly, N.C. Department of Environmental Quality, the N.C. Wildlife Resources Commission, and the N.C. Department of Commerce."
Funded through Transformational Habitat Restoration and Coastal Resilience Grants, the $14.5 million project called "Completing the Pamlico Sound Oyster Sanctuary and Training the Next Generation of Restoration Professionals" is to restore nearly 120 acres of oyster habitat in Pamlico Sound, completing the 500-acre goal for the Sen. Jean Preston Memorial Oyster Sanctuary. The North Carolina General Assembly voted in 2015 to establish the network of oyster reefs named after longtime coastal legislator and retired teacher who died in 2013.
"Oyster restoration will provide direct benefits to key recreational and commercial species such as striped bass and wild oysters thereby supporting commercial and recreational fisheries and tourism businesses throughout the state's coast," NOAA officials said about the project.
As part of this project, the Coastal Federation will join with North Carolina State University's Center for Marine Sciences and Technology, or CMAST, and North Carolina Central University to provide hands-on opportunities for under-represented graduate and undergraduate students studying marine sciences.
The $4.5 million "North Carolina Large-scale Marine Debris and Abandoned and Derelict Vessel Removal" project is funded by the Marine Debris Removal Competition. In addition to removing storm-related debris, lost fishing gear and derelict vessels throughout coastal North Carolina, the project aims to prevent marine debris from future storms through outreach and education.
The National Audubon Society's $499,000 award through the Coastal Habitat Restoration and Resilience Grants for Underserved Communities is for its "Co-creating Inclusive Community Resilience with Nature-based Solutions in the Coastal Carolinas" project.
The National Audubon Society will work with coastal communities on nature-based solutions that increase resilience to extreme weather and climate change, officials said. The proposed projects will address the goals and challenges of and Columbia and Tyrrell counites, as well as Awendan and McClellanville, South Carolina. They will also hire community planners for the process and help coordinate future restoration.
"This funding will drive critical resources to ecologically important and historically underserved areas at the frontline of climate change in the Southeast. Just as importantly, it will support the co-identification of nature-based solutions that give as much weight and value to community members' lived experiences as it does to the data–helping ensure those solutions are both equitable and sustainable," Sherri Fields, Audubon South Carolina's Director of Conservation, told Coastal Review.
The Gullah Geechee Cultural Heritage Corridor award through Coastal Habitat Restoration and Resilience Grants for Underserved Communities will go to "Capacity Expansion to Support Habitat Restoration and Resilience in the Gullah Geechee Corridor" project. These funds will support new positions with the goal to create a plan for restoration and resilience across the corridor that stretches from North Carolina through Florida.
The new positions will help build relationships between restoration organizations and Gullah Geechee communities, identify resilience priorities, and create local advisory committees to support future restoration efforts, officials said.
The Wildlife Resources Commission's $500,000 through the Coastal Zone Management Habitat Protection and Restoration Grants, will go to "Bay River Coastal Land Conservation" project. These funds will help the Bay River Coastal Partnership purchase ecologically significant coastal property within the more than 400-acre Bay River Tract for sale in Pamlico County.
Conservation of this area will protect an undeveloped natural shoreline and rare coastal forest communities, minimize the loss of life and property by directing development out of a high risk area, and safeguard coastal water quality along the Bay River, officials said.
"I fought to pass the Bipartisan Infrastructure Law and Inflation Reduction Act because I knew these transformational laws would create lasting progress in North Carolina and beyond," Congresswoman Deborah Ross, D-North Carolina, said in the release. "North Carolinians are all too familiar with the burden of extreme weather, and this funding from the Climate-Ready Coasts Initiative will help our coastal communities better prepare for and respond to high-impact weather events."
These projects are part of NOAA's nearly $6 billion total investment under the Bipartisan Infrastructure Law with additional funds leveraged from the Inflation Reduction Act.