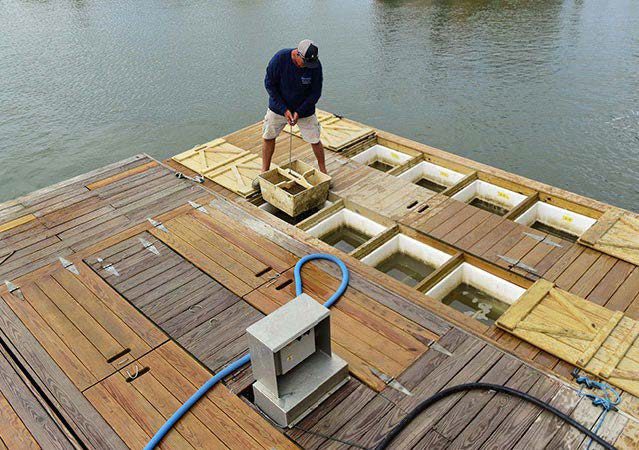 MANTEO — The North Carolina Coastal Resources Commission, during its meeting here Wednesday, is expected to consider adopting rules on floating upweller systems used in shellfish aquaculture, structures known as FLUPSYs, and hear an update on proposed rule amendments for oceanfront septic tank permitting.
The meeting begins at 9 a.m. in the Dare County Government Complex, 954 Marshall C. Collins Drive. A public comment period is scheduled for noon. The Coastal Resources Advisory Council meets at 3 p.m. Tuesday.
FLUPSYs, which include floating tanks that allow water to flow through, act as incubators to protect baby shellfish from predators until they grow big enough to survive on a shellfish lease.
With this amendment, FLUPSYs would be considered floating structures and only permitted as a platform at a private docking facility or a permitted marina.
The amendment includes platforms in the calculation of square footage of shading impacts and clarifies that FLUPSYs are part of the allowance of shading impacts associated with docking facilities. Shading impacts are when a structure, like a dock or floating platform, prevents sunlight from reaching underwater plants. When that happens, plant production can be diminished.
FLUPSYs are different than the floating processing facilities and platforms at a shellfish lease site that the CRC considered last year. In September, they decided to keep the existing rule that would deny permitting floating structures in open waters, though the applicant has the option to submit a variance request.
The commission also is expected to consider the following:
Adopting amendments to rules regarding beach mats used for accessibility.
The areas of environmental concern nomination process.
Timing on reevaluating Inlet Hazard Area boundaries.
Proposed amendments to oceanfront setback rule exceptions.
Proposed fee increases for permits.
A full meeting agenda and materials can be found on the CRC website. Times indicated on the agenda for individual items are subject to change.