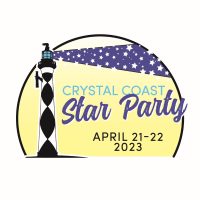 Astronomers of all ages are invited to Harkers Island April 21-22 for the second annual Crystal Coast Star Party and the 2023 NC SciFest Star Party.
The Crystal Coast Stargazers, Cape Lookout National Seashore and Core Sound Waterfowl Museum and Heritage Center are hosting the Crystal Coast Star Party during International Dark Sky Week.
The two-day Crystal Coast Star Party will feature starlight cruises at 7 p.m. both days, speakers from NASA and public telescope stargazing from the field behind the visitor center at Cape Lookout, a certified Dark Sky Park by the International Dark-Sky Association.
Fort Macon State Park joined efforts with these organizations to offer the 2023 NC SciFest Star Party themed Celebrating the Night Sky starting at 1 p.m. April 22. In its 11th year, NCSciFest, or North Carolina Science Festival, is a statewide celebration of science featuring more than 400 in-person and virtual events.
Fort Macon Ranger Paul Terry and Crystal Coast Stargazers members will coordinate these activities for children inside and outside of the Harkers Island Visitor Center.
As part of the Crystal Coast Star Party, Dr. Anthony Norris from the NASA/JPL Exoplanet Watch Group will give at 4 p.m. April 21 his presentation, "Exoplanets, Acquiring Transit Curves," in the Core Sound Waterfowl Museum Education Hall. Exoplanet Watch is a NASA citizen science project designed for everyday amateur astronomers wishing to contribute valuable data.
Dr. Dominic Benford, NASA program scientist for the Nancy Grace Roman Space Telescope project will present at 4 p.m. April 22, also in the education hall. The Nancy Grace Roman Space Telescope is a NASA observatory designed to settle essential questions in the areas of dark energy, exoplanets and infrared astrophysics, according to NASA.
Ferry passengers will disembark from the starlight cruise for a laser-pointed tour of the night sky by a NASA Solar System Ambassador. Call 252-728-7433 for reservations and to purchase tickets, which are $27 for adults and $17 for ages 3 to 11. Starlight cruises are weather-dependent. In the event of inclement weather, there will be astronomy programs and presentations indoors.
All events are free except ferry cruises.
Organizers ask that all guests register in advance. Visit the website for the complete schedule and to register.
Event sponsors include the Carteret County Chamber of Commerce, Crystal Coast Tourism Authority and Island Express Ferry Service.