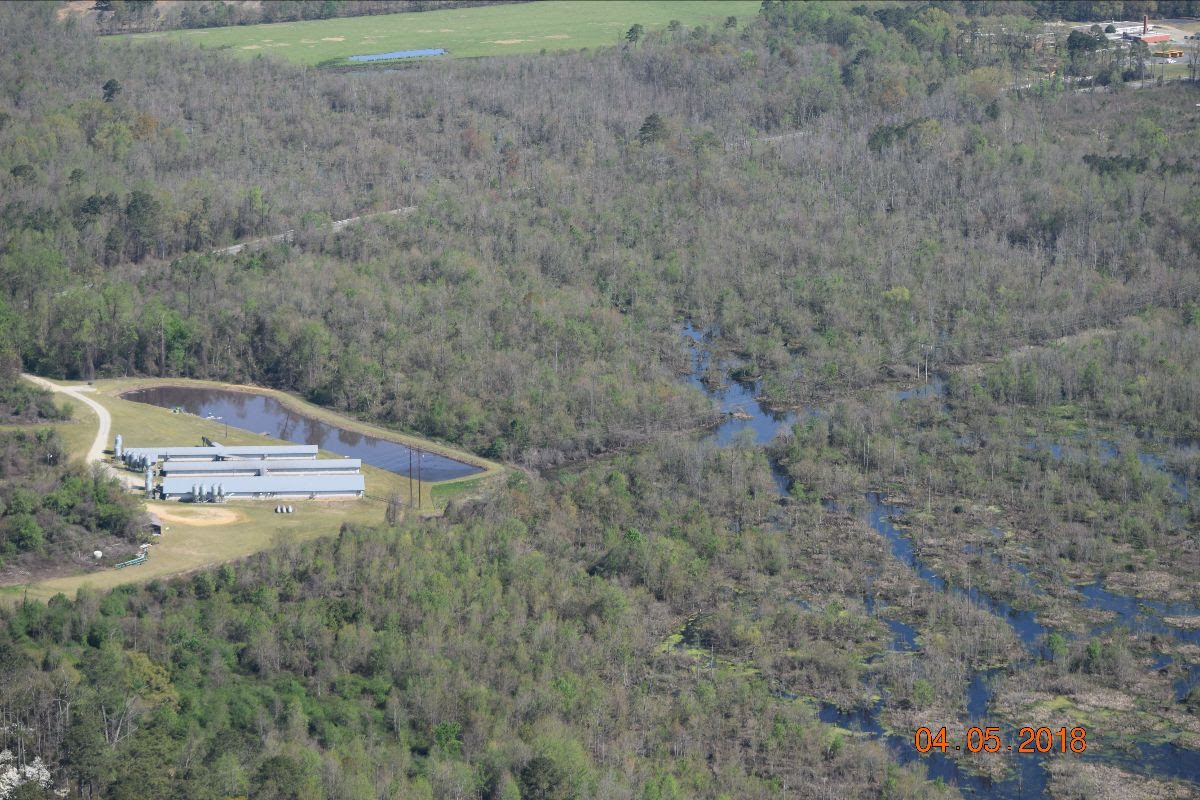 Cape Fear River Watch has released a scathing response to the state's public notice of a hog waste spill from a Bladen County farm into a nearby creek.
The "special alert" issued Monday afternoon from Riverkeeper Kemp Burdette calls a press release put out last week by the N.C. Department of Environmental Quality "pathetic."
"It didn't say where the spill happened and it didn't list the name of the creek the spill entered. It didn't warn the public about the dangers of bacteria and pathogens that were in the water. And finally, it suggested that a beaver dam had contained the spill," Cape Fear River Watch's release states.
Related: Bladen farm releases untreated animal waste into creek
The release goes on to explain that water continually runs over and through beaver dams.
"They cannot and do not stop bacteria, pathogens, nutrients, antibiotics, heavy metals, or any of the other dangerous constituents of untreated hog waste," the release states.
DEQ's Division of Water Resources was notified of the spill, which is estimated to be about 30,000 gallons from Murphy-Brown hog farm into Little Turnbull Creek on the evening of Friday, Jan. 27.
Little Turnbull Creek flows into Turnbull Creek, which is a tributary of the Cape Fear River.
DEQ issued a press release the following Saturday, Jan. 28, explaining that the spill was caused by a recirculation pipe failure.
Farm personnel tried pumping the waste out of the creek, where much of the waste appeared to be contained by a beaver dam, according to the state.
Cape Fear River Watch and the Division of Water Resources collected water samples on Monday, Jan. 30, three days after the spill.
Results of the samples collected by Cape Fear River Watch were reviewed by a state-certified lab, according to the release. An upstream sample indicated 19 colonies of fecal bacteria per 100 milliliters of water.
The downstream sample contained 220 colonies of fecal bacteria per 100 ml of water. That is higher than the state's freshwater standard of 200 colonies per 100 ml of water.
A division spokesperson late Monday afternoon released results of state-collected samples taken from five sites. Those include the following:
Upstream of where the spill entered Little Turnbull Creek: 64 colonies per 100 ml of water.
Near the site where water entered the stream: 640 colonies per 100 ml of water.
Road crossing downstream: 163 colonies per 100 ml of water.
Beaver dam: 540 colonies per 100 ml of water.
Downstream of the dam: 46 colonies per 100 ml of water.
"DWR staff plan to continue sampling," Josh Kastrinsky, public information officer with the Division of Water Resources and the Division of Energy, Mineral and Land Resources, said in an email.
Cape Fear River Watch criticizes the large hog farms industry, calling it an environmental and public health disaster.
"Despite promising to clean up their act over twenty years ago the industry continues to use the antiquated lagoon and spray field system to manage waste. They refuse to invest in proven and available technology because they value profits over people and the environment. Our rivers and our communities are suffering," the river watch's release states. "We sure hope [DEQ] do a better job next time – because there will definitely be a next time."