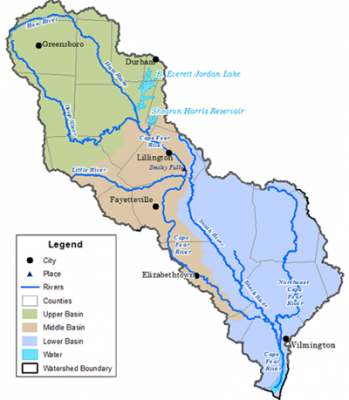 The N.C. Department of Environmental Quality's Division of Water Resources is investigating the release of tens of thousands of gallons of animal waste into a Bladen County creek over the weekend.
A recirculation pipe failure is suspected in discharging what is estimated to be nearly 30,000 gallons of untreated waste from Murphy-Brown Farm into Little Turnbull Creek, according Josh Kastrinksy, public information officer with the Division of Water Resources and the Division of Energy, Mineral and Land Resources.
Little Turnbull Creek flows into Turnbull Creek, a tributary of the Cape Fear River.
State water resources officials were notified Friday evening of the pipe failure, and operators at the Murphy-Brown facility had pumped waste from the creek that night until Monday morning, Kastrinksy said in an email late Monday afternoon.
Animal waste was observed about 0.69 miles from a secondary containment facility and appeared to have been contained in the area by a beaver dam.
"DWR staff have taken samples at five locations downstream in Little Turnbull Creek and expect lab results to be returned toward the end of this week," Kastrinksy said.
The division will "take appropriate action" based on the results of its investigation, according to a DEQ release.