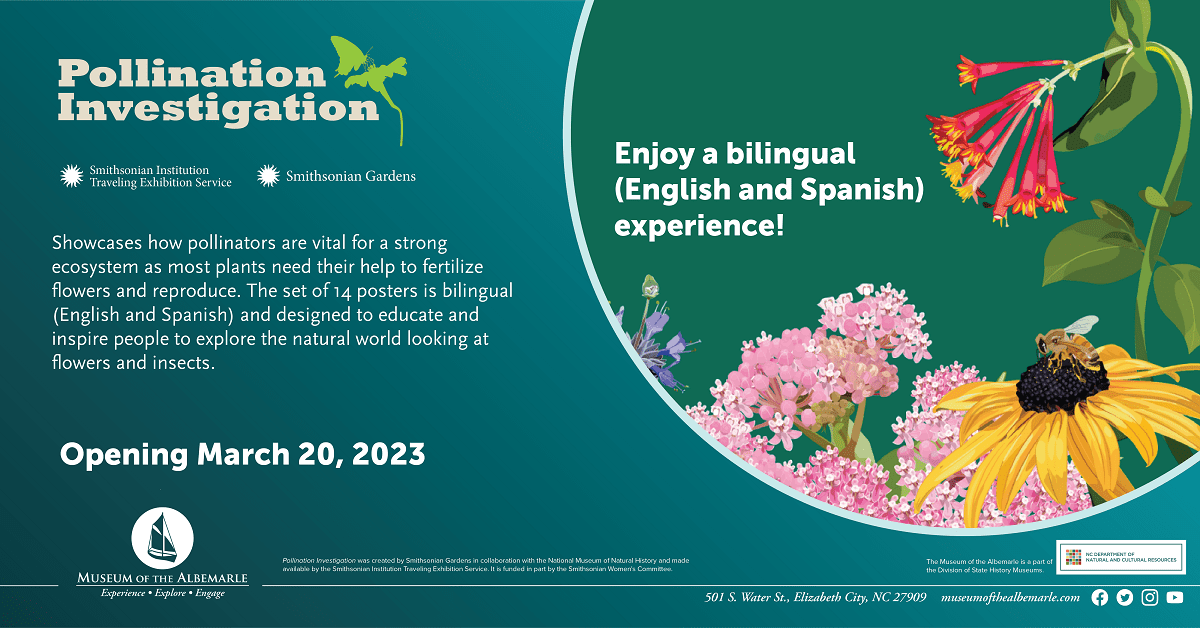 The Museum of the Albemarle will host a poster exhibition that explores the process of pollination by interpreting the unique relationship between pollinators and flowers.
Presented by Smithsonian Gardens and the Smithsonian Institution Traveling Exhibition Service, "Pollination Investigation" will be on display starting March 20 and will showcase how pollinators are vital for a strong ecosystem as most plants need their help to fertilize flowers and reproduce.
The exhibit will be on display until March 2024 in the museum in Elizabeth City. There is no charge to visit the museum.
The exhibition features seven "pollinator profiles" for bees, beetles, butterflies, hummingbirds, flies, moths, and wind, along with special references to bats and water. Using a field-journal theme, each profile describes the pollinators' favorite flowers based on floral characteristics encouraging exploration into flower shape, color, scent, and more.
The set of 14 posters is in both English and Spanish and designed to educate and inspire people to explore the natural world looking at flowers and insects.
Distributed at no cost to schools, libraries, museums, and community organizations, "Pollination Investigation" was created by Smithsonian Gardens in collaboration with the National Museum of Natural History and made available by the Smithsonian Institution Traveling Exhibition Service. It is funded in part by the Smithsonian Women's Committee.