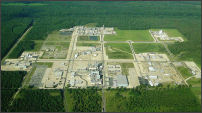 A federal appeals court judge earlier this week allowed several North Carolina environmental and health groups to intervene in Chemours' lawsuit against the U.S. Environmental Protection Agency.
Judge Arianna Freeman with the 3rd U.S. Circuit Court of Appeals ruled that the organizations and handful of advocates showed "a sufficient interest in the litigation" brought on by the chemical company, which sued the EPA last year after the federal agency established a health advisory for GenX.
Chemours' Fayetteville Works Facility for decades discharged GenX and a host of other per- and polyfluoroalkyl substances, or PFAS, into the Cape Fear River, air and ground.
The court ruled that the groups' interest may not be "adequately represented by the existing parties to the litigation."
Those groups and advocates include Cape Fear River Watch, Center for Environmental Health, Clean Cape Fear, Democracy Green, Natural Resources Defense Council, North Carolina Black Alliance, Toxic Free North Carolina, Dr. Kyle Horton, Lacey Brown, Harper Peterson, Michael Waters and Debra Stewart.
The EPA announced a final health advisory last June for the chemical compound at 10 parts per trillion.
GenX was created to replace perfluorooctanoic acid, which was voluntarily phased out of production more than 10 years ago in the U.S.
According to the EPA's toxicity assessment, health studies of animals that ingested GenX show health effects in the kidneys, blood, immune system, liver and developing fetuses.
Chemours, which sued the federal agency shortly after setting the health advisory, argues the the agency failed to use the best available science when making its determination. The company also says that GenX does not pose human health or environmental risks "when used for its intended purpose."
The groups will be allowed to file a single brief.
Some of the same groups intervening in the lawsuit are also in a legal fight with the EPA.
In January 2022, Center for Environmental Health, Cape Fear River Watch, Clean Cape Fear, Democracy Green, NC Black Alliance and Toxic Free NC, reactivated a lawsuit against the EPA they'd previously filed the prior year.
The groups are seeking EPA-required health studies in communities affected by the contaminants discharged from the Fayetteville plant. They say the agency failed to grant their petition under the Toxic Substances Control Act seeking to require Chemours to conduct critical health studies on 54 compounds.
The case is scheduled to be heard in district court 10 a.m. Tuesday at 1003 S. 17th St.
Cape Fear River Watch announced Thursday that it will hold a press conference and rally after the court hearing scheduled for in Wilmington at 2 p.m. at the Hotel Ballast at 301 N. Water St. or, in case of rain, at the Cape Fear River Watch office at 617 Surry St.