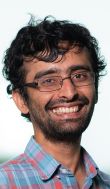 During the first installment of "Science on the Sound" for 2023 this week, Dr. Sid Narayan will highlight his research on the use of nature-based infrastructure and the role these play in protecting coastal communities from coastal hazards.
Narayan, assistant professor in the department of coastal studies at East Carolina University, will present "Forces of Nature: The Role Ecosystems Play in Protecting Coastlines and Communities," at 6 p.m. Thursday in the Coastal Studies Institute on the ECU Outer Banks Campus, 850 N.C. 345, Wanchese.
Science on the Sound is a monthly, in-person, lecture series that brings together different perspectives from all over the state and highlights coastal topics in northeastern North Carolina.
In this program, Narayan will explore the role that coastal ecosystems like tidal salt marshes, mangrove forests, and oyster and coral reefs play in protecting coastal communities, their homes and critical infrastructure during hurricanes and other extreme events.
The program is free and all are welcome to attend.  The program is also livestreamed and a recorded version made available on YouTube.