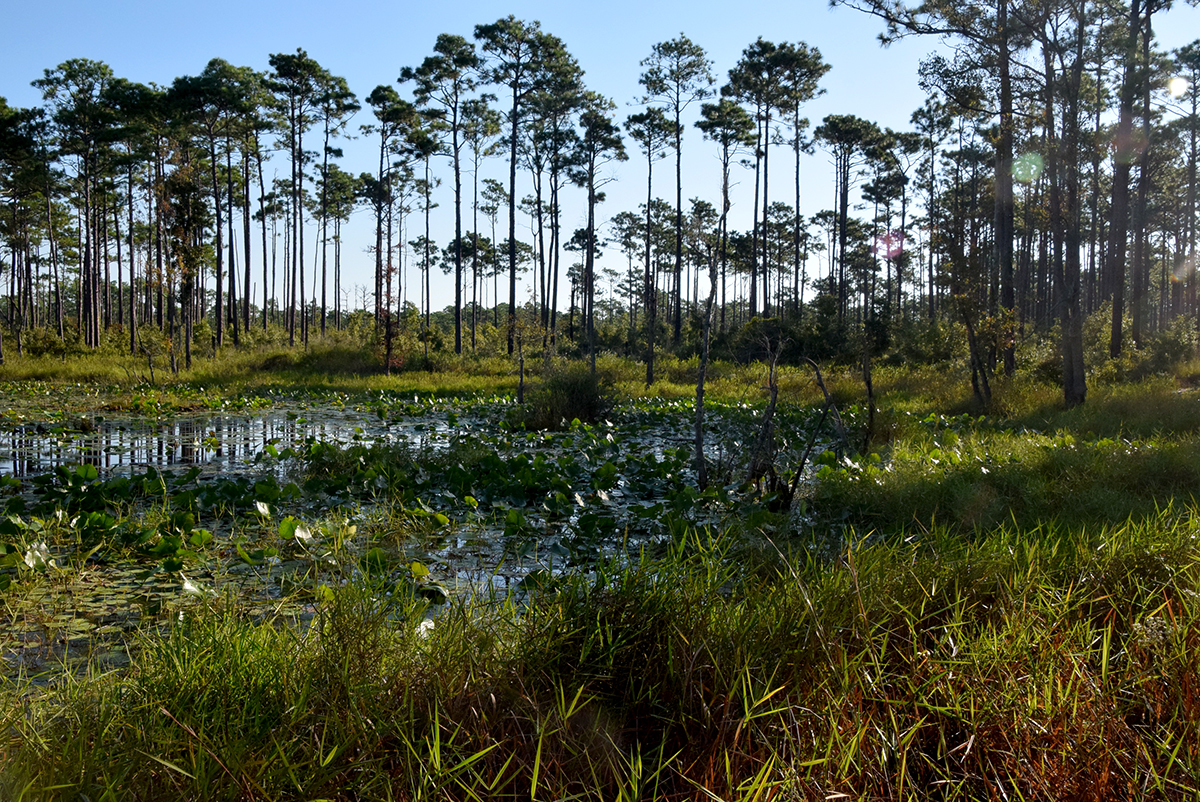 President Biden's final rule defining "waters of the United States" reinstates federal protections for millions of acres of wetlands in North Carolina.
The rule, announced late last month, puts back into place longstanding clean water protections for streams, lakes, ponds and upstream wetlands that significantly affect what are considered traditional navigable waters, or waterways that are used for commercial recreational use, the territorial seas, and interstate waters.
Kelly Moser, senior attorney and leader of the Southern Environmental Law Center's Clean Water Defense Initiative, said narrowed clean water rules jeopardized millions of miles of streams and tens of millions of acres of wetlands and other critical waters across the country. The final rule must be published in the Federal Register, which will open a 60-day public comment period, before it will go into effect.
"By finalizing this rule, the Biden administration has once and for all repudiated and repealed the prior administration's catastrophic rollback of clean water protections, which really hit North Carolina hard," she said. "In North Carolina, just in the Cape Fear watershed alone, almost 530,000 acres of wetlands lost protection. That's just one of our watersheds. With the Biden rule, those wetlands stay protected like they have under the administrations of both parties for decades and that's really critical to our state."
In 2017 former President Donald Trump announced plans to revise the definition of "waters of the United States," or WOTUS, addressing federal authority under the Clean Water Act.
WOTUS was replaced in 2020 by the Navigable Waters Protection Rule, one that removed protections for ephemeral bodies of water, including creeks and streams that dry up during certain times of the year.
The change, the Trump administration said, would clarify for states and property owners whether projects would require federal permits and help landowners avoid spending thousands of dollars on engineering and legal professionals.
The North Carolina Department of Environmental Quality, or DEQ, and state Attorney General Josh Stein submitted comments on the revised rule, arguing that it would roll back some protections of the state's estimated 5.7 million acres of wetlands.
A DEQ spokesperson stated in an email that department staff are reviewing Biden's final rule.
Rick Savage, president of the Carolina Wetlands Association, said he too was reviewing the rule.
"This is definitely a lot better," he said. "It's going in the right direction. It eliminates a lot of the restrictions and puts back in protections for wetlands that were going to be eliminated by the Trump rule. The Trump rule was going to eliminate as much as 50 percent of our wetlands from being protected and this is going to pretty much put those back into being protected."
Under the rule, normal agricultural activities including plowing, seeding, building and maintaining dikes, irrigation ditches and farm stock ponds, remain exempt from the Clean Water Act.
When Trump's Navigable Waters Protection Rule went into effect in June 2020 it created a permitting gap in North Carolina for projects that would impact wetlands not subject to the Clean Water Act.
The state Environmental Management Commission adopted a temporary wetlands permitting rule that authorizes a permitting pathway for federally nonjurisdictional wetlands. There are about 300 wetlands in the state that have been identified as federally nonjurisdictional.
The fate of the permanent rule remains in limbo because it has not been signed off by the state Rules Review Commission, the executive agency that reviews and approves rules adopted by state agencies.
Moser said state permitting rules need to stay in place. A change in the federal landscape or ruling handed down from the nation's highest court could mean another revision to the definition of the WOTUS rule.
"In that, even the Environmental Management Commission's permitting rule will automatically cover that gap, ensuring that North Carolina's developers will not be stranded without a way to obtain a permit and they'll be able to move their projects forward. Seems like the state should maintain its permitting rule to prepare for future situations if they arise."
The ins and outs of clean water rules have been wrangled in the Supreme Court going back years.
In 2006, the Supreme Court addressed the question of jurisdiction over tributary wetlands.
Then-Justice Anthony Kennedy concluded the Clean Water Act did pertain to waters and wetlands with a significant connection to navigable waters.
Moser explained that the Biden administration has listed a number of functions and factors agencies are to use to determine a water's or wetland's material influence on the chemical, physical and biological integrity of traditional navigable waters, interstate waters and territorial seas.
Those functions include filtering pollution, holding back flood waters, and providing habitat and food resources for aquatic species, all things that make North Carolina's wetlands so important, she said.
"Those sorts of functions are the types of things that the administration and agencies will consider in making the determination whether wetlands significantly affect traditional navigable waters in our waters of the United States," Moser said.
Wetlands make up about 17% of North Carolina's land area. Most of the state's wetlands – 95% – are in eastern North Carolina.
"Without our wetlands our recreational and commercial fishing industry suffer as our shellfish, shrimp, blue crab and oysters become tainted and less available so it really is critical to our culture, our families, and our communities and our businesses to protect these wetlands," Moser said. "We're happy that the Biden administration understands the functions that the wetlands provide and is taking into account the value of wetlands in reinstating the longstanding protections that they deserve."