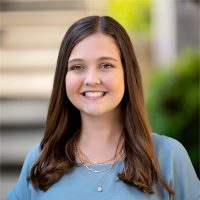 Bailey Recktenwald began her new role Jan. 9 as the climate change policy adviser for the North Carolina governor's office.
Recktenwald is responsible for policy development, project management, stakeholder engagement, strategic planning and other duties to support Gov. Roy Cooper's climate agenda, Sam Chan, press secretary for governor's office, told Coastal Review. She will primarily focus on climate resiliency and leveraging North Carolina's Natural and Working Lands for climate solutions, working with the governor's climate and clean energy team.
Before joining the governor's office, Recktenwald served as the chief strategy officer at the North Carolina Department of Environmental Quality. Previous roles include policy development analyst at the North Carolina Department of Administration and Policy Assistant within Cooper's policy office.
"I'm happy to share that I have joined Governor Cooper's Climate Team to serve as a climate change policy advisor! I look forward to working on resilience policy and the Governor's other climate priorities in this new role. I am so grateful for my time at DOA and DEQ, and for everyone that supported me along the way," she wrote in a social media post.
Recktenwald received degrees in geography and public policy from University of North Carolina Chapel Hill and is currently working toward a master's in public administration with a focus on regional sustainability from Clemson University.