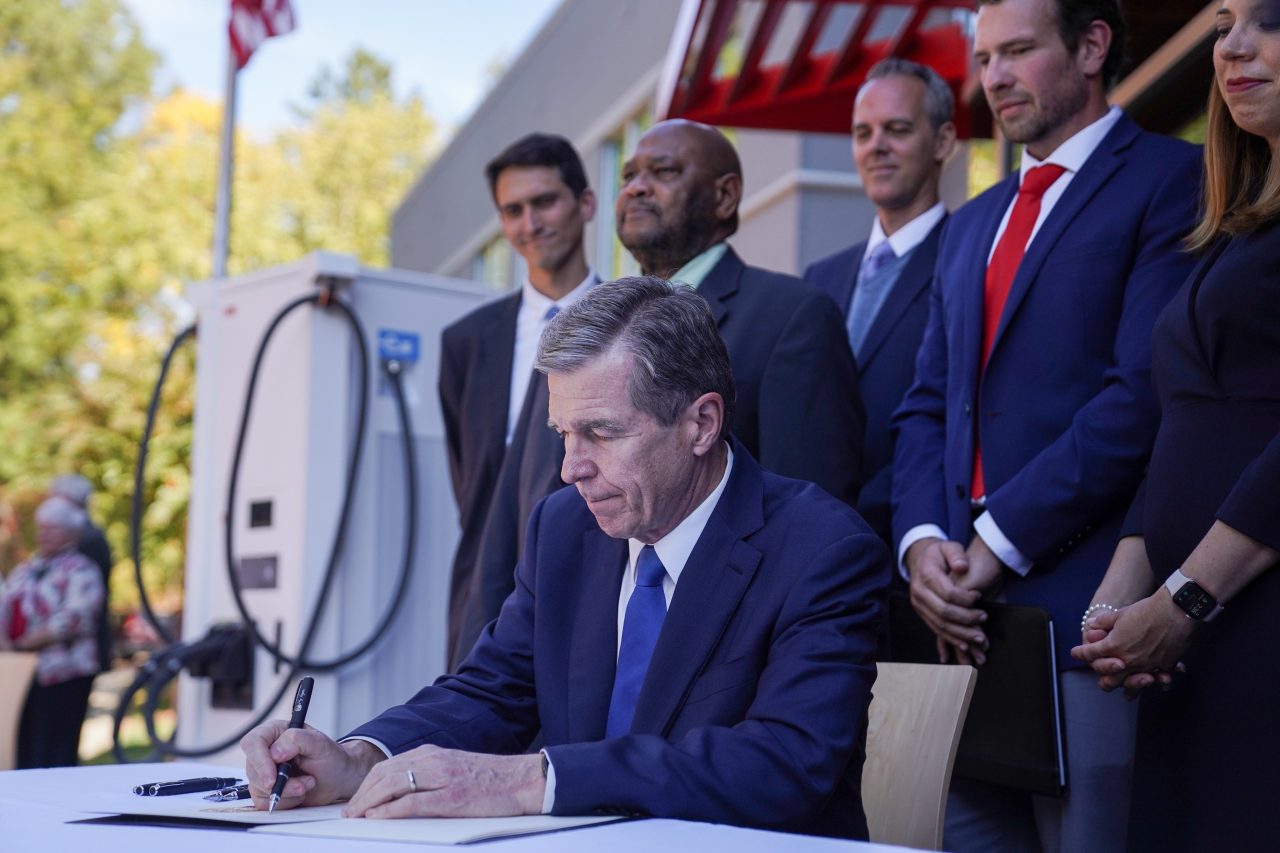 Have thoughts and ideas about the state's plans to require manufacturers to sell more zero-emission vehicles?
Public feedback has prompted the N.C. Department of Environmental Quality, or DEQ, to now host two virtual webinars, one in the afternoon and one in the evening, Wednesday seeking public input about Gov. Roy Cooper's Advanced Clean Trucks program.
Cooper last fall signed Executive Order 271, requiring DEQ to create the program, which aims to shift the sale of gas-powered commercial vans and trucks in the state to electric vehicles.
"ACT will position North Carolina to benefit from the global market transition to commercial electric vans and trucks by requiring manufacturers to sell an increasing percentage of zero-emission vehicles over time," according to a DEQ release. "ACT would also provide flexibility, through credits, trading and other features, as segments of the market grow at different speeds. The sales targets would drive investment in other zero-emission technologies, including charging and fueling infrastructure."
ACT would apply to commercial medium- and heavy-duty vehicles with a gross weight rating of a minimum of 8,500 pounds to include delivery vans, box trucks, garbage trucks and semi tractors. The proposed program would not include consumer passenger vehicles or off-road vehicles such as tractors and other farm equipment.
DEQ is working with local governments, environmental justice organizations, underserved communities, automobile manufacturers, motor fleet owners, electric utilities, the N.C. Utilities Commission, public health experts, environmental organizations and other stakeholders in developing the proposed rule.
The department will host a final webinar Feb. 21 to provide an overview of the comments received and the next steps in the rulemaking process.
The first session, Stakeholder Webinar No. 1 will be from 2-4 p.m. Wednesday. Stakeholder Webinar No. 2 will be 6-8 p.m. Registration is required.
Spanish interpretation services will be available during Wednesday's webinars. Those who wish to utilize this service should make that indication at registration. Additional information in Spanish may be requested by calling 919-609-2189 or emailing Guadalupe.jimenez@ncdenr.gov. 
The final stakeholder webinar will be 1-2:30 p.m. Feb. 21.
Comments may also be submitted before Feb. 24 via email to daq.publiccomments@ncdenr.gov with the subject line "Advanced Clean Trucks" or left via voicemail at 919-707-8726.
The department's Division of Air Quality is creating draft ACT rules and will present them to the Environmental Management Commission at the commission's July meeting.
If the commission approves moving forward with the rules a 60-day public comment period and public hearing will be held likely this summer.
For more information on ACT visit deq.nc.gov/ACT.