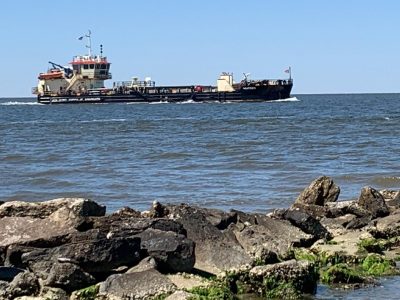 OCRACOKE – The Army Corps of Engineers plans to start this weekend work using a contracted dredge to clear critical shoaling in Bigfoot Slough just outside the N.C. Ferry Division's Ocracoke-Silver Lake Terminal, the North Carolina Department of Transportation announced Tuesday.
DOT said there were no planned changes to the state ferry schedules, but people planning a trip should check with the ferry terminals for any updates.
The dredging operation is expected to begin sometime this weekend and take about 50 days, depending on weather and sea conditions.
"We're very thankful to partner with the Corps of Engineers," said Ferry Deputy Division Director for Operations Jed Dixon in a statement. "Shoaling continues to be a serious issue on the coast. The Corps has always responded quickly when we've had urgent requests."
DOT said the project will result in a deeper, wider channel that will enable the Ferry Division to return to service next year its larger, sound-class ferries on the system's two longest routes, Ocracoke-Cedar Island and Ocracoke-Swan Quarter.