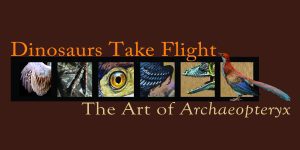 The Cape Fear Museum of History and Science's newest traveling exhibition, "Dinosaurs Take Flight: The Art of the Archaeopteryx," combines original artwork with fossils, replica skeletons, hands-on activities, and interactive media to tell the story of the evolution of flight.
There are more than 50 pieces of original artwork, murals, sculptures, research grade replicas of Archaeopteryx, a collection of real fossils representing German flora and fauna, video interviews, interactive components and more making up the exhibit on display until May 14, 2023.
A single fossil feather of a Archaeopteryx, pronounced ahr-kee-OP-tuh-riks, was unearthed in 1861 in a dusty limestone quarry in southern Germany. That find would be among the first to reveal birds' origins as the descendants of dinosaurs. In the time since, the Archaeopteryx has been an integral part of the discussion of evolution, the origin of birds, and the origin of flight and provides a critical bridge between dinosaurs and birds, according to the museum.
"We are excited to open this new exhibition to the public," museum director Wayne LaBar said in a statement. "Dinosaurs Take Flight excites the sense of wonder we all have about the natural world, and explores the evidence showing that the birds we live amongst are direct descendants of dinosaurs."
Dinosaurs Take Flight is a traveling exhibition organized by Silver Plume Exhibitions and the Yale Peabody Museum of Natural History.
The museum is a Smithsonian affiliate, located at 814 Market St., Wilmington. Hours are 9 a.m. to 5 p.m. Tuesday-Saturday and 1-5 p.m. Sunday.
Standard admission prices are $8 for adults; $7 for seniors, students, and military with valid ID; $5 for children 6-17; and free for 5 and under and museum members.
New Hanover County residents' free day is the first Sunday of each month. Cape Fear Museum is a partner of Museums for All and offers free admission to Supplemental Nutrition Assistance Program, or SNAP, benefit recipients when they present an electronic benefits transfer, or EBT, card.