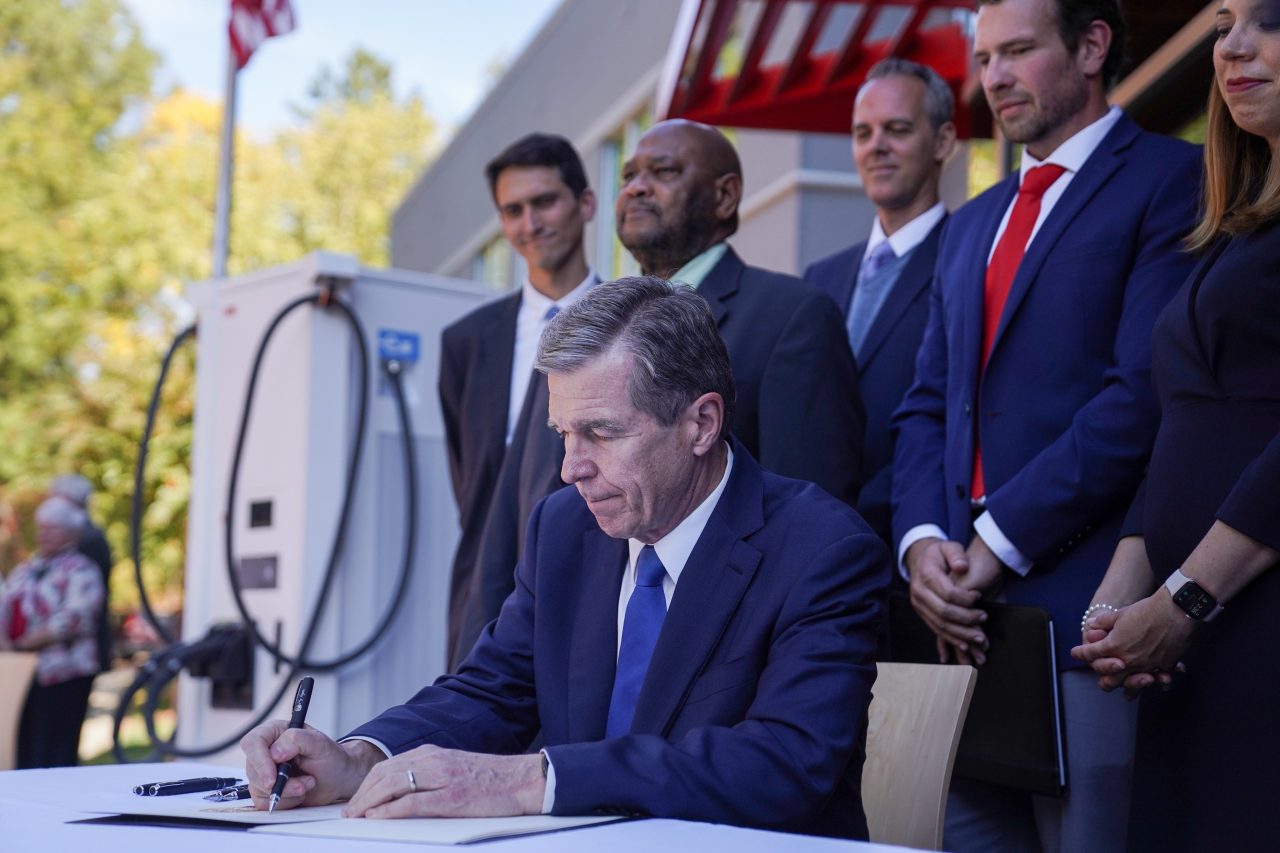 Gov. Roy Cooper signed an order Tuesday directing the North Carolina Department of Environmental Quality to propose by next spring rules for a program requiring manufacturers to make more zero-emission trucks and buses available for purchase in the state.
Executive Order 271 is Cooper's latest action in the push for a clean energy economy and the latest in a national wave of policy moves known as Advanced Clean Trucks, or ACT, programs that call for the phasing in of zero-emission medium- and heavy-duty vehicles.
Critics say that proposed new mandates on the supply chain were ill-timed. The North Carolina Chamber said the transition that Cooper noted was already underway "would only be hampered by government intervention." The NC Chamber also noted on Twitter that North Carolina has the country's largest concentration of commercial vehicle companies, suppliers and employees.
Advocates say the move promises more environmental equity and significant economic benefits.
The Cooper administration said that air pollution from buses and trucks predominately powered by diesel engines worsens asthma and other cardio-respiratory illnesses, especially in children and older adults, can trigger heart attacks and strokes and lead to other negative health effects that disproportionately impacts low-income communities and communities of color near trucking corridors, ports, fleet garages, warehouses and other distribution hubs.
Cooper said the move would reduce pollution, encourage economic development and job growth, maximize consumer choice for small businesses, and advance the state's climate and environmental justice objectives.
"North Carolina has demonstrated that by leading the transition to clean energy we can grow our economy and create good paying jobs while reducing local pollution and confronting the climate crisis," Cooper said in a statement. "North Carolina is already a national hub for truck and bus manufacturing and supply chain development, and we should not miss the opportunity to lead the market-driven transition already underway to cleaner and increasingly cheaper zero-emission technologies that benefit our economy and our communities."
The order directs the DEQ to work with stakeholders on an ACT program requiring manufacturers to sell an increasing percentage of medium- and heavy-duty trucks over time and propose that rule to the Environmental Management Commission by May 15, 2023. The agency also is to expand public-private partnerships by recognizing companies and facilities that phase in the new vehicles in their van, bus and truck fleets.
The order also directs cabinet agencies to prioritize strategies to further environmental justice and health equity by improving health outcomes for communities disproportionately impacted by air pollution and increasing affordable access to clean transportation options.
The state Department of Health and Human Services is to increase education on the disproportionate health impacts of bus and truck emissions on underserved communities and people of color.
More than 85 companies, employers and investors joined a letter organized by Ceres in 2021, calling on state policymakers across the country to adopt the ACT rule, according to the nonprofit organization that represents investors and businesses. In a separate letter in June, 30 companies and organizations wrote to the Cooper administration calling for its adoption in the state.
"Companies are looking to electrify their vehicle fleets and their supply chains in order to meet critical climate goals, save money on fuel and maintenance, and reduce air pollution for their workers and the communities they operate in," Alli Gold Roberts, Ceres senior director of state policy, said in a release. "As this technology advances and takes greater hold in the economy, the ACT rule will provide a clear pathway for the industry to supply companies with the vehicles they want. North Carolina is again proving itself as a national climate leader by becoming an early adopter of this business-friendly rule."
Katie Wallace, chief ESG Officer with New Belgium Brewing Co., praised the step.
"As a craft brewer with distribution channels across the U.S., New Belgium Brewing strongly supports the Advanced Clean Trucks rule, and we are grateful that the Cooper Administration has continued to lead the way on clean air through clean trucks in North Carolina," she said. "The ACT rule will help us achieve our goal of operating a clean fleet close to home in North Carolina and help our partners across the country transition to zero-emission trucks that will clean the air, reduce climate pollution, and continue to efficiently move the supplies we need and the beer our customers love."
The Southern Environmental Law Center also praised the order, which it said follows encouragement from advocates, as well as a letter to the governor in August and a June 3 letter to make adopting ACT as a top priority for climate action.
Kym Meyer, senior attorney at Southern Environmental Law Center, called the move "an important, forward-thinking step to address climate change, the health of our communities, and environmental justice."
Environmental Defense Fund State Director David Kelly said the order "strengthens North Carolina's position as a leader in the clean transportation space, setting the stage for our state to secure significant economic, environmental, and equity benefit."
Adopting ACT will bring economic benefits, according to the Environmental Defense Fund, citing an April 2022 report from RTI that found that from 2026 to 2050 cumulative owner benefits of $8.8 billion, cumulative climate benefits of $11.2 billion, and cumulative health benefits of $100.4 billion.