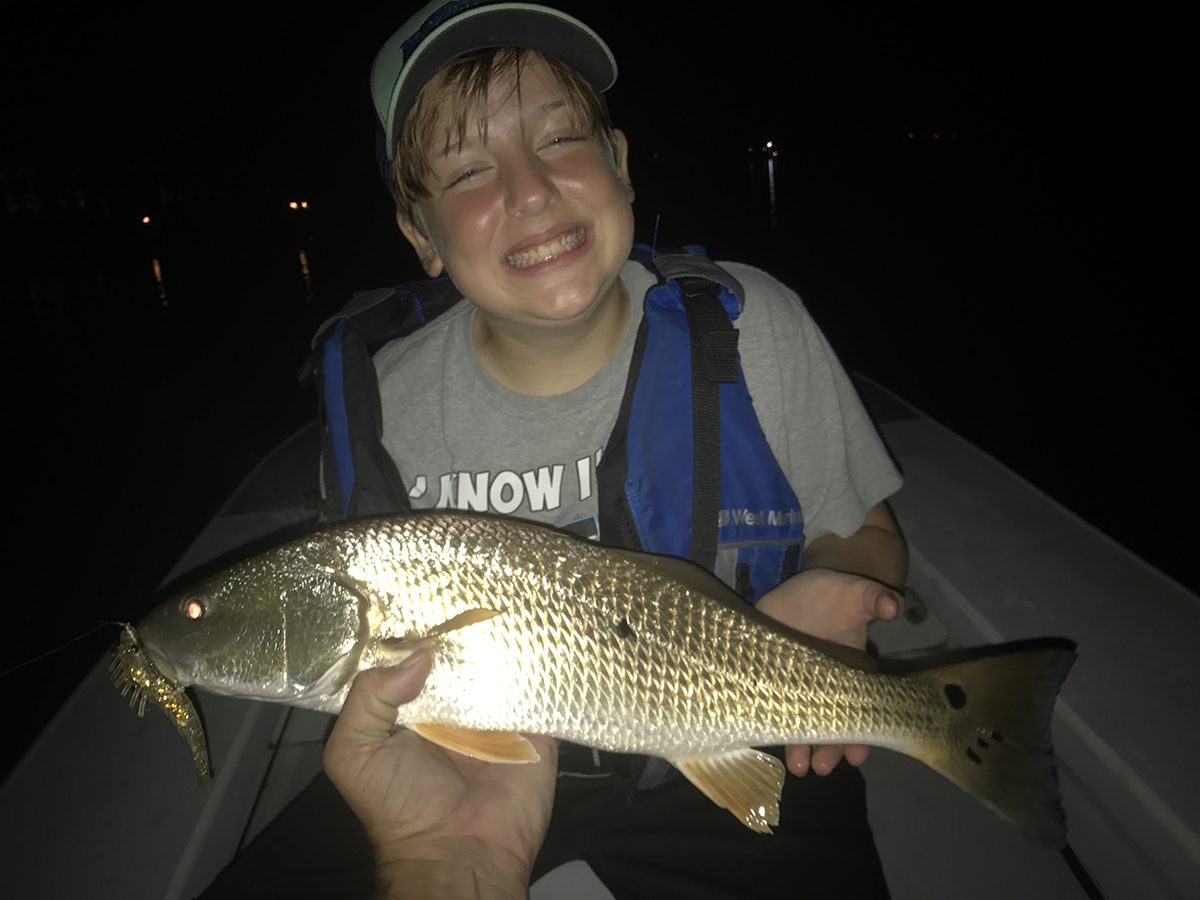 When a kid asks you, "Can we go fishing today?" There is only one correct answer.
You drop whatever else you have planned, and you go. So, you pack them into your bass boat and drive to the lake and spend the day pounding the water like you always do, the kid gets bored, falls asleep in the boat, whines about being hungry and tired, and you get annoyed at them for not having as much fun as you.
Has that happened to you? Probably has.
Let's go back to the beginning. Let's talk about bringing youngster out for a day fishing and having a good time while doing it.
Main rule: Be flexible. Have a variety of activities and options planned. Their idea of a day on the water may mean something different. They may not even have an idea of what it looks like. All they know is you like to do it, and now they want to do it too. If something is not working out, be prepared to do something else. It may not even be a specific fishing thing. It might be as simple as goofing off and looking for snails, shells, turtles or whatever. It should not be the same as what you, a grown adult who has a longer attention span, has in mind for a fishing trip. Honestly, it shouldn't really be what you consider a "real" day.
I might consider a neighborhood pond as the best type of early fishing trip. If you have something like this where you live, or have access to ponds, this is where the ideal first fishing trips take place. You can pull your vehicle up to the water. Have coolers packed with snacks and drinks.
There are fish that are easy to catch and lots of other things. Set them up with a light rod. The push-button type reels seem to be the easiest for kids to master. Be prepared to deal with some issues inside the hood if the line breaks. Which it can. Spend a couple more bucks to get one that will operate more dependably and provide fewer maintenance headaches.
If the water is full of panfish, tie on a small hook, size 6 or 8, bait with a piece of worm. Attach a small float and teach them how to cast it out. Let them do it. Give one or two demonstrations, then sit by and let them figure it out.
The first bite won't result in a hookup (most likely), they'll be too involved with everything else. When they do hook up, it will be pretty unceremoniously cranked in. Make a big deal of it. Make sure they want to do it again.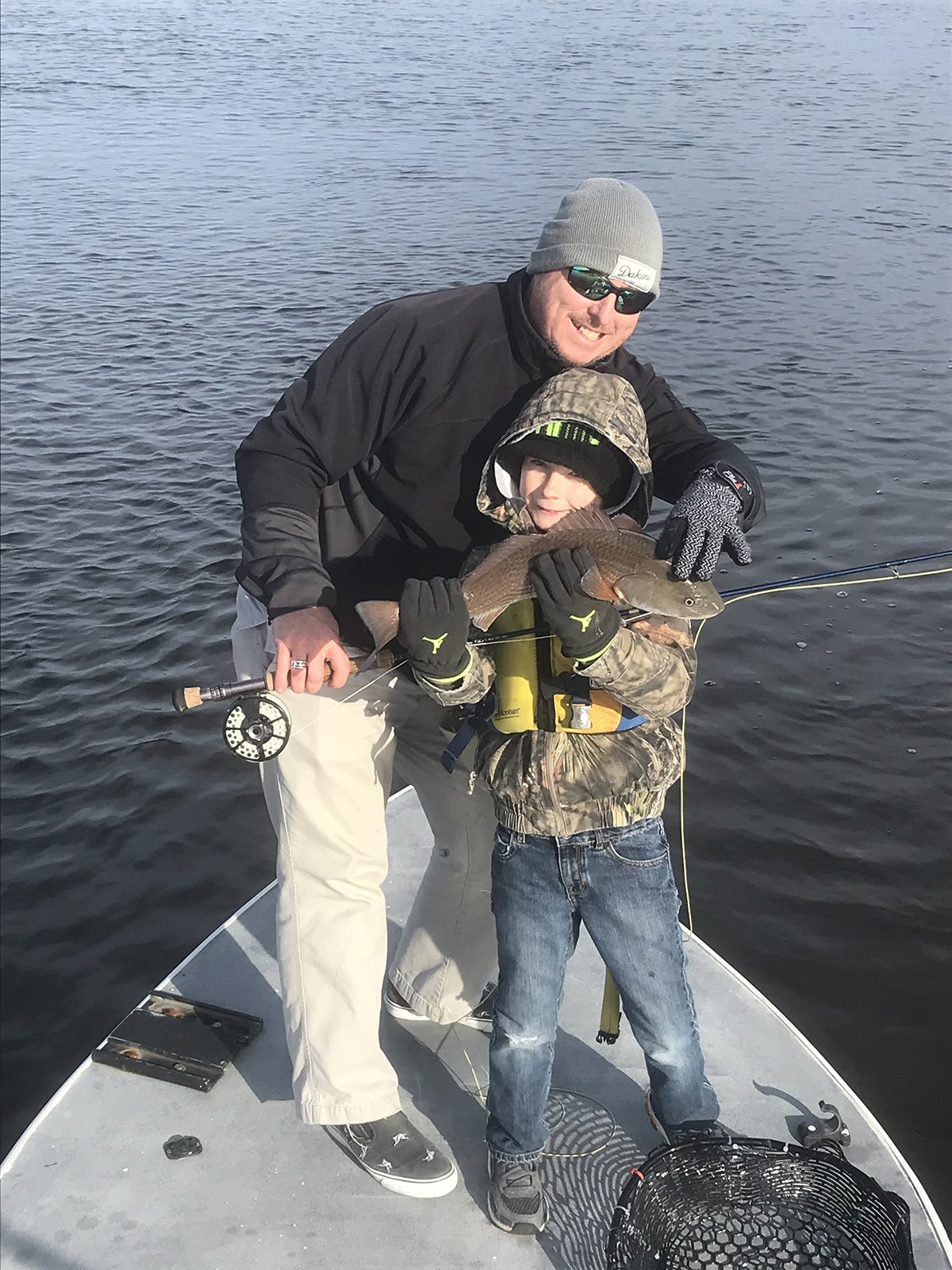 Some kids will find that catching the one fish is enough for now. Others will be so entranced you can't tear them away. Either way enjoy it. Inevitably they will tire of it. Now is the time for snacks, drinks, sandwiches. Frog hunts. Turtle watching. Maybe just walking around the pond. Golf carts make it fun too if you have one available to you.
Take a kid to a beach. Find a quiet sandy shoreline. it's probably better if it's not on the open surf — someplace with a gentle current and no waves. Get a light rod with small, hooked bottom rigs. Let them cast it out and slowly reel it along the bottom. The strikes will be sharp and feel like something bigger. There will be a variety of catches. Pinfish obviously. A good candidate for a kid to learn about how to safely handle a fish. Small sea bass provide a nice tussle. A ladyfish or two might show up and give a nice aerial show. Bluefish are ever-present, and also give a good chance to demonstrate how some fish have scary teeth.
When they get tired of fishing you are still on a beach. Time to look for sand dollars, shells, and who knows what else. I've seen sharks on these little beaches, most small, some not really all that small, and that provides a bunch of excitement. There are birds everywhere. Always something. And as always, lots of food, drinks, and if they start to get a little tired, call it a day and save some for next time. There's plenty more out there.
It's amazing how much fun you can have with a 10-year-old and a school of croakers. We had graduated to regular spinning rods by then. The panfish in the local pond were becoming boring. Had to branch out. We launched the skiff at a popular local boat ramp in Atlantic Beach. After a short run down the Atlantic Intracoastal Waterway, I pulled up in front of an oyster bar that grew alongside a channel leading into a marina.
We had 1/16th-ounce jigs with nylon tails that are sold two to a pack. I added small pieces of shrimp to the hooks. After casting towards the oyster bar, we would retrieve slowly. The bites were not long in coming.
With the 5.5-foot, ultra-light spinning rods, the little silver wonders gave a good account of themselves. A couple of 12-inchers fought hard enough to pull a little line off the 1500 series reels rigged with 6-pound test braid. We caught fish for a solid hour. They were still biting when I heard, "Can we go get some ice cream?"
Of course. I pulled the anchor. Zipped back to the boat ramp. We were at Dairy Queen in 25 minutes. I've caught giant salmon and rainbow trout in Alaska, huge redfish on fly in Louisiana, wild brown trout in Montana, and yet I consider this the most wonderful day of fishing in my whole life.